By
for on January 24th, 2023
Failures to Communicate in 'The Banshees of Inisherin' & 'The Quiet Girl' Earn Them Oscar Noms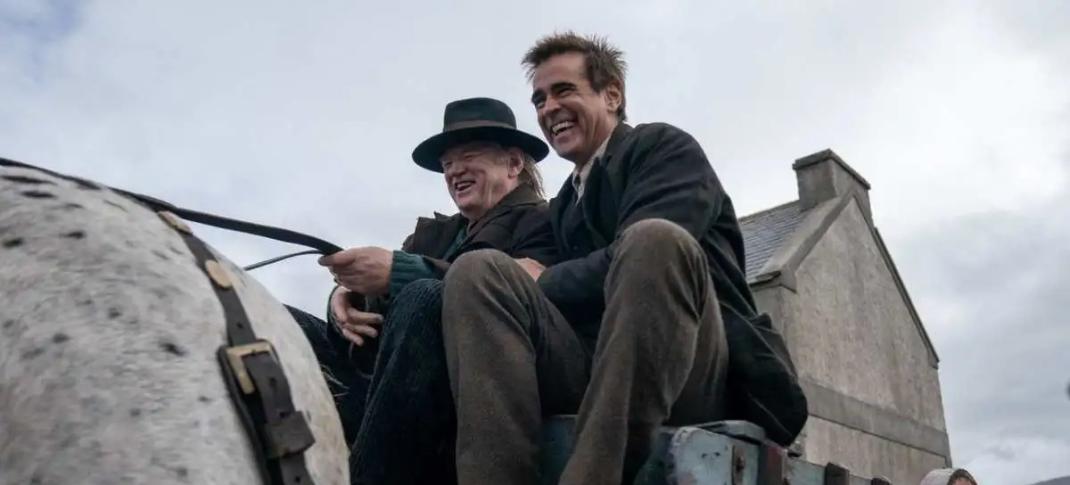 It's a common, though not universal, trait for Irish men to struggle to talk about their emotions, something that's further complicated by the prevalence of restrictive religious values and punishing drinking cultures. A fear of vulnerability and letting people into an unsettled headspace means problems are further compounded, worsening the wellbeing of the sufferer and those who need their kindness. This year, two of Ireland's Oscar nominees, The Banshees of Inisherin and The Quiet Girl, are enjoying both mainstream and arthouse love, and in them we see well-observed Irish characters try to alleviate their ingrained communication issues in contrasting ways.
Martin McDonagh's Banshees smashed records on Oscar nominations day, walking away with nine nominations. (Belfast landed seven in 2022, tying the previous record held by 1993's In the Name of the Father.) The other Irish film in contention, The Quiet Girl, had to fight for its one nomination, becoming the first Oscar nomination in the international film category for Ireland. However, it is every bit as deserving of acclaim as Banshees and, combined with the surprise nomination of fellow countryman Paul Mescal for his standout turn in Charlotte Wells' debut, Aftersun, took the country to a stunning 14 nominations in all.
The Banshees of Inisherin is part-existential black comedy, part-tragic folklore. It's about the inanities of violence and resentment, told through the thorny dynamics between West Coast islanders at the turn of the Irish Civil War in 1922. Fear of irrelevance and oblivion drives a misanthropic older man, Colm (Brendan Gleeson), to cut off his friendship with the annoying but harmless Pádraic (Colin Farrell). The blunt, harsh way Colm tries to unfriend Pádraic causes the younger pal to respond with cloying confusion, and soon the misunderstandings and non-communications between the pair spiral into chaos. It's an allegory on political violence and a look at a masculine mental illness, but most importantly, a reflection on the darkly comic and profoundly bleak nature of some male relationships.
The Quiet Girl is a predominantly Gaelic-language film (the national and first official language of Ireland) about a young girl, Cáit (Catherine Clinch), whose impoverished family can't afford to look after her full-time, so she sends her to a foster family one summer. Here, an older couple uncovers the deep-set neglect that Cáit has experienced, unveiling an upsetting secret hanging over their home. Where Banshees can be harsh and grisly, The Quiet Girl deals in gentle and moving storytelling – but similarly features Irish characters who are unable to articulate the ways pain has crawled under their skin to define them.
Both films center on characters who, as is the effect of strictly rural Irish Catholic environments, have difficulty communicating their problems. For the titular quiet girl, this is through no fault of her own – Cáit has, up until this point, lived under the type of abuse that swallows one's voice and agency. She's so selective in what she says once she moves in with Eibhlín (Carrie Crowley) and Seán (Andrew Bennett), not just because she's a young child in a completely alien environment – she has no experience in vocalizing her needs and desires and having them heard and validated. It's a situation not helped by the frostiness of her foster father, whose resistance to having a child in the house threatens to continue isolating Cáit even though she's left the confines of her neglectful home. 
Cáit and Seán are like two immovable objects; they can't explain why they act the way they do, and they're reluctant (or unable) to change their behavior until they see a change in the other's behavior. It's not dissimilar from the crisis between Pádraic and Colm, who have enjoyed their friendship on an unspoken compatriotism, and don't react well to the truth being said aloud: they don't have anything in common or any reason to be close. The two older men, Colm and Seán, are often seen with their backs to the person needing their affection, aware of the eyes on them but incapable of turning to meet them. 
They're joined by an invisible but unavoidable Black Dog wherever they sit – Colm suffers from "despair" and self-abusive tendencies, while Seán has perpetually retreated emotionally following the death of his young son. Both McDonagh and Colm Bairéad (The Quiet Girl's writer-director) are less interested in explaining tragic backstories and more concerned with the ways Irish men compound their distress by walling themselves off from contact that could help them heal. Vulnerability is, after all, terrifying for men who need to feel in control.
In both films, this enforced silence is tangible in the sound design. Banshees has a noticeably muted soundscape, with little of the ambient sounds one would expect from a rural Irish landscape – even one as sparsely populated as Inisherin. Frequently, we're immersed in the awkward silences between Colm and Pádraic without being able to use the sound of gulls, wind, or waves against cliffs as a crutch in the painful gaps between dialogue. For some, it can be distracting, but as sound mixer Jonathan Rush says, it serves "to give an empty feel to the island." He and fellow mixer Chris Burdonwere were instructed to give a very subtle mix and foley, and it really hones in on the tedium, and often asphyxiation, surrounding Colm.
The Quiet Girl deals a lot more in atmosphere and style than Inisherin. It was shot in a portrait-esque 1.37:1 aspect ratio with Kate McCullough's pristine but intimate cinematography, complementing a rich soundscape of rural, farmyard sounds. Bob Brennan's sound mixing dials up all the little environmental noises, which only emphasizes how little is being said, as if we're hearing every other sound except human ones. We're reminded of every overly quiet situation we've had to sit through, where every clothing rustle, chair scrape, or receding/approaching footstep feels deafening compared to how much is unspoken.
Thematically, the films share connective tissue in how the characters value or build relationships. For Colm, Pádraic's "niceness" is not enough to justify continuing a friendship of no substance; while others see an uninteresting but inoffensive friend, Colm just sees inertia. He's concerned with larger affairs: art, culture, history, and legacy. But these matters will always be too grand in scope for him to meaningfully and satisfyingly grapple with, so turning his attention to loftier goals will only make him feel worse.
It's the polar opposite for Seán, who shares Pádraic and Colm's conversational dryness but finds ways of non-verbally communicating with Cait to coax her (and, by extension, him) out of her shell. He leaves biscuits for her and turns chores into a game. These actions attempt to out-maneuver his communicative difficulties to forge the meaningful, healing relationship needed for a foster father and daughter.
These films are not critical of these non-communicative personalities of Irish men but deeply sympathetic to the barriers they willingly or unwittingly construct to help themselves out of an upsetting interior world. McDonagh and Bairéad look at human behaviors across many genders and cultures, but they explore them through the lens of people and periods they feel closely aligned to. In terms of the Academy Awards, it's reminiscent of the sweeping success of Parasite – a film that resonated worldwide even though its class commentary is incredibly focused on Korean society. Hopefully, Ireland can win glory with films deeply concerned with the specificity of Irish people.
---
By
for on January 24th, 2023
More to Love from Telly Visions