By
for on February 20th, 2023
Well, Those Were the 2023 BAFTAs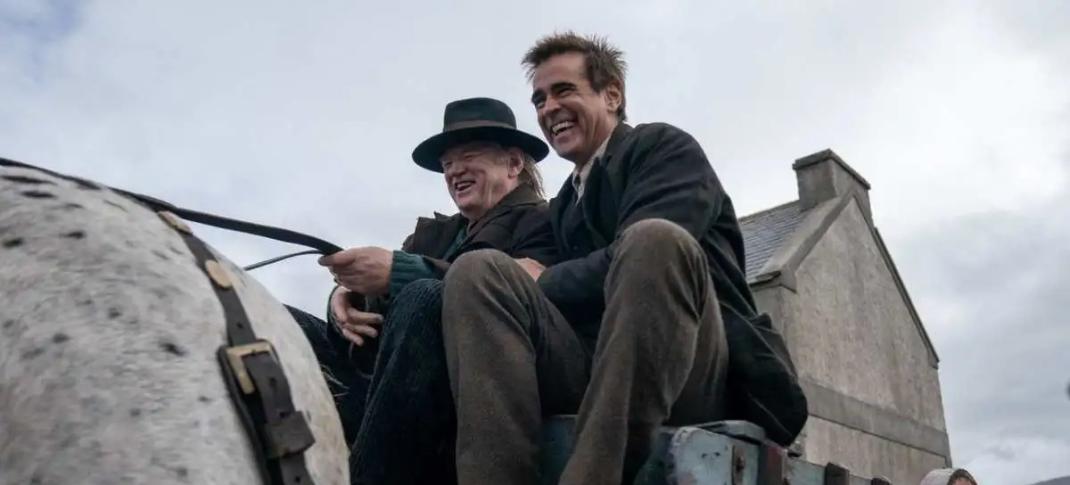 How much can you actually change the BAFTAs? In many ways, they reflect the period they were founded in, where war movies, theatrical performances, and poetic, wryly comedic dramas in picturesque locations struck accord with voters. The winners this year were only surprising in terms of how far the British Academy was willing to commit to its unsurprising-ness; certainly, there were no undeserving wins, but also no creative ones. Maybe the hope of transforming the BAFTAs within a few years is a pipe dream, but if we're going to over-award the same type of performances and filmmaking year after year, can we at least make sure the ceremony isn't a total chore?
Not to compare the BAFTAs to the Oscars, but we Brits do have to hand it to America — they know how to pull off a live telecast. The 2023 BAFTAs, held for the first time at London's Royal Festival Hall, were a smorgasbord of awkwardness, hosted by Richard E. Grant and British daytime TV presenter Alison Hammond — two darling, National Treasure caliber personalities who were hung out to dry by a chaotically directed and woefully unfunny gala showcase.
It wasn't just them who suffered, every celebrity presenter of the awards was forced to a) describe in plain, ineffectual detail how each category was crucial to the magic of movies or b) the most elongated, painfully scripted banter. The best presenter charisma came from Jamie Dornan, who, off-the-cuff, waved to Michelle Yeoh in the audience and said, "Michelle Yeoh and I just made a movie together, and I really recommend doing that if you get the opportunity." Truth.
The random jump cuts to confused audience members, the clear squinting at the autocue, and the multiple people not talking into the bloody microphone — the telecast came off very amateurish. But even the most shambolic of ceremonies can be saved with an impressive range of awards. First, the disappointments — our Oscar frontrunners didn't fare too well last night, with Everything Everywhere All at Once picking up one award (for editing); The Fabelmans getting zero (not too much of a surprise, it was nominated for a lowly screenplay nomination).
This is… completely expected. You could pretty much hear the EEAAO clips going down like a lead balloon with the BAFTA crowd during the ceremony; its facile, earnest, and rambunctious nature doesn't quite align itself with the historical prestige voters associate with the British organization. Michelle Yeoh lost out to the more theatrical, taut Cate Blanchett, even though Tár is a film that thinks bodies like BAFTA are a joke, and there were likely some Lydia Tár's in the Royal Festival Hall audience last night.
It was a surprise that Austin Butler took home Best Actor for his Elvis performance as the titular singer over the much less showy Colin Farrell for The Banshees of Inisherin (Brendan Fraser was never going to win for The Whale, I'm afraid). It was a populist move that, although it rewards a brilliant performance, does line up with "They Were Good at Famous Person" reasoning behind a lot of leading actor wins. Again, it's not that these wins are undeserved, it's that they're completely uninspired choices to honor the vast array of work that's been offered in the past year.
It was nice seeing Banshees's supporting cast win — Kerry Condon and Barry Keoghan will hopefully see a great range of exciting roles come their way as a result of trophies. This at least feels like BAFTA is serving its purpose: in lieu of awarding whoever's expected to receive the Oscar, they're actually giving them to the shining talent that has a much more welcome audience, and therefore even playing field, with British and Irish voters. Banshees, predictably, did very well last night: on top of its acting wins, it scooped up Best Original Screenplay for Martin McDonagh (lock it for Oscar picks!) and Best British Film.
In a category where pretty much every British film was nominated, BAFTA still went with a choice that's only surprising seeing that Banshees is as Irish as you can get (something acknowledged by McDonagh in his second acceptance speech). Again, the Royal Family presence of BAFTA is very telling of its colonial assessment of international film.
The big surprise/non-surprise of the night was All Quiet on the Western Front picking up seven awards, winning half of its massive slate of nominations, and not just sweeping the technical categories. It also nabbed the prestigious Adapted Screenplay, Director, and Best Film. Again, we should have seen this coming; Britain loves aesthetically valorizing war, even from a historical opponent's perspective that reaffirms it was an unwarranted slaughter of a global generation. All Quiet's speeches were highlights of the night, always stressing the internationality of the film's team, and it's nice seeing a Parasite-esque foreign film team all grouped together and losing their minds with each unexpected win.
It's also quite amusing that in a year where Netflix, fresh off a humiliating defeat from Apple TV+ at last year's Oscars, cast a wide net of sure bets for their Oscar hopeful in White Noise, Blonde, and Bardo, only for them to crumble in the face of their safest pick: a big, expensive war film. Did it deserve its glories? Talking about how deserving a film was to win never ends well; everyone nominated worked hard to offer us something interesting. This whole race is subjective, that's why there's competition between lots of talented nominees. But it's less a case of who deserves an award and more about how winners define the body giving them out.
Who is BAFTA, if we look at this year's awards? They like loud, well-observed performances, technically proficient war stories, and melancholic but amusing dramas. It's something you could gather by looking at the winners from the last decade, or two decades before that, all the way back to their post-war founding. Film has changed over the years, as has its production, our appreciation for it, and our exposure to its many different forms. In that time, can BAFTA say it's also changed, really? 
This year marked a total lack of  Black and actors of color winning any award, which, when placed in the context of BAFTA's shocking scarcity of diverse nominees, questions how legitimate a perspective the British Academy has in judging film. If you only give the awards to the people you were most likely to give awards to, what's the point of all of this? Non-English language films winning top awards internationally are good. Actors who have not received the spotlight they deserve are also good. But behind every of this year's "deserving" awards is this giant, lumbering thing called BAFTA, with a fundamentally incurious way of assessing a period of immediate, urgent, and alternative filmmaking. Either BAFTA should grow up, or it has to stop taking up so much space.
The BAFTAs are available in the U.S. streaming on BritBox.
---
By
for on February 20th, 2023
More to Love from Telly Visions