By
for on January 9th, 2022
'Around the World in 80 Days' Recap: Episode 2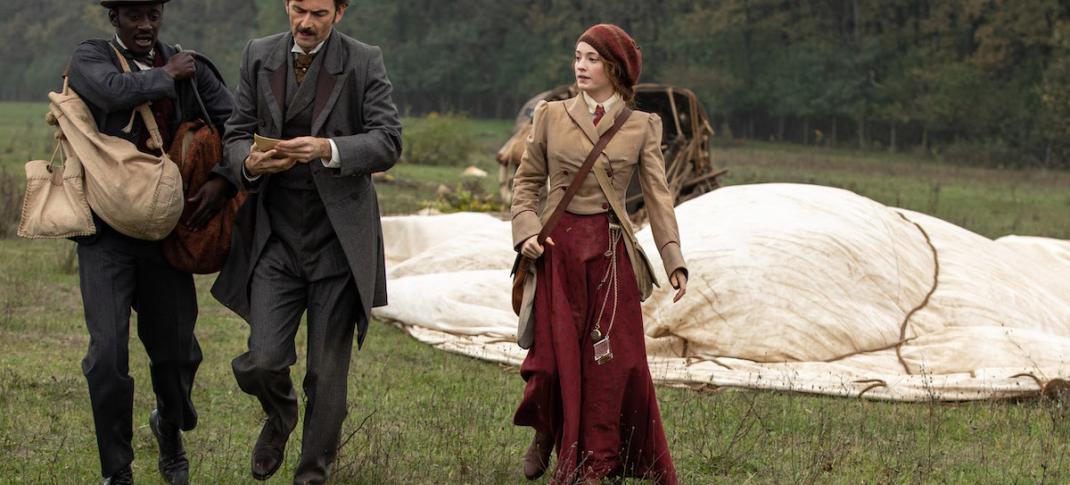 Welcome back to leg two of our journey Around the World in 80 Days! Last week you may recall that one Phileas Fogg has accepted a rather large bet to circumnavigate the globe in a mere 80 days. Joined by a determined female journalist and a well-traveled, but mysterious valet, this trio got a bumpy start when they stumbled upon a spot of civil unrest in Paris. All the pertinent details can be found here. 
On Day 3 of this undertaking, our trio has crash-landed their magnificent balloon somewhere near Pisa, Italy. Mr. Fogg assures his companions a train will be coming along any minute and that confidence pays off when, lo and behold, they flag down the 3:00 to Brindisi.
Fogg and Miss Fix are shown to swanky first-class compartments. (It appears they booked them in advance?) The train's conductor introduces them to the other wealthy passengers with whom they will be dining.
Italian industrialist, Niccolo Moretti (Giovanni Scifoni), is holding court and is obviously annoyed when Fogg's entrance steals his thunder. His exotic arrival by balloon and this proposed voyage fascinates his fellow travelers.
Passepartout, on the other hand, is banished to third-class.  He makes a good impression in the crowded carriage with his ability to speak Italian and his appreciation of the local bagna cauda dip. Later as the passengers settle in for the night, Passepartout observes two brothers scuffling across the aisle. With the memory of his fallen sibling fresh in his mind, he separates the boys and cautions them to fight the world, not each other.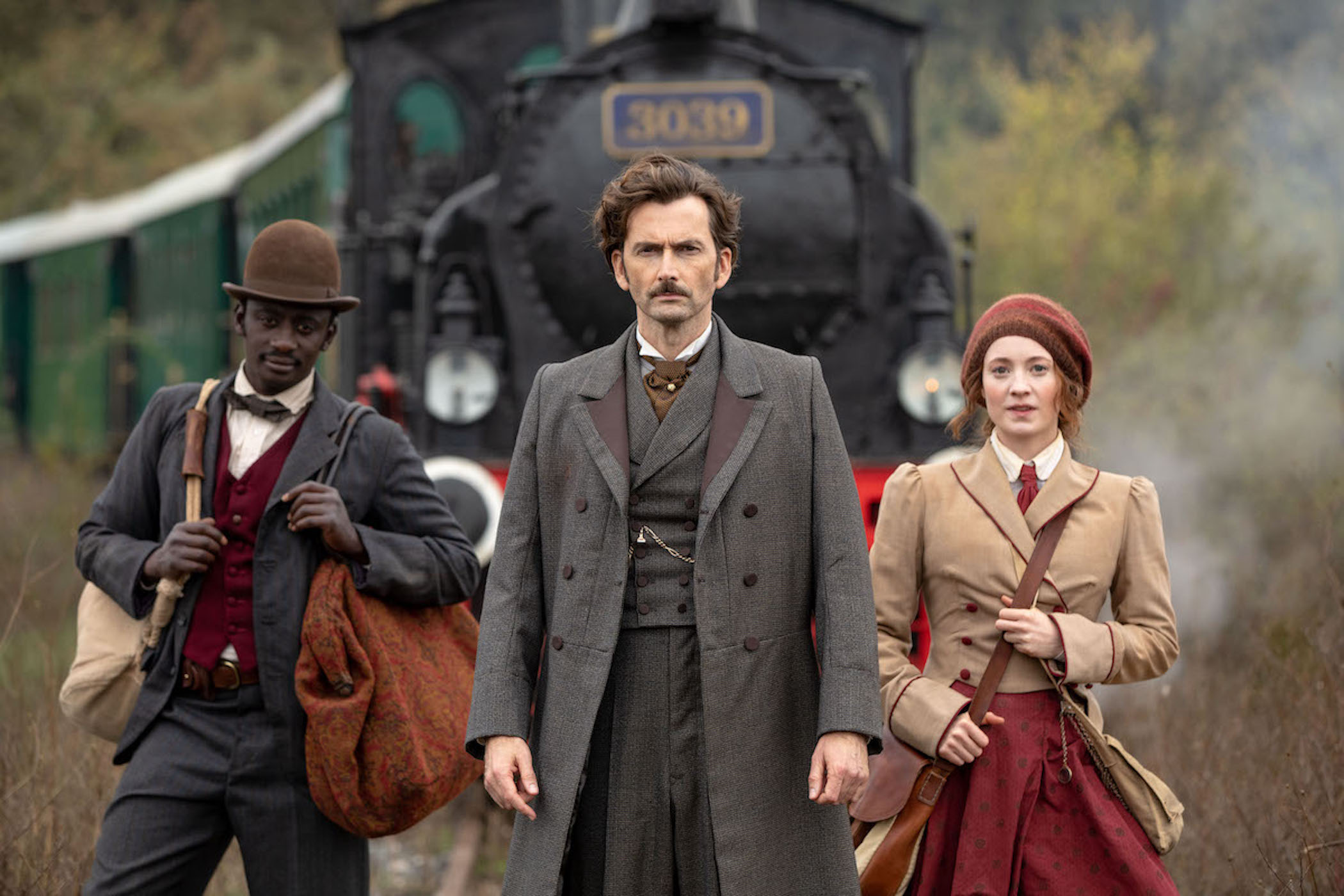 Back in first-class, Niccolo publicly ridicules Fogg throughout the evening. First, he belittles Phileas's meager experience of the world up to this point. (To this I say, what does it matter if he's travelled widely before? He's doing it now, isn't he?) Miss Fix brags that Mr. Fogg helped foil an assassination plot in Paris, but the Englishman truthfully says he was just in the right place at the right time.
We also learn that Moretti's wife has died and he's taking his son Alberto (Cristian De Vergori) to live with his sister. Drawn to a fellow dreamer, Alberto timidly shows Phileas the book he's read by Jules Verne, (wink, wink). The boy is excited to learn that not only has Fogg read it, but he doesn't dismiss his question about space travel as his father does. In fact, Fogg is eager to see the model rocket Alberto has built. At this point, Mr. Moretti makes a snide remark about his son preferring the company of women.
When the excited boy returns, he causes Fogg to spill water on himself. His father tries to wrench the model from his hands and, in the struggle, it breaks. Moretti blames Fogg for encouraging his son and leads Alberto to another carriage.
Fogg walks in on Moretti clearly losing his temper with the boy.  Once more Phileas is insulted by the angry Italian who threatens to thrash him if he interferes further in his affairs.  Miss Fix enters the room and asks what's going on, hoping Fogg will stand up for himself. Alas, his precarious self-respect has been deflated and Phileas departs without a word of explanation. Moretti tells Abigail she's traveling around the world with a fraud and leads a sobbing Alberto away.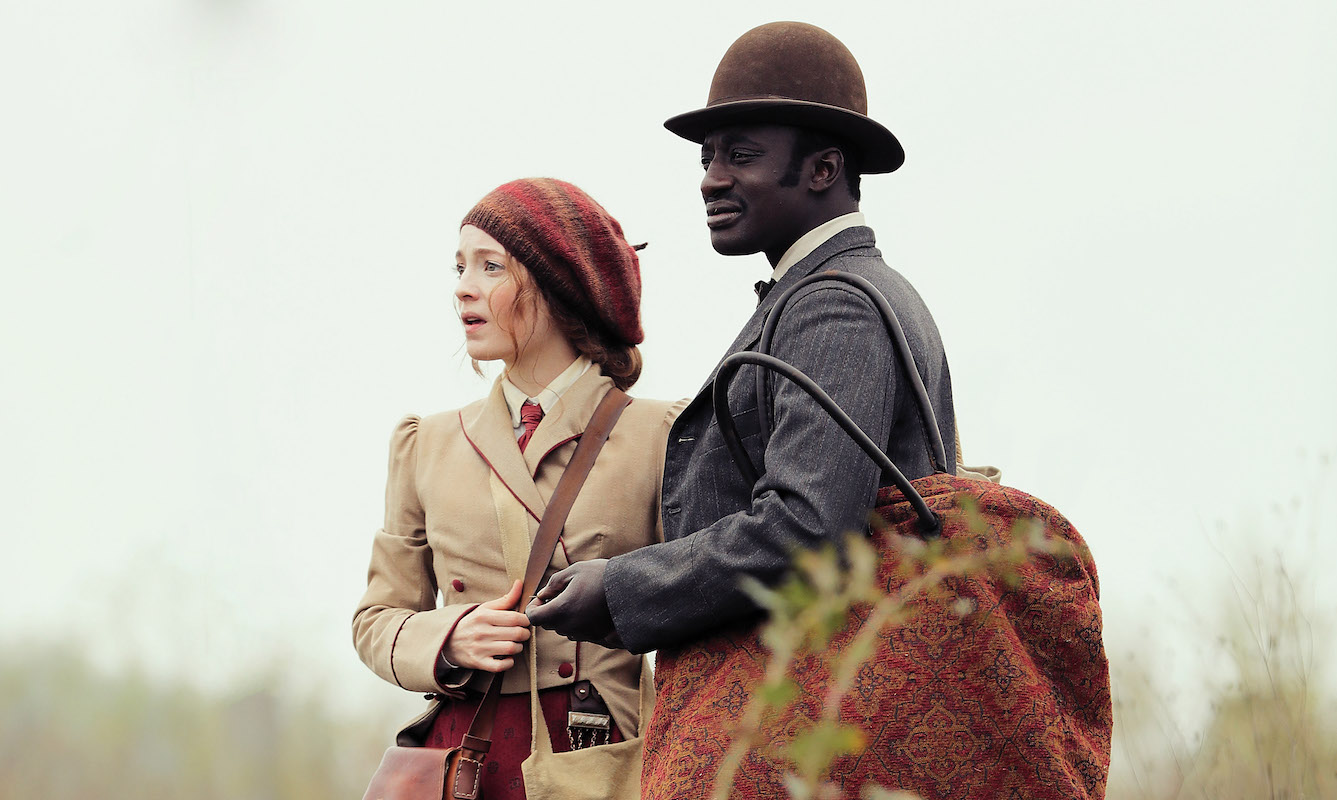 Meanwhile, Passepartout has taken the conductor up on his invitation to play cards with the train's crew. The Italians want the scoop on Abigail, but he tells them only that she likes newspapers.  The lovely Miss Fix, concerned by the rapid dissipation of Mr. Fogg's confidence, soon joins Passepartout and his new card-playing buddies. After consuming a few glasses of vino, Abigail gets on a tear about her ambitions. The men, who had been entranced with her beauty, are put off by her incessant yammering. A fistfight ensues when Passepartout defends his companion's honor.
As Abigail tends to his wounds, the two discuss the future of their adventure- Mr. Fogg's loss of nerve, her dreams of glory, and Passepartout's tendency to run from his problems.
In the morning, Fogg is brooding on the viewing platform and Passepartout can't budge him from his self-loathing. What does help a bit is a heart-to-heart with young Alberto. Fogg and the boy talk about the complicated relationship between fathers and sons. But when Fogg confesses his doubts that he can complete his trek, the boy's disappointment is obvious.
Just then the train comes to a very abrupt halt. A bridge has crumbled, leaving a stretch of the tracks with no underlying support. A sign to Fogg that the fates are against them, this major inconvenience quickly escalates to an emergency when a panicked Alberto calls to his father. A serious gash in his leg is causing major blood loss.
The quick-thinking Passepartout applies a makeshift tourniquet and tells Moretti they must get Alberto to a hospital without delay. They don't have time to go back to Rome, going forward to Brindisi is their only hope to save the injured boy.
Fogg calmly starts looking at the physics of the situation and believes that they can get the engine and one other carriage across the perilous bridge. The crew says Fogg's claims are madness, but Alberto believes in his friend, so the plan is put into action.
Passepartout is stationed on the front of the engine charged with sprinkling sand on the rails to prevent the wheels from sheering through them. Fogg's method is working until a little slippage on the track causes the valet to drop his bucket. Against Fogg's pleas, Abigail traverses the outside of the train to bring Passepartout more sand. The train makes it over the deadly gap and speeds on the way to Brindisi.
The rescue hits another snag when the train runs out of coal- most of it had to be unloaded to reduce the weight. But never fear, Philias anticipated this problem and has a solution. Chop all the wood in the passenger carriage up and use it as fuel.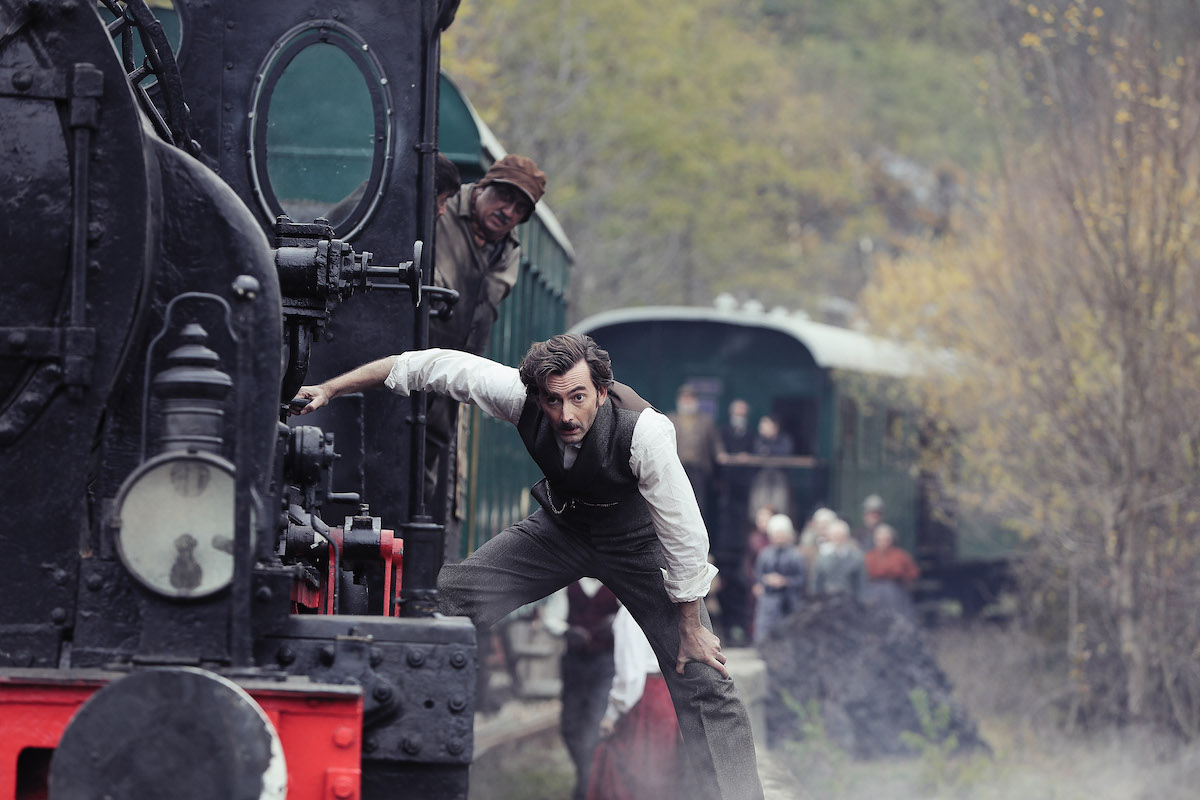 As the team works frantically, Passepartout instructs Mr. Moretti to keep Alberto awake. They engage the boy in a discussion of how it will be possible to reach the moon. Perhaps when all this is over, our trusty valet should go to medical school?
The train makes it to the Brindisi station and personnel are there to take Alberto to the hospital. Before he leaves, the boy insists on telling Mr. Fogg that he thinks he is exactly the man for the job. Moretti shakes Fogg's hand and then pulls him into a thankful embrace.
Impressed with Fogg's bravery and quick thinking, Abigail and Passepartout, convince their reluctant leader to continue on to Suez. But another obstacle awaits our intrepid travelers. Remember Bellamy,  who bullied Fogg into that considerable wager at the Reform Club? Well, he's on the verge of bankruptcy and is desperate to win the bet. He sends a telegram to an unsavory associate in Egypt to stop Fogg. Dun dun dun!!!
So it feels like after all the necessary exposition set up in the first installment, this story has shifted into high gear. Let's hear your two cents on the series so far in the comments section below!
---
By
for on January 9th, 2022
More to Love from Telly Visions