By
for on October 23rd, 2022
'Annika's Second Episode is a Wild Valkyrie Ride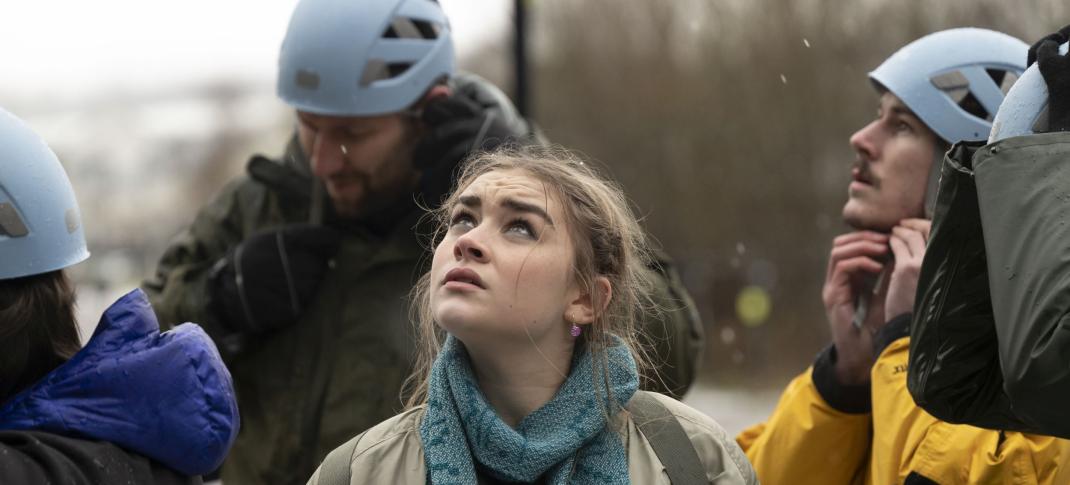 Annika's second episode once again begins with Annika musing at us about literature. Episode 1 was Melville, with her reflecting on Moby Dick, inspired by the initial corpse, which died via a harpooning, but also mixed in with her own obsession with finding killers — her white whales — and what it's like for those left behind when they are in relationships with someone obsessed with a thing they cannot join in with.
Annika: I'm Bogart, of course I'm Bogart, what's the matter with you?
This week starts with the Nordic myth of the Valkyries, inspired by the name of the boat where the latest corpse has been found, a stone with runes carved on it lying by his body. Annika sails the ship back and thankfully disembarks, as it blows up right behind her just as Michael is about to board. He's stuck on light duty for the rest of the episode. As a result, overseeing the reconstruction of the boat. The body, identified before the ship blew up, is Ronnie Kidd, an art teacher from the Isle of Bute. 
If only Annika's problems stopped at a body and a blown-up boat. Morgan has been caught acting out at school again, with vodka in her water bottle, and her excuse it's an antiseptic isn't going to fly. Blair suggests Annika try websites to scare Morgan sober, but the kid is not impressed and storms off to her room. Having narrowly escaped death earlier that afternoon, Annika decides to drink Morgan's stolen goods, only to gag, complaining the kid didn't even put a mixer in it. Morgan's been suspended, so she goes to Bute Harbor with Annika, Blair, and Tyrone while Michael stays home.
Bute's Sgt. Tam Glenn (Tam Dean Burn) sets them up with a B&B, an office, and a jeep. His briefing is short; the only next of kin is Grant Kidd (Gerry Lynch), Ronnie's brother. Tyrone looks over Kidd's house, and Annika checks out the school where he worked. Blair goes to find the brother at his quarry job, where the rocks match the carved one. Then things start blowing up, and Grant has to pull her to safety. 
At St. Blane's Academy, the headmistress, Karina Williams (Marnie Baxter), is surprised but not sad Ronnie is dead; as Annika leaves, she sees a mother delivering a student late, but when she tries for truancy solidarity, she is told the kid goes to therapy. Kidd's house shows signs of a break-in, but Grant admits that was him; he was too drunk to go home; Ronnie wasn't there, so he had to. Annika shows him the stone, pointing out it's a childish love token. Pushed, Grant tells her he and Ronnie didn't get on because his brother liked his girls underage; the current one was 15, a student at St. Blane's, who he rudely told about Ronnie's death last night.
Morgan gets bored at the B&B, steals some vodka, and heads for a coffee shop. She meets Sigi Gunderson (Imogen Mackie Walker) and her dad Per (Christopher Dane). Sigi spots the vodka and swipes a sip before leaving her Norse rune scarf with Morgan. Sigi, of course, has rune-carved stones in her pocket; she plants one before rock climbing with dad. As Morgan watches from below, Sigi suddenly cuts her rope in a vain attempt at suicide. With Blair injured, Annika has her babysit Morgan to prevent further outings, while Morgan frets everyone she likes seems to nearly die.
Stream Now
Annika
Nicola Walker (Unforgotten) stars as DI Annika Strandhed who juggles cases and a daughter.
Image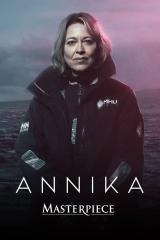 Per tells Annika he found a message from Ronnie on Sigi's phone and went to the school to demand the man be fired. The headmistress didn't mention this, but Williams claims she feared for the school's reputation. She told him to resign and hoped it would all go away when he didn't show up on Monday. She claims she went home after school because she had a bad day dealing with this. With Blair and Michael on light duty, the brief is by zoom. Tyrone notes the murder weapon was a knife used by climbers, so that it could have been Sigi or her dad. Annika decides that's enough to bring in Per.
He arrives with his impressive attack dog of a lawyer Liz Dunbar (Shauna Macdonald), who he'd also consulted about suing hew school over Ronnie. They get nowhere because the lawyer is that good. (Tyrone and Annika agree she's one to hire.) Blair finds Sigi checked in at a local pub; when Annika visits, she discovers Grant is a regular. He admits Ronnie showed up with Sigi, insisting it was time to stop hiding; Grant says he stormed off and got drunk; however, when Annika asks if Ronnie usually drank there, he says no.
Shown a picture of the headmistress, Grant IDs her right away. The pub is Williams' watering hole; Ronnie was showing off. At Williams' house, Annika notes a loom with a half-done runic scarf; Williams says it belongs to her wife, the town layer, Liz, Sigi's godmother. As Annika and Tyrone leave, Liz drives up, takes one look at them, backs up, and speeds off. They track her to the local airfield about to take off, and despite Annika's arguing, she flees. Not far, though, she's arrested when the plane lands in Ireland. As they head home, Morgan tells her mom good job, while Annika gently suggests Morgan might need therapy, and the kid agrees.
---
By
for on October 23rd, 2022