By
for on November 8th, 2021
'Anne Boleyn' Starring Jodie Turner-Smith Lands At AMC+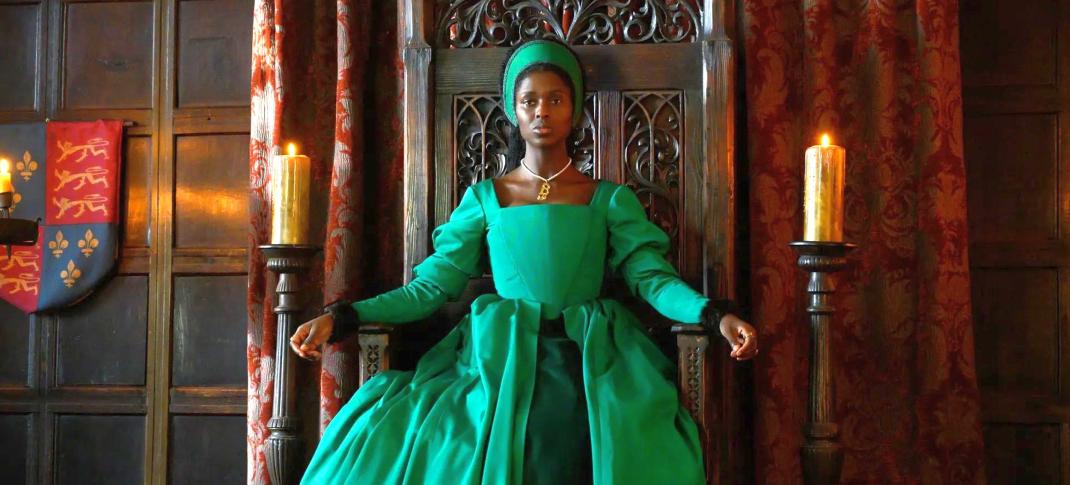 It's been nearly a year since the original announcement Jodie Turner-Smith would headline a new series based upon the life of Henry VIII's ultra-famous second wife, Anne Boleyn. The series, which aired on Channel 5 in June 2021, didn't have any immediate takers in the U.S. That's despite the daring angle of treating the doomed queen's life as a psychological thriller or the spectacular casting of Turner-Smith, who was criminally overlooked during awards season last year for Queen and Slim. But finally, the wait is over, as AMC+ has stepped up to bring us Anne Boleyn just in time for the holidays. 
Like many series about the woman who seduced a king into creating his own religion so he could get legally divorced, the three-part series focuses on Anne's final five months before her execution for treason in 1536 by beheading. Accused of treason, adultery, and, of all things, incest, her actual crime was one of something she could not control: the inability to provide a male heir who could live for more than a few hours. The TV series convention-defying conceit is to consider this story through the lens of psychological horror rather than straight-laced period piece conventions.
When it landed in the UK, reviews were deeply mixed, with Rotten Tomatoes landing at a 57% splat at the time. In general, critics seemed to agree the show itself was over the top and not very good, but that Turner-Smith was stunning enough to mainly carry it. Now Americans will get to judge for themselves how she did.
The series' logline is as follows:
The drama shines a feminist light on the final months of Boleyn's life, re-imagining her struggle with Tudor England's patriarchal society, her desire to secure a future for her daughter, Elizabeth, and the brutal reality of her failure to provide Henry with a male heir.
Interestingly, though one of the major draws of the series is that it cast a Black woman in the role, AMC+ is choosing to focus on the feminist angle. In a statement, Courtney Thomasma, general manager for AMC+, said: "We are proud to add Anne Boleyn to our slate of AMC+ Original Series, featuring a superb ensemble cast led by Jodie Turner-Smith's mesmerizing performance and a predominantly female creative team, this groundbreaking drama, told from the unique perspective of one of history's most fascinating — and scrutinized — women, makes for a can't-miss television event to end the year."
Jodie Turner-Smith headlines a pretty spectacular cast in the titular role of Anne Boleyn with Mark Stanley (Sanditon) co-starring as Henry VIII. The series also stars Paapa Essiedu (I May Destroy You) as her brother, George Boleyn; Barry Ward (The Capture) as Thomas Cromwell; and Lola Petticrew (Bloodlands) as Jane Seymour. Anna Brewster (Versailles), Amanda Burton (White House Farm), Thalissa Teixeira (Ragdoll), Turlough Convery (Poldark), James Harkness (The English Game), Abhin Galeya (The Bill), and Jamael Westman (Hamilton) are also set to feature.
The first episode of Anne Boleyn will debut on AMC+ on Thursday, Dec. 9, and will follow a weekly release schedule. Currently, the series is not being advertised as airing on AMC's linear channel, but that may come later in 2022.
---
By
for on November 8th, 2021
More to Love from Telly Visions