By
for on April 28th, 2023
Prime Video's 'Citadel' Corporate Motive is Shockingly Blatant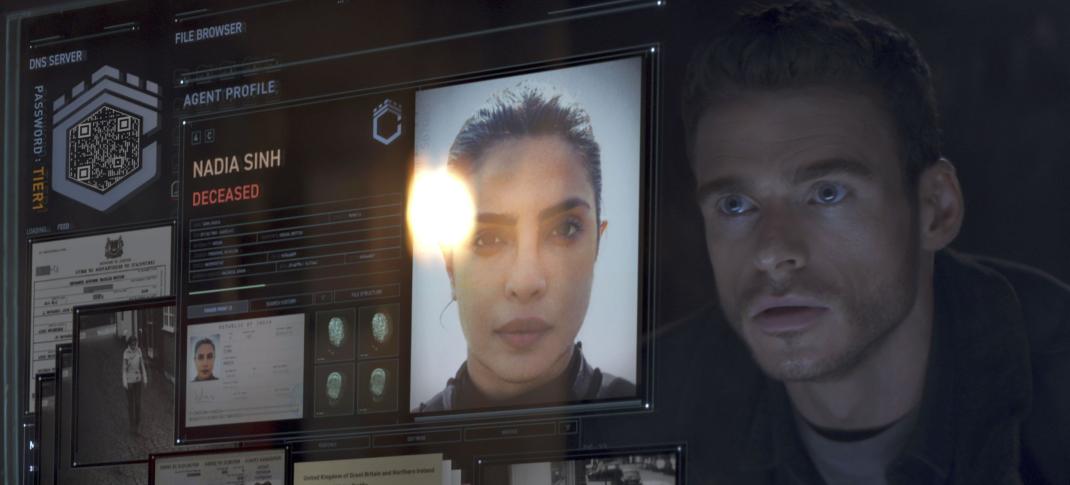 Who needs art made by AI? With programming as derivative, uninspired, and mechanical as Citadel, the Russo Brothers show us that flesh-and-blood human beings are just as capable of mimicking all procedurally generated content themselves. The spy thriller stars Richard Madden (Bodyguard) and Priyanka Chopra Jonas (Quantico) as super-secret spies for the global espionage agency Citadel, but after the evil syndicate Manticore lures them out of hiding and stages a devastating attack on the spy network, the remaining agents have their memories wiped to protect Citadel's secrets.
We pick up eight years later with top spy Mason Kane (Madden) now living as the unassuming family man and amnesiac Kyle – but he's soon thrown back into the fray by the devilish Manticore. After the first two episodes, it wouldn't be fair to say Citadel should be wiped from our memories, but so far, the series has been cleaned of all unique personality and identity – like a merciless, unfeeling agent in streaming's ongoing cutthroat mission of cultural sabotage. But hey, at least it only cost $300 million!
The biggest problem with the series, led by showrunner David Weil after original writers Josh Appelbaum and André Nemec left mid-production, is that the actual show seems like an afterthought. This might seem impossible for something that, thanks to extensive re-shoots and changes to key creative leads, ranks as the second-most expensive season of television ever made, but Citadel has yet to make the argument that it cares about being actual drama and not just a calculated marketing ploy.
Citadel was envisioned by Amazon Studios chief Jennifer Salke and the Russo Brothers (who came to fame via the Marvel Cinematic Universe) as a "global event series" with a rich fictional world so popular international studios could buy into the hot ticket brand and stage their own spin-offs in their own languages. This is not a creatively motivated decision but a capitalist one – all of these spin-offs would strengthen the Amazon brand, funneling international cash into one of the world's biggest corporations. But it's clear neither Salke nor the Russo brothers cannot engineer a global hit in a tech lab; you actually have to actually make your show about something and pull it off with finesse and style that captures the attention of people across the planet.
The team behind Citadel (well, at least the ones that didn't quit) are convinced their world is compelling and rich enough to justify franchising it out to the world's best storytellers. But the world's best filmmakers and writers are the best because they have a vision, a voice, and an identity, none of which can be successfully implanted into the blandest show about misinformation terrorism and "trusting no one". Why anyone at Amazon Studios thinks the Russo Brothers are the way to attract the world's best filmmaking talent is beyond us.
Of course, Citadel is not a rich world. The premise and genre are incredibly entrenched in Western narrative tropes. The spies graduated from the Marvel School of Banter, implied bland romantic relationships are completely devoid of heat and chemistry, and the completely constructed heroes and villains don't tangibly map onto any real-world figures or issues. 
Richard Madden, soft-launching his Bond campaign with admirable (if misplaced) confidence, fits nicely as a generic but super-charismatic spy we've seen a million times before but runs into problems when he's asked to play Kyle. Madden's shown his ability to play both a superhero and wounded everyman many times before now, so the fault for his flatline of a character rests solely with the writers – he's not an interesing character, even though Citadel makes the wise dramatic choice to not make Mason getting all his memories back instantly easy (at least not in the first two episodes).
Chopra Jonas nails the slick and sly spy capers as well as Madden, and the clunkiness of an opening mission in Italy is softened by the fact that the series decides to lean into the goofiness of its premise. A wide-ranging ensemble including Roland Møller (The North Water), Stanley Tucci (The King's Man), and Lesley Manville (Magpie Murders) have their moments (in decreasing order), but it's impossible to shake the oppressive feeling that nothing we're seeing has any purpose other than to capitalize on a sizable entertainment investment.
Citadel and their dark reflection Manticore are so removed from anything believable, complex, or grounded in the real world that it's difficult to get attached to one fake organization busting up another fake organization. When Citadel does smugly dip its toes into some real-world commentary (Manticore prides themselves on ruthless missions of misinformation – in this economy, no less?!), it's groan-worthy. Do not attempt to comment on world affairs from within something that's less "television" and more "shareholders meeting sizzle reel."
It's very tiring criticizing shows that, above all else, try to deliver some flashy old-fashioned entertainment, but we've gotten too used to going soft on corporate programming just because they cynically try to be fun. Shows like Citadel use the "just switch your brain off" defense to shield the fact that all they want to be is big, as big as possible, not to connect with audiences but to make the most money.
It's difficult to imagine what creative differences needed to be so abruptly corrected in Citadel, because it has no identity, purpose, or uniqueness. It is the most transparently "content-paste" show you can watch right now, made by people who are simply confounded as to why audiences have become so tired of being constantly fed slop.
The first two episodes of Citadel Season 1 are available streaming on Prime Video starting Friday, April 28, with one a week to follow through the end of May 2023. Season 2 has already been greenlit, and the "globalized spin-offs" in emerging markets like India, Mexico, and Italy are all in various stages of production to release in between.
---
By
for on April 28th, 2023
More to Love from Telly Visions