By
for on March 6th, 2023
'All Creatures Great & Small' Starts Filming Season 4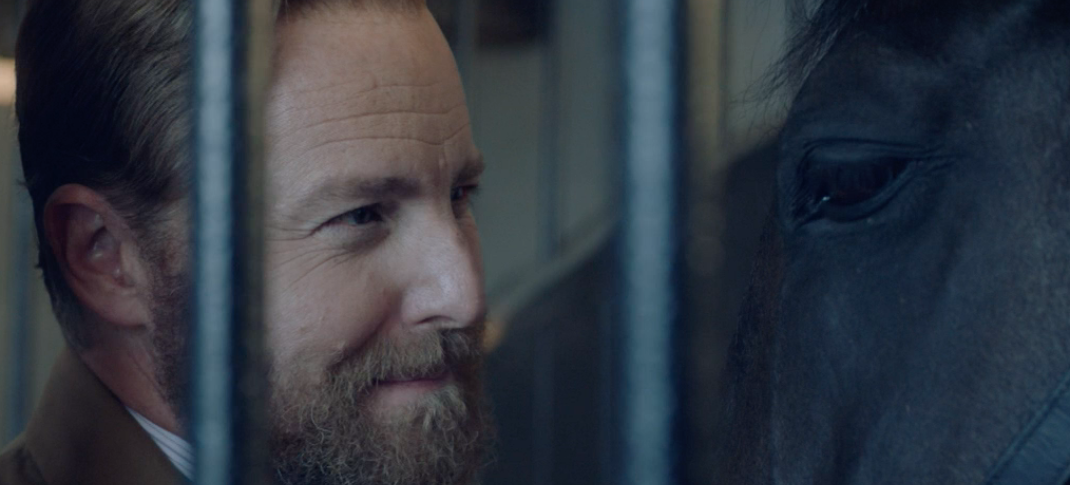 Since the debut of the second season of All Creatures Great & Small, viewers have known the series would be back for two more seasons. The two-season renewal announcement came on January 10, 2022, less than 24 hours after the Season 2 premiere on PBS. Moreover, the when of filming was also answered, as the production settled into a springtime schedule for principal photography in order to take full advantage of the birthing season in Yorkshire and the baby animals it provides. With the Season 3 Christmas special finale ending on a war-time cliffhanger, fans have been anxious for Season 4 to get started.
Lucky for them, one of the series' main stars, Samuel West, who plays Seigfried Farnon, is very active on social media and happily provided an update. On March 6, 2023, he tweeted out a photo of the first clapper board of Season 4, announcing that filming was officially underway. It also held a small surprise, as instead of director Brian Percival kicking off the season premiere (as has been the case for Seasons 1 through 3). Instead, Season 4 begins with Andy Hay taking the reigns. (Hay has been one of a rotating cast of directors since the show's first season and helmed the show's first two Christmas specials.)
Check out West's lil' poem in the tweet below, and click through for the delightful rhymes some of his fans posted as a rejoinder.
There's no official synopsis for All Creatures Season 4 yet; however, the series has followed a regular schedule since its first season debut, with new seasons progressing one year at a time. The premiere is set in the spring, Episode 6 (the official U.K. finale) in the fall, and a Christmas special follows to close out the year before starting all over again. Season 1 was set in 1937, Season 2 in 1938, and Season 3 in 1939, with the Episode 6 finale covering the declaration of World War II in September 1939 and the Christmas special ending with Tristan shipped out just before New Year's, 1940.
Season 4 will most likely rejoin the story in early 1940, starting in March when Germans bombed a naval base near James' beloved Scotland, and then jump to May when the war began in earnest, with the invasions of France, Belgium, Luxembourg, and the Netherlands, the election of Winston Churchill as Prime Minister, and the disaster at Dunkirk. As for the Episode 6 finale, September 1940 was the beginning of the Blitz, with a massive bombing campaign that hit London, Southampton, Bristol, Cardiff, Liverpool, and Manchester. The Christmas Special will almost certainly mention the famous two-day firebombing of London from  December 29-30, 1940.
How much of that will be shown on screen is up for debate, as All Creatures Great & Small's comforts are due to its isolated Yorkshire dale setting. Tristan has already left, and James is waiting for orders to ship out, but audiences have a hard time believing the show will exit Yorkshire to follow them. The current wisdom seems to be Season 4 will be a homefront-based show, with these milestones heard over the radio. If so, the reality of war will still be part of everyday life but much more focused on rationing and the conscription of animals towards the war effort.
As for the Season 4 cast, West will return as Seigfried (since he's tweeting from the set). Audiences expect the main ensemble to return with Nicholas Ralph as James Herriot, Rachel Shenton as Helen Herriot (nee Alderson), Anna Madeley as Mrs. Audrey Hall, and hopefully appearances by Callum Woodhouse as Tristan Farnon. Will Thorp is expected to return as Audrey's love interest, Gerald Hammond, and Patricia Hodge as Mrs. Pumphrey, with Derek the Dog as Tricki Woo. Tony Pitts and Imogen Clawson are expected to return as Helen's father and sister, Richard and Jenny Alderson, and Gabriel Quigley and Drew Cain as James' parents, Hannah and James Sr.
All Creatures Great and Small Season 4 does not have a release date on either side of the pond just yet, but it's a good bet it will return on Channel 5 in the autumn of 2023, with a debut on PBS to follow beginning the second Sunday on January 2024 at 9 p.m. ET.
Stream Now
All Creatures Great And Small
James Herriot's adventures as a veterinarian in 1930's Yorkshire get a new TV adaptation.
Image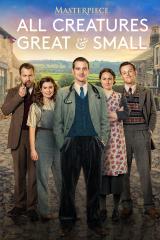 ---
By
for on March 6th, 2023
More to Love from Telly Visions