By
for on February 12th, 2023
'All Creatures Great & Small' Season 3 Finally Declares War in "For Whom the Bell Tolls"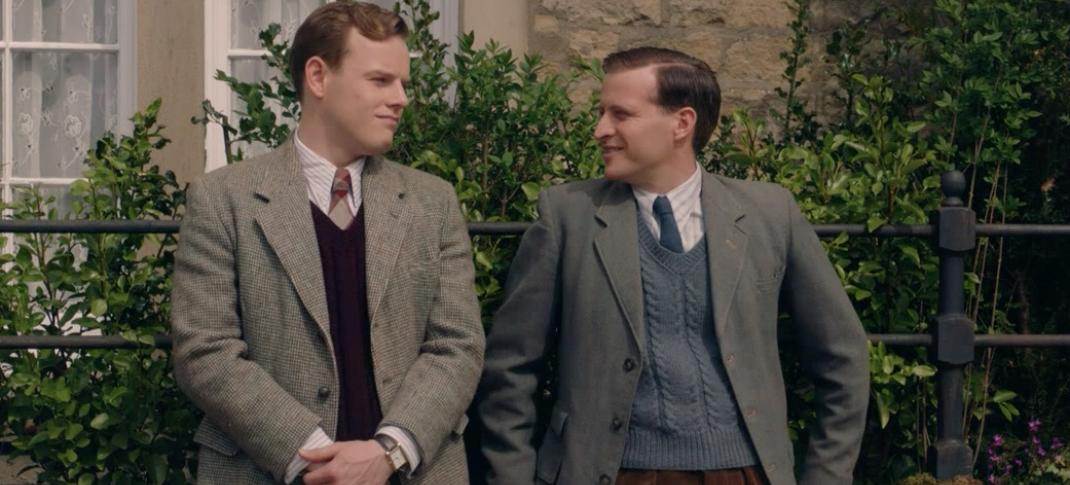 No man is an island, entire of itself; every man is a piece of the continent, a part of the main; if a clod be washed away by the sea, Europe is the less, as well as if a promontory were, as well as if a manor of thy friend's or of thine own were; any man's death diminishes me, because I am involved in mankind, and therefore never send to know for whom the bell tolls; it tolls for thee.
John Donne, MEDITATION XVII, 1623
This week's All Creatures Great & Small carries the punch and emotional weight of the season finale it was in the U.K. (Here in the U.S.A., the season finale is the Christmas Special, airing next week). It's a moving and brilliant episode as our beloved characters move toward war. The episode opens with the date front and center, Friday, September 1, 1939, less than 48 hours before war is declared, and Tristan is preparing to visit Florence Pandhi's family home. As he does,  he, Siegfried, and Mrs. Hall hear the government's radio announcement that Germany has invaded Poland.
Mrs. Pumphrey: If there is a war, I want this place to be a sanctuary. Not just for my staff, but for anyone who might need it. When you find someone you really care about, you must cling onto them like a life ring in a storm, because you never know what might happen next.
Determined to keep a positive attitude and pleased Tristan's courtship is progressing, Mrs. Hall suggests the Skeldale Hall inhabitants should reciprocate by inviting the Pandhi family to Sunday lunch. James and Helen are testing her father's herd for TB and enjoying working together until they discover a possible positive result moves the situation quickly to awkward. Richard Alderson has been championing the testing initiative from the beginning, and he feels betrayed by James and the Ministry of Agriculture. He offers to shoot the cow, so no one will have to know. But James stands firm. He can only hold off reporting the result for a day or two.
Tristan is nervous about meeting Florence's parents and easily flustered. Florence's mother, jokester Joyce Pandhi (Helen Shields), asks him what his intentions are toward her daughter, and the family enjoys Tristan's panic, although we know he is serious about Florence. We learn Joyce, a vicar's daughter, created a stir by marrying an Asian man. The family is affectionate, warm, given to good-natured teasing, and, as Tristan learns to his cost, drink like fishes, and everyone proceeds to get very drunk.
The following day, the British government declares a 24-hour ultimatum for Germany to withdraw from Poland. But work at the veterinary practice continues, and Tristan responds to a call from Mrs. Pumphrey about a stray cat. Her opulent mansion is full of workers loading a truck with boxes of vegetables. She is fighting the imminent war by growing vegetables very successfully. The cat, not so much. A stray named Debbie, she's a placid orange lump of fur in a basket, the feline equivalent of Pekinese Tricki Woo, who Tristan gives a vitamin shot.
Mrs. Hall gets on with the day's household tasks, tidying up the papers scattered over the dining room table. She finds an envelope addressed to MAG and gathers it up with the other outgoing mail, not realizing it's the documentation for Richard's infected cow.
Mrs. Hall also discovers someone has abandoned a dog at the side door of Skeldale House. The government, fearing food shortages and blockades, suggested that pet owners destroy their animals early in the war. Mrs. Hall finds a brochure in the surgery trash can and realizes it's probably what the owner had in mind. The spaniel has a name tag — he's called Dash — and she brings him in, where he discovers one of good-natured Jesse's toys and makes himself at home. Siegfried fears a flood of abandoned dogs and cats will follow if they keep Dash, so they compromise by putting up signs about Dash on noticeboards and shop windows.
James, testing the sample from the cow with the ambiguous TB result, finds she is positive. He and Helen drive to her father's farm, but as they arrive, knacker Mallock's van is leaving. Against James's advice, Richard has flouted the law in sending the infected cow to be slaughtered, and James could be struck off. If that happens, Helen, fiercely loyal to her husband, tells her father James could be enlisted. As they return home, James suggests to Helen that they dip into their savings to help her father out if and when the farm has to quarantine.
James admits how torn he is between his work as a veterinarian and his feeling that he should be doing more to protect those he loves. At that moment, a busload of children arrives, evacuees from major cities, an eloquent reminder of what the war may bring. They retire to the pub with Tristan, who is thoughtful, still mulling over Mrs. Pumphrey's determination to take care of people.
The following day, Tristan drives to Florence's boarding house, picks (steals) a geranium from the tub at the front door, and turns down her offer of tea, not wanting to socialize with the other women who live there. She notices straightaway that he's nervous and agitated. He leads her to the side of the house, a romantic spot with a laundry line and a smelly drain, and launches into a clumsy proposal ("I want to plow my own furrow with you") using his key ring as a ring substitute. She gently turns him down. It's a painful episode for them both. Siegfried has dictated his life so far, and Florence isn't the solution for the brothers' troubled relationship or for Tristan figuring out who he is.
When he returns to Skeldale House, Mrs. Hall innocently asks if Florence is coming to Sunday lunch, and Tristan rather dramatically declares she will never be coming to Sunday lunch. Siegfried tries to make the failed relationship a joke and laughs at him, only to be surprised when Tristan gets angry. Too late, Siegfried apologizes and tells his brother he'll always look after him, only to have Tristan point out that is the fundamental problem with their relationship.
Elsewhere there are more high feelings and shouting as Helen accompanies James to MAG to see Charles Harcourt. Charles received a phone call from Richard and knew the cow was slaughtered. He is very annoyed and put out Helen came too. She launches into full attack mode: If he strikes James off, not a single farmer in the area will support the TB testing program. Also, James did not sign the form that was accidentally mailed in. Charles shouts and blusters, but he eventually admits the unsigned form has no validity and ejects them from his office. Richard, supported by his younger daughter Jenn, signs the documents brought to him by MAG officials, and the farm is put under quarantine.
Sunday, September 3, 1939. Tristan suggests Mrs. Pumphrey might take Dash, but the conversation stops as Chamberlain makes his famous radio announcement Britain is now at war. In that moment of profound stillness, we see everyone's reaction –– fear, resignation, sadness. Mrs. Hall goes outside to beat carpets, a great way to let off steam. Helen follows, suggesting she take a walk with Gerald, who has shown up nearby. (This may be a way of telling Mrs. Hall she wasn't to blame for mailing the envelope, but no one's suggested she was.) As they walk by the river, Mrs. Hall tells him Edward is writing to her, and he's not afraid, giving her hope he'll fare better than his father.
Tristan is outside the house, leaning against the wall as men gather in the market square to enlist. James joins him and tells him how sorry he is about Florence. Tristan admits he envies James's happiness with Helen. James confesses he once thought Tristan was a bit of a cad, a chancer, but he's changed his mind. He more or less paraphrases what Florence told him: marriage won't make him find out who he is; he has to work that out on his own. It's a lovely moment of friendship and brotherhood.
Mrs. Pumphrey calls to meet Dash, and she's enchanted by him. There's only one problem: Dash makes it clear he's already home and belongs with his beloved Mrs. Hall, and Siegfried agrees that the spaniel should stay. Mrs. Pumphrey reacts with her characteristic grace.
James and Helen are still haunted by the evacuees, who might never see their homes or families again. James finally confesses his feelings, "If I don't put myself forward, who am I?" He tells Siegfried, who maintains a stricken silence, of his decision. Siegfried and Tristan exchange glances across the room, but when James leaves the house, Tristan follows him, allegedly to keep him company. Siegfried and Mrs. Hall leave the house, and they clutch hands as they watch James and Tristan join the line of men waiting to enlist. Having kept her composure so far, Helen sits on the house's stairs and cries.
Siegfried finally speaks: "I never thought we'd be here again."
Church bells start to peal, which brings back a memory of silenced church bells throughout World War I. Mrs. Hall believes that wars end and normality returns, although she, like Siegfried, knows this doesn't always happen. James and Tristan move forward with the rest of the line, and the camera fades to black. In the silence before the credits, we hear not the familiar jaunty theme music but the first few notes of Taps.
Stream Now
All Creatures Great And Small
James Herriot's adventures as a veterinarian in 1930's Yorkshire get a new TV adaptation.
Image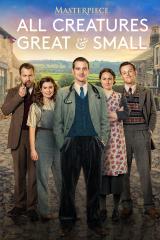 ---
By
for on February 12th, 2023
More to Love from Telly Visions