By
for on February 19th, 2023
"Merry Bloody Christmas" is a Bittersweet Finale to 'All Creatures Great & Small' Season 3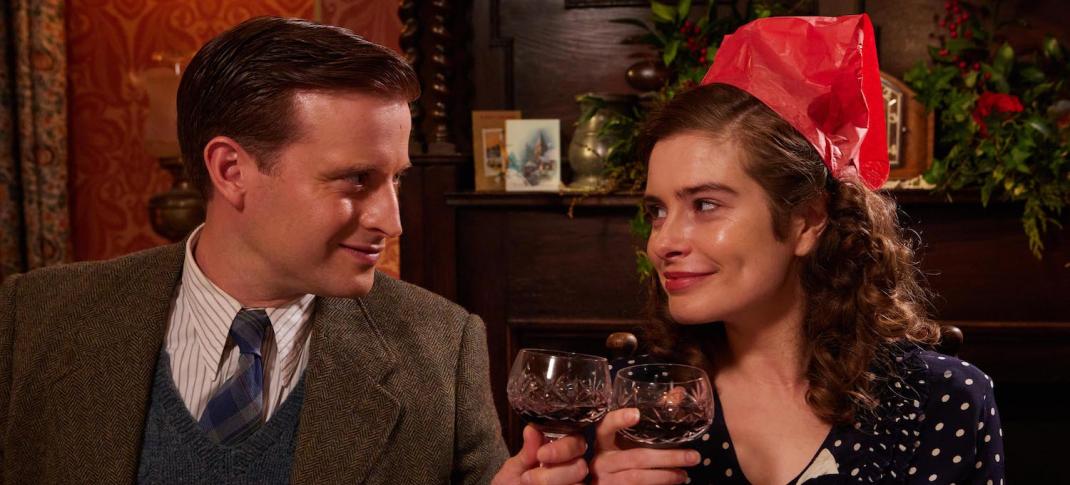 It's snowing in Darrowby in December of 1939, but there's something different about Skeldale House. Every windowpane is pasted over with tape to protect its occupants from flying glass in case of a bomb attack. War is here, even in this quiet corner of the country, while major cities are being bombed, and young men go to war or wait to receive the letters summoning them to start their military service. It's going to be a different sort of Christmas.
Tristan: Lesser men would have thrown in the towel, but he wouldn't. And I want to thank him for it. I love you, Siegfried. So I guess the only thing left to say is "Merry Bloody Christmas."
As All Creatures Great & Small's Season 3 Christmas special (snow, sparkly things, silly paper hats, Christmas dinner), the episode works, but as a season finale, it's lacking. James and Helen don't do much except look happy, which is nice but doesn't have much dramatic impact. The Skeldale House community is imploding, military service beckoning for Tristan and James, a major life decision for Mrs. Hall, raising questions for Season 4.
The household has been joined by an evacuee, Eva Feldman (Ella Bernstein), a bright, lively child who writes home that her hosts remind her of the characters in the Wizard of Oz. An evening of games (Scrabble for Siegfried, Mrs. Hall, and Rachel, arm wrestling for Tristan and James) is interrupted by a phone call. River, the beautiful racehorse Siegfried saved in Episode 3 (and in so doing helped to save himself), is injured.
The next morning, River's owner Major Sebright-Saunders mentions he's heard that Tristan is about to receive his call-up papers for the RAVC (Royal Army Veterinary Corp). This is news to Siegfried, and apparently, Tristan hadn't told his brother — or Siegfried can't bring himself to admit the truth — that he was doing more than keeping James company in the line to enlist in last week's episode. Seeing Siegfried's reaction, the Major suggests that if Siegfried can heal River's injury in time for the Boxing Day Meet, he'll "have a word" with the Colonel, who is in charge of the prestigious race to keep Tristan at home.
Siegfried is alarmed. He has less than three days to heal what may be a stress fracture, and if River runs in the race, he could suffer further damage which might be irreversible. It should go against all his principles as a veterinarian, but this is his little brother Tristan, and he'll do anything to save him. He makes the decision to take River back to Skeldale House for intensive treatment and snaps at Tristan when he questions his brother's judgment. In a roundabout way, ostensibly talking about the horse's treatment, Siegfried asks his brother to stay. Tristan is confused by his brother's intensity.
Eva is Jewish and sad that she's missed Hannukah, which began on December 6. James invites her to accompany him to a call at Mrs. Pumphrey's house, as the stray cat Mrs. Pumphrey wants to adopt disappeared and then came back, thin and with a kitten. She's underweight, and James suggests they should take the kitten away for bottle-feeding so that the mother cat can regain her strength. As kind-hearted James knows, the kitten will provide comfort to Eva, who yearns for her family. Eva enthusiastically fills her pockets with Mrs. Pumphrey's chocolates and cuddles the kitten, who is now named Toto.
Tristan, finding himself at loose ends with an empty surgery and no clients in sight, goes to the Drover's Arms, where Maggie (Mollie Winnard), now married to the pub's owner, is working. When she asks about Florence, Tristan adopts his old, flirty persona until he tells the story of his unfortunate and mistimed proposal. Maggie laughs at first but is sympathetic. As Tristan leaves, he buys her husband a pint on his account only to learn that — horrors! — he owes the pub rather a lot of money.
Brace yourself for another brief encounter between Mrs. Hall, shopping in the marketplace, and Gerald. Gerald has a new job in Hull and plans to go to his sister's for Christmas before leaving. Mrs. Hall collects her wits and invites him to a Christmas Eve party, not the lavish affair Skeldale House used to give because it's inappropriate when the country is at war, just drinks with a few friends. At dinner that evening, Eva chats about Christmas when Mrs. Hall announces there will be some food and drink and a few friends over for Christmas Eve. To her chagrin, the adults all look at each other and bellow: "Gerald!"
However, Mrs. Hall has a surprise for Eva, a Hannukah seder, where Eva sings the prayer. The evening ends quietly, with Siegfried staying up late to search medical textbooks for a cure for River's leg. The next morning, Siegfried collects the mail, slips a letter from the RVAC (Royal Army Veterinary Corps) into his pocket, and Tristan finds him watching River in the paddock. The Major whispers to Siegfried that Tristan is safe. However, things escalate when River refuses to move, exactly as he did when the injury was first detected. Siegfried tells the Major he'll give River an injection just before the race, shocking Tristan, who challenges him and is told to shut up.
Stream Now
All Creatures Great And Small
James Herriot's adventures as a veterinarian in 1930's Yorkshire get a new TV adaptation.
Image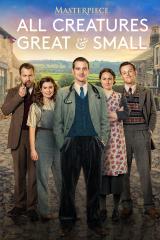 Alone with River, Siegfried begs forgiveness for what he may have to do — it's his little brother, he'll do all he can do for the horse, and, ominously, he'll be there at the end. As Tristan head inside, he can't understand Siegfried's abandoning his high standards of medical care. But when he thinks about Siegfried's attitude to protect his younger brother at any cost and his access to a network of powerful retired military men, he realizes what must be going on. He calls the attending veterinarian at the racecourse to declare River unfit to race.
Before that particular bomb explodes, it's time for the Christmas party that isn't really a party, and guests are rather sparse. Tristan rounds up a few people from the pub, and Helen's family arrives. Mrs. Pumphrey reassures Eva that Toto is in the best place under her care, even if he's away from his family. Unfortunately, Richard Alderson is cast as Father Christmas, and his imposing presence sends children running away in tears. "Dad, be nice," Helen tells her father as Eva braves Father Christmas's lair. Her conversation with Father Christmas comes to an end after she's been given the customary orange and asks why she didn't get sweets. "Christmas is strange," she comments.
There's an awkward but rather sweet encounter between Tristan and Maggie, who meet under a bunch of mistletoe, laugh, and carefully back away from each other. Mrs. Hall has been nervously awaiting Gerald, and when he arrives, they're both uncomfortable. She enlists Jenny to keep Gerald in the house and ply him with food and drink.
Siegfried interrupts the festivities to summon Tristan, furious that River has been withdrawn from the race. He demands Tristan call the racecourse veterinarian back. Tristan refuses, and the pair retire to the kitchen, where the brothers resume the all-too-familiar fight with Mrs. Hall as referee. This time Siegfried admits his jealousy of the baby who supplanted him (Tristan) and how he's done everything he could for him. Tristan, who's had enough, announces his intention to leave. Siegfried admits defeat and hands him the call-up letter.
Poor Mrs. Hall leaves that drama only to find Gerald has gone. But he comes back, and in the best Christmas rom-com tradition. Mrs. Hall runs in slow-mo as background music swells and kisses him. "I picked up the wrong coat," he says, and Mrs. Hall is taken aback. "But I'm glad I did," he adds. Mrs. Hall kisses him again while he looks delighted and befuddled. What a Christmas gift! Siegfried, who is having a truly terrible night, lurks nearby and looks stricken (Siegfried, you had so many chances ....).
Eva gets the whole house up early on Christmas morning, ready to dive into her presents, even though it's against Skeldale House traditions. She opens a package that holds a pair of red shoes. She puts them on and clicks her heels together three times — but nothing happens, and, devastated, she runs away. Siegfried finds her feeding Toto and attempts to comfort her. He is fragile and humbled, and when she asks if he's sad about Tristan leaving, he replies quietly that he is.
But Christmas lunch — complete with silly paper hats and lots of food — brings about reconciliation and forgiveness. This year, Tristan is the one to make the Christmas speech, admitting he's "not well practiced at being serious" but will try anyway. "All of us are missing someone. Most we'll see another time. Others we won't. I want to give thanks to them. I want to remember them and thank those who filled the hole they left behind. Especially my brother, who made a promise to our dying father that he would take care of me, make sure that I was properly educated, and that I would make something of myself." It's a touching speech, hopefully closing the door on their fights.
The following day Tristan leaves for his military service, with Siegfried driving him to the train station. They're both emotional, and Siegfried surprises his brother by hugging him. However, as Tristan boards the train, he mentions the bar bill he's racked up, and true to form, he doesn't need a ticket. Of course not. He's traveling for free on the sacks of mail in the guard's van, just as he did when we first met him in the series.
Traistan's departure brings his story full circle, but who knows what the next season will bring all of our favorite characters. Hopefully, everyone will be back for another Merry Bloody Christmas.
---
By
for on February 19th, 2023
More to Love from Telly Visions