By
for on January 22nd, 2023
'All Creatures Great & Small' Dives into the Psyche of "Surviving Siegfried"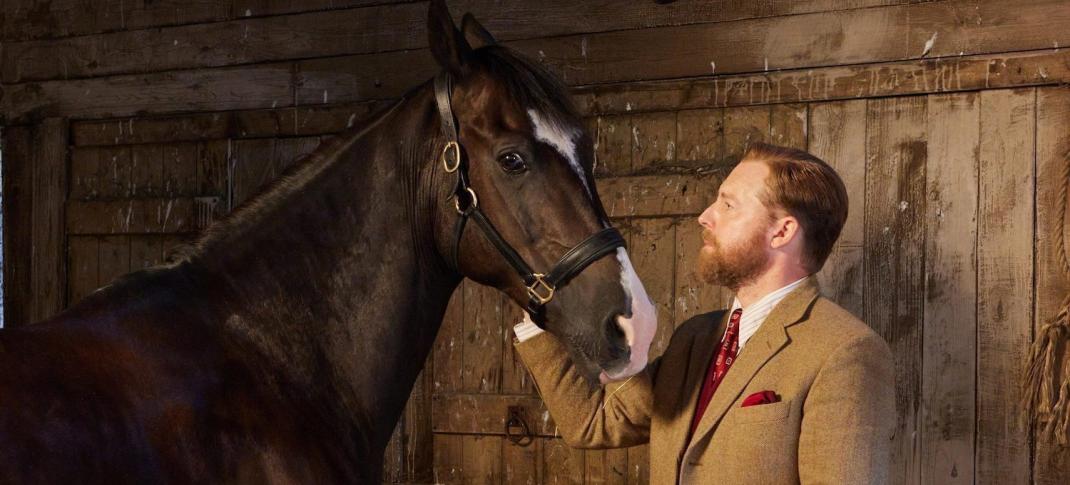 Warning: This episode of Masterpiece's All Creatures Great & Small contains scenes and mentions of animal suffering and cruelty that you may find distressing.
Despite his outward confidence and success in All Creatures Great & Small, senior veterinarian Siegfried Farnon is a haunted man. Like many of his generation who survived The Great War (World War I), he suffers from PTSD, or "shell shock," as it was then called. It is not something he can discuss or seek help for, but he must instead endure. Despite the playfulness of this week's title, "Surviving Siegfried," this episode might as well be called "Siegfried, Surviving."
Major Saunders: When you've seen what we have, I'm not sure that [humanity] exists anymore. Now it looks like we're going to make the same mistakes all over again.
As the episode begins, in his mind or dreams, he is again in the Army Veterinary Company, riding through the horrific landscape of Ypres, a bleak and shocking contrast to the beautiful Yorkshire scenery we enjoy so much in this series. The young Siegfried (Andy Sellers) and two fellow soldiers try to rescue a wounded horse while fighting to put on their masks during a gas attack.
It's almost a relief to see him throw a tantrum at Tristan for the poorly organized dispensary, waving two almost identical vials at him containing hydrogen cyanide and antiseptic placed side by side on the shelf. Mrs. Hall suggests that he not put the deadly poison on the breakfast table, and peace descends for a while.
Poor James has been out all night again and has at least two calls to make. Helen, concerned at his lack of sleep, offers to drive. The first stop is Mrs. Beck (Jackie Edwards), whose cat Georgina needs spaying. Spaying is seen as a luxury rather than a necessity, so Mrs. Beck tries to bargain the price. She fails but tricks James into picking the cat up. Next is farmer Isaac Cranford (Mike Harding) trying to persuade James his dead cow was struck by lightning so that insurance would pay for it. James says a post-mortem will provide the cause of death. James and Helen continue to discuss the best way to approach farmers about TB testing, as her father has finally agreed to have his herd tested.
Tristan spends the day tidying the dispensary and waiting for drop-in patients and receives a visit from slick veterinary medicine salesman Mr. Barge (Marc Pickering). Mrs. Hall, immune to Barge's charm, isn't sure that Tristan should deal with him when Siegfried is out, but Barge produces his latest new product, a sedative, and Tristan orders a quantity of it.
Meanwhile, Siegfried, the equine specialist, is off to Major Albert Sebright Saunders (Michael Maloney), who has acquired a new, beautiful racehorse, River. However, the new horse is stressed, disturbed, and cannot be ridden. River came from Ireland with groom John Monkham (Steven Hartley), who blames it on "a rough crossing," but it becomes clear John mistreated the horse. Convinced the damage is psychological, Siegfried speaks soothingly, as though River is an old friend, and suggests the horse be stabled with another for company. While there, the Major tells Siegfried that Sgt Maurice Oliver (Declan O'Connor), Siegfried's friend, committed suicide.
Triggered, Siegfried relives another terrible memory; hours before the peace declaration was made, he was told that the horses would not be shipped home. He and his fellow officers have orders to slaughter them. (Siegfried spoke movingly about this painful experience in Season 1.) Despite his PTSD, Siegfried has the courage to look up his wartime records of dealing with disturbed horses, trying to find something to help River heal. He also re-reads the last letter he received from Maurice, searching for clues that his friend was considering suicide, but he can find none.
The following day Siegfried approves of Tristan's reorganization of the dispensary but is annoyed he succumbed to Barge's sales technique. With James exhausted from yet more overnights, Helen asks why Tristan doesn't take night calls. Siegfried explodes in anger. James, Tristan, Helen, and Mrs. Hall know something is upsetting Siegfried but cannot approach him. He shows Mrs. Hall a photograph of himself and Maurice and their horses, murmuring about seeing terrible things during the war, but that's as much as he can bring himself to say.
James and Helen drive to the knacker's yard operated by Jeff Mallock (Jim Moir), a sinister place that looks like something out of a Hieronymous Bosch painting. Jeff, covered in blood and filth, whose hygiene standards are very low, is eating breakfast. He fancies himself as a medical expert and offers his opinion Issac's cow suffered from "stagnation of the lungs." But he obligingly presents James with a large piece of the late cow, including its heart, and James can see the animal died of heart disease. 
Stream Now
All Creatures Great And Small
James Herriot's adventures as a veterinarian in 1930's Yorkshire get a new TV adaptation.
Image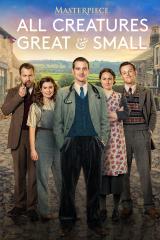 Siegfried continues his treatment of River by saddling him and the horse assigned as his overnight buddy, Pegasus. Siegfried establishes that River is terrified of riding crops, strongly suggesting he has been beaten and traumatized. As a precaution, he gives River a shot of the new sedative. As he rides Pegasus around the paddock and outside for a gallop, River accompanies them, running alongside. The next step, Siegfried tells the Major, is for him to ride River.
The Major, who appears impatient with Siegfried's treatment, says he won't be responsible for Siegfried's doctor's bills. He likely suspects Monkham is responsible for the horse's condition but does not want to confront him. Siegfried mounts River as John produces a riding crop and tosses it to another groom within the horse's sightline. River throws Siegfried, shocked but not severely injured, and the Major blurts out that he's had enough. He has convinced himself his only option is to destroy the horse.
James and Helen arrive at Mrs. Beck's home to pick up naughty kitty Georgina. Mrs. Beck indicates that the cat is somewhere in the garden and leaves them to find and capture her. Georgina puts up a tremendous amount of resistance, and James gives her a shot of the new sedative as he stuffs her into a box. As they drive back to Darrowby, Georgina breaks free, scratching, biting, and becoming entangled with the controls, and the car swerves alarmingly. At Skeldale House, Georgina attacks Tristan in the surgery room.
After their trying day, James, Helen, and Tristan visit the pub, where Isaac, also out for a drink, challenges James about TB testing as government interference and an attack on farmers. James points out that without testing, people can die; Helen argues it's for the greater good. Isaac asks Rachel's father if he's getting his herd tested, and he replies he will. That silences Isaac, but Helen is nervous the public debate may do their cause harm. Helen and James take Georgina back to her doting owner. Mrs. Beck is almost about to pay the ten shillings fee but remembers that the cat has to have a follow-up visit and snaps her purse shut, saying she'll pay then. Helen and James take it with good humor.
The following day, Siegfried, stiff from his fall, apologizes to Helen for his outburst the day before. He asks Tristan to accompany him to the Major's estate as an army truck drives by, yet another reminder of the upcoming war. He says when he returned from the war, tractors had replaced working horses. Tristan asks him if he's okay, and he replies that he's not; how could anyone be under the circumstances? Tristan, bless him, asks if he can take night calls, and Siegfried agrees to have a phone line installed in his room. You can see Tristan regretting it immediately.
Siegfried has requested that the Major be present when they put River down and makes a last plea for the horse's life. The Major insists that he can not race River since the use of a crop is essential, but Siegfried argues the crop can be gradually introduced. Siegfried offers to take River for a ride, although Tristan tries to dissuade him. Siegfried rides River around the paddock without bothering with a saddle, then outside to gallop up a hill. A vast green vista opens up below as they slow at the summit. It's a beautiful surprise ending to an episode of strong emotions and human and animal pain.
---
By
for on January 22nd, 2023
More to Love from Telly Visions