By
for on February 5th, 2023
Mrs. Hall Takes A Chance to Heal Her Family in 'All Creatures Great & Small's "Edward"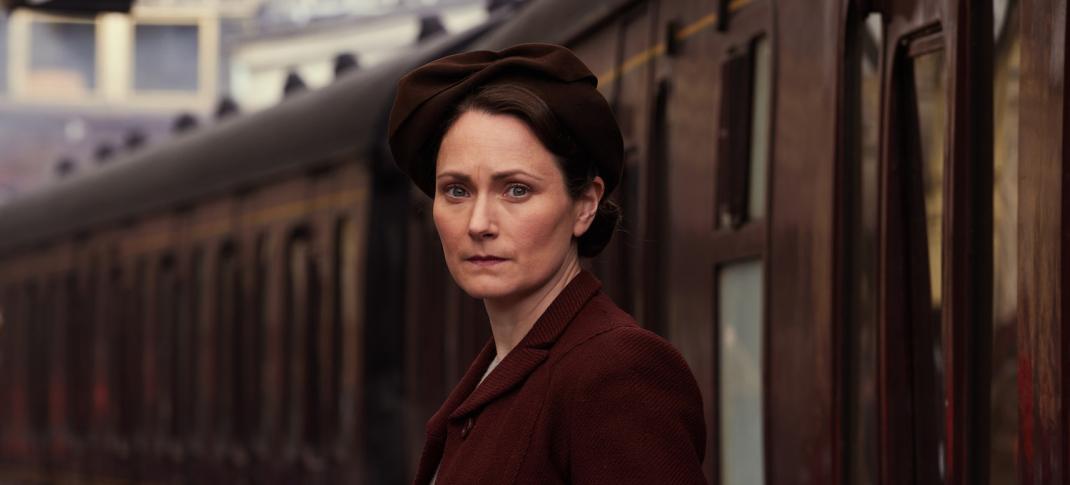 All Creatures Great & Small opens with Mrs. Hall on a train to meet her estranged son Edward. It's been some time since we heard about Edward and his no-showing to Skeldale House's annual Christmas party, but he represents a particularly painful part of Audrey Hall's life. She's nervous and agitated, clutching a tin of his favorite shortbread. The damage goes back several years to when Edward stole from her employer, and she reported him to the police. But with the war coming, Edward is in training with the Navy. Before he ships out on the HMS Repulse, his last leave period is to say goodbye to their families, and it's his idea that they should meet.
The meeting place, Keighley Railway Station, is teeming with young men in uniform. As Audrey leaves her carriage, another train pulls in on the opposite platform, and a young man in naval uniform gazes out of his window at her, who looks like Edward (Conor Deane). But he stays on the train as it pulls away, and Audrey makes her way to the station waiting room. A couple of women running a refreshment stall on the station offer Mrs. Hall tea. Still, she initially declines until the siren call of a nice cuppa finally tempts her. She tells the friendly woman, Penny (Lara Steward), that she's changed her mind.
However, Penny is deaf, Audrey is standing out of her sightline, and the request goes unacknowledged until Penny turns and communicates with a combination of speech, sign language, and lip reading. Penny, nudging her companion, asks if Mrs. Hall has a romantic assignation. Mrs. Hall explains she's meeting her son, Edward, and learning sign language for the word son. She waits as the day wears on and people come and go.
James and Helen are visiting the Aldertons' farm and enjoying themselves until her sister Jenny announces that she's left school to work on the farm full-time. She's fourteen. Jenny can sense Helen's disappointment, but Helen is concerned that her younger sister is not ready for the difficulties and hard decisions she'll encounter. However, she has done great things with the farm, and Helen admires her work, watching as she inspects and trims a sheep's hoof. But there's one sheep in the herd with foot rot that Jenny missed, to her chagrin, leading to James being consulted.
Jenny must now make the difficult decision Helen anticipated, as the only option to save the animal is to surgically remove part of the hoof, a risk in the days before antibiotics. Jenny bravely gives James the go-ahead, deciding it's worth the risk. After some thought and with James's gentle encouragement, Helen apologizes to Jenny for judging her choice to run the farm instead of staying in school. She didn't mean to denigrate her but remind her that the world is full of opportunities, although Jenny's skill as a farmer indicates she made the right decision.
With Skeldale House now a bachelor establishment, Siegfried delegates all household duties to Tristan, who resigns himself to a day of cooking and cleaning, wearing one of Mrs. Hall's pinnies (aprons). Siegfried offered local student Andrew Simmonds (Austin Haynes), a boy of about 12, to shadow him, and the kid is a sweetheart, polite, intelligent, and serious. Siegfried takes him on a tour, singing Gilbert & Sullivan, a sure sign that he's in a good mood, and introduces Andrew to his pet rat Vonolel (named after a famous, heroic cavalry horse), and the bonding begins in earnest.
Curious about how the work experience day is progressing, Tristan watches in disbelief as Andrew, allowed to hold Vonolel, confesses that rats are one of his favorites. He and Siegfried discuss the species, and Tristan's jealousy grows. Just then, one of the local farmers, Mr. Sunningwell (Ian Mercer), arrives, very upset, with an emergency case. His dog is in severe pain after being kicked by a cow, and Siegfried has a brief, embarrassing skirmish with Tristan on who is to help in the treatment. Tristan is sent back to the kitchen, where a mountain of dirty dishes awaits, while Andrew is given a white coat.
Andrew tells Mr. Sunningwell that Mr. Farnon will make his beloved dog better. Furthermore, he has figured out that the injury is internal, a hip dislocation. After a cautious dosage of anesthesia, because it's likely the dog has suffered a concussion, Siegfried and Andrew use a towel and muscle power to successfully pull the joint back into position. Mr. Sunningwell is relieved that the surgery was a success and refers to Siegfried as Andrew's father as he thanks them. Tristan, who served Mr. Sunningwell tea, learns that the dog means so much to him because she's the last connection he has to his late mother.
Back at the station, Audrey has been waiting almost all day for Edward. However, just as she gives up and begins to leave the platform, Edward suddenly appears. It's an awkward meeting. Penny suggests they go to the lost luggage room so they can talk in a quiet space. Their conversation lurches clumsily between genuine attempts to connect (mostly Mrs. Hall) and anger (Edward) or denial (both of them). Edward refuses the tin of shortbread, claiming he doesn't have room in his kitbag, although once they were his favorite.
Edward and Audrey recall how Edward's father used to ask her to burn her shortbread because he liked the burned bits, which brings the revelation Edward is estranged from his father too. He's angry at how his father treated his mother, but Audrey comments that his father was a good man before the war Edward admits he's afraid that war if it comes, will change him for the worse too. She's adamant that it won't and claims their meeting is "just in case." Edward admits that the Navy is helping him to create a new identity, that of someone good.
Audrey tells her son she has always seen the good in him, which brings them back to his arrest and subsequent traumatic imprisonment at Borstal (a facility for young offenders with a notoriously harsh regime). At the last moment, as the train pulls up, Edward says he'll take the tin of shortbread, but it falls as she tries to hand it to him through the open train window. Scooping up the fallen cookies, Mrs. Hall weeps, with Edward clearly trying to say something to her as the train gathers speed. Penny, who followed Mrs. Hall at a discreet distance sensing this farewell would be hard for her, tells Audrey she was able to lipread Edward's farewell words: "I love you, mum." 
As the day winds down, Tristan is subdued, clearly feeling marginalized by seeing Siegfried and Andrew. As he removes the shepherd's pie he's cooked from the oven, he burns himself. Siegfried tends to the injury, and Tristan blurts out that he was just like Andrew when he was a boy, full of enthusiasm and curiosity. Why wasn't Siegfried so kind and encouraging to him? In a rare moment of humility and honesty, Siegfried admits he failed Tristan, wishes he could go back and fix things, and regrets he'd told his late wife Evelyn he wasn't ready for children early in the marriage. By the time he was ready for the children, Evelyn was sick, and it was too late.
Audrey arrives home, full of admiration for Tristan's housekeeping, particularly the table setting with its thoughtfully chosen vase of flowers. She reports that her meeting with Edward was too brief but a change for the better. Tristan settles Audrey and Siegfried with tea and some of the well-traveled shortbread in the living room. Siegfried expresses his gratitude to her for all she does. 
What a journey Tristan has made since we first met him. He's lost his youthful selfishness and superficiality, mature enough now to let his natural kindness and sensitivity shine through. He wasn't happy about his delegation to housekeeper, but he did well, despite Siegfried's complaints about excessive potatoes. He gave Mr. Sunningdale more than a cup of tea; he allowed him to express his deepest feelings. He started a quiet and rational discussion with Siegfried, able to admit his pain. And –– it must be said –– he rocks that pinny. 
Stream Now
All Creatures Great And Small
James Herriot's adventures as a veterinarian in 1930's Yorkshire get a new TV adaptation.
Image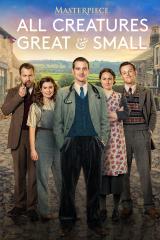 ---
By
for on February 5th, 2023
More to Love from Telly Visions