By
for on January 24th, 2021
'All Creatures Great and Small' Episode 3 Recap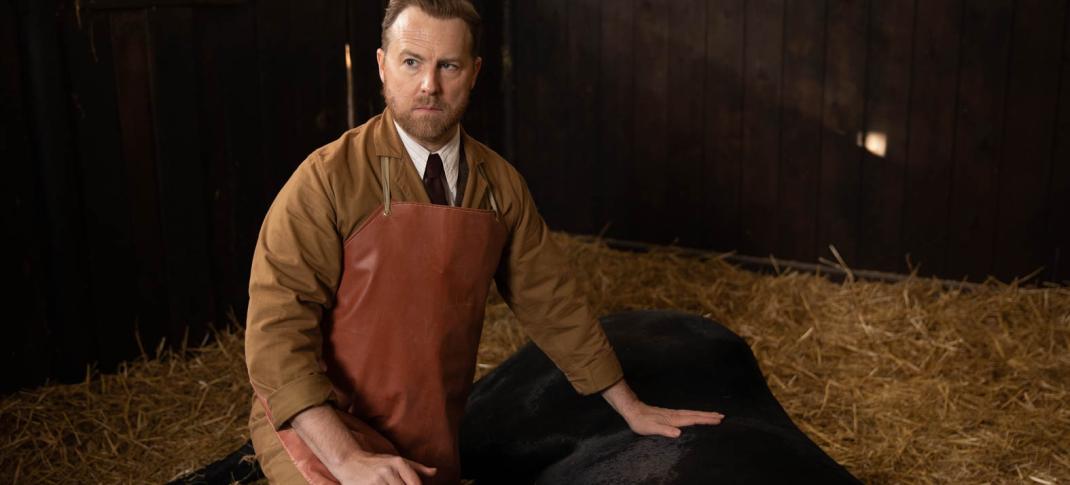 Stream the entire series now on WETA Passport. 
And they're off … as the latest episode of All Creatures Great and Small begins, Siegfried and Tristan start the day with a typical comic routine where, in this early-rising household, Tristan attempts to avoid his brother and spend a few more hours in bed. Siegfried, smartly dressed and about to leave the house, searches for cash and finds their supply depleted. Naturally, he blames his brother until Mrs. Hall intervenes and reminds him that she has used the money for groceries, and if he can't be bothered to bill his clients, this is the consequence.
Siegfried finds a solution to both problems by sending his idle brother out to bill the farmers directly—it's market day and everyone's come into town. Problems solved, he sets out for his important appointment with the officials of the Darrowby Race Course, to interview for his dream job as an official veterinarian. He loves to work with horses and appreciates the prestige it will bring to the practice.
James meanwhile, called out to look at an ailing calf, meets another car on a narrow bridge, where one of them will have to give way. The other driver is Hugh Holton, his rival for Helen, also on his way to the Darrowby Race Course. James becomes impatient with Hugh's patronizing attitude, but Hugh is the one to back down.
Siegfried meets General Ransom (Nigel Havers, Chariots of Fire), the Racecourse's Big Cheese, upper-class and arrogant. The General is dismissive of Siegfried's experience and is taken aback when Siegfried politely points out that anatomically there is little difference between a farmer's working horse or a thoroughbred. But Hugh gives Siegfried a glowing endorsement, claiming there's no other veterinarian he'd trust with his thoroughbred Andante, the favorite for the next day's race.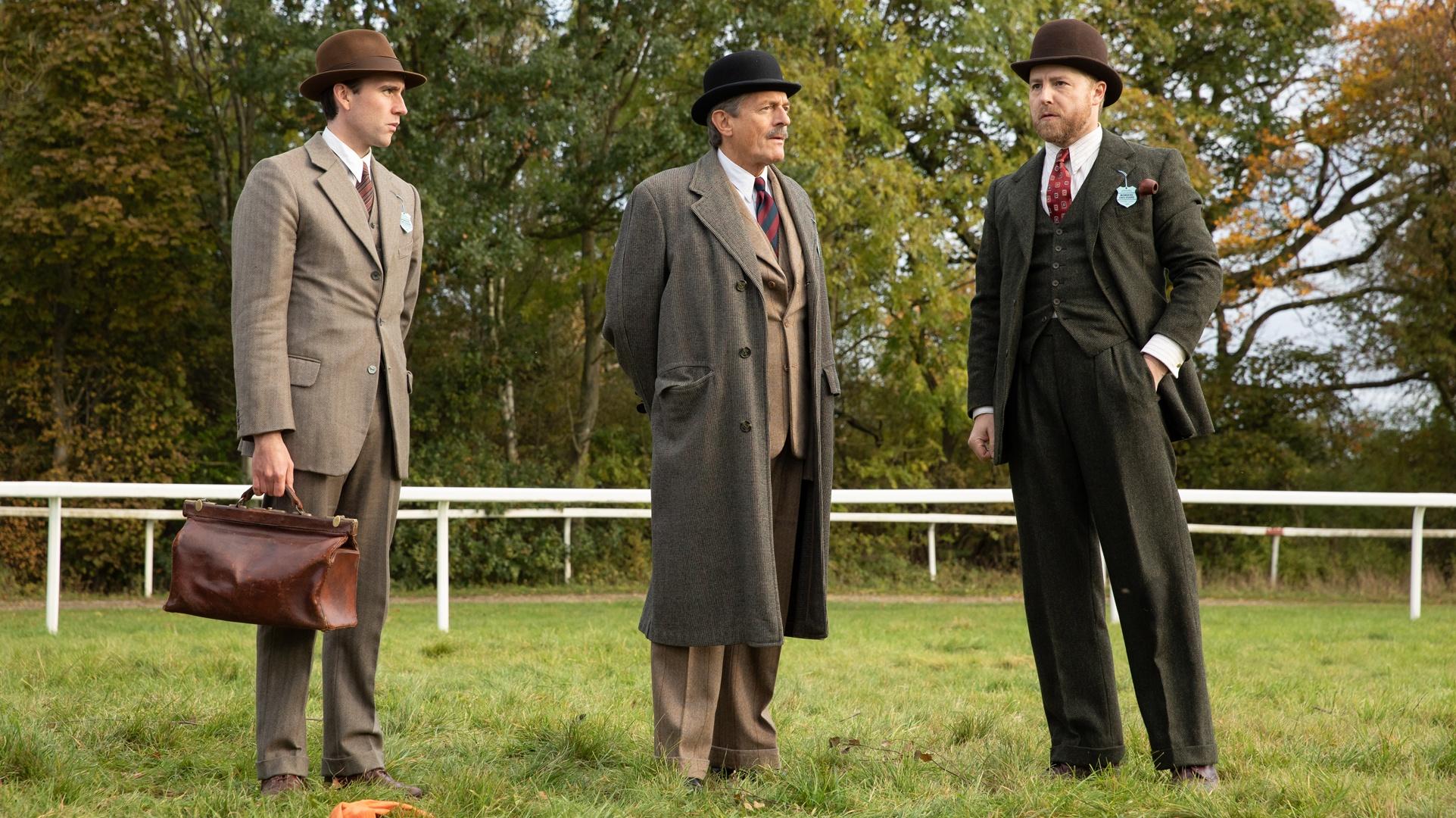 When a horse on a practice gallop on the racecourse collapses, Siegfried has a chance to show his expertise. He is tender and patient with the fallen horse, talking to it as though it were an old friend. He's in no hurry in case the horse has suffered a head injury in the fall, but the General is impatient and wants to call a tractor to winch the animal up. Siegried tells him bluntly that he can't allow him to do that, and continues to soothe the horse until it is able to get to its feet.
The General is not pleased and voices his displeasure at what he sees as insolence. Has Siegfried blown it? Hugh leaves to take a phone call, and Siegfried and the General continue their conversation. Siegfried volunteers that he's built a successful practice, with one assistant, and another when his brother qualifies, but "horses have always been my passion." The General's response is tepid until Siegfried mentions his war experience: Belgium, 1917, Army Veterinary Company, including the Battle of Ypres. The General perks up at this and Siegfried continues.
The bravery of the men who fought was matched only by the bravery of the horses that carried them there. The things those poor souls endured, and then we shot a lot of them. Cheaper than bringing them home on boats, you see. If I can help a horse in pain, I feel in some way I'm repaying a debt of sorts. There you have it. If I offended you earlier, it's only that for me the animal comes first, above all things.
The General agrees. He's become much more friendly and invites Siegfried to meet him the next evening at the racecourse, implying that he's going to be given the job.
James, meanwhile meets Mrs. Calvert (Susan Jameson), the owner of the sick calf, who greets him with the aggressive humor that so many Yorkshire farmers seem to enjoy, praising his smile and then calling him "a happy Harry," which is not meant as a compliment. James diagnoses heat exhaustion, prescribes buckets of cold water, and returns to Darrowby where he finds Mrs. Hall entertaining Helen's younger sister Jenny Alderson (Imogen Clawsen). Jenny, aged twelve, is a bit of a handful, and Helen gratefully accepts Mrs. Hall's invitation to take her for the day. Jenny, given to grandiose pronouncements like "We were born to the land to work the land," is bright, opinionated, and curious. She wants to run the family farm but she's also very interested in veterinary work.
James isn't home for long, because there's a call from Hugh Holton's stables about a horse with colic, so he sets off for what will be his most harrowing experience so far, and, warning, also for us. The stables staff, led by Mr. Soames (David Fleeshman) are stressed and fearful because the sick animal is Andante, Hugh's prized thoroughbred. Soames blusters that the horse needs only a simple treatment, but James suspects the problem could be serious. He insists on doing an examination and discovers Andante cannot be saved. The horse's bowel is twisted and blocked. There is only one thing to do, and Soames rages: he doesn't believe James, he wants Siegfried to give a second opinion, and he sends one of the men off to call Hugh at the Darrowby Race Course.
Ignoring Soames's threats and bullying, James knows he has no choice: like Siegfried, he cannot let a horse suffer, while fully aware of the terrible ramifications if his diagnosis wrong. There are no graphic visuals, but James's fear and sorrow at having to destroy such a beautiful creature is, and the slow steps to the act itself are gripping and moving.
Hugh arrives, furious, and physically attacks James. He doesn't believe the diagnosis and he is devastated by the loss of Andante. James drives away, fighting back tears.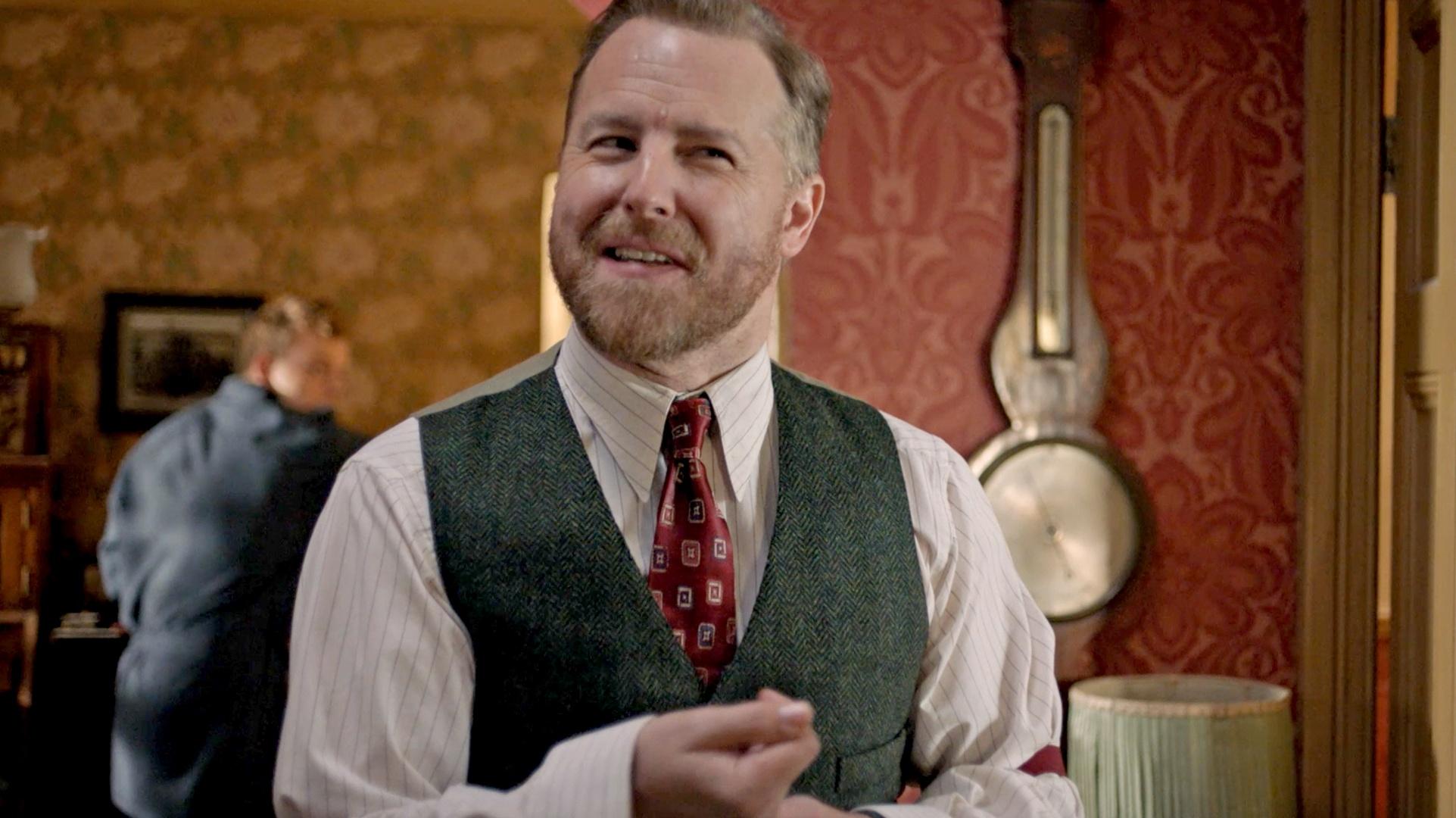 As for Tristan … armed with the ledger, he pursues creditors through the market, with mixed success, and then follows them into the pub. If they have money enough to drink, they can pay their bills. Tristran finds an ally, the attractive new barmaid Maggie (Mollie Winnard).  She flirts with him but tells him that he'll have to buy himself a drink if he wants to stay in the pub and conduct business—the farmers think this is hilarious since he's notorious for relying on others to buy drinks. Maggie is also taking bets for the big horserace the next day. She recognizes Tristan as a kindred spirit—attractive, bright, and somewhat unscrupulous, "peas in a pod," as she puts it. Finding himself in good company and with cash from the debts he's been able to collect, Tristan starts buying rounds. He's shocked to discover, sometime later, that nearly all the money has gone.
And then James arrives. "Here's one of my employees," Tristan announces brazenly. He notices immediately how upset James is, and is shocked at the news that he's had to put down Andante. But this is his chance—he places a bet on the second favorite in the race, Finlay Bay, knowing that if the gamble pays off he'll recoup his losses and probably more.
Siegfried arrives home, elated by his successful interview, and tells Mrs. Hall he almost certainly has the position. But then Hugh arrives, angry at the loss of Andante and threatening legal action. Siegfried, who has not yet heard James's side of it, offers to do a post mortem the next day. As Hugh leaves, James comes home; it's an awkward encounter.
Siegfried is supportive, until James voices doubts about the diagnosis, hardly surprising since the experience has been such a blow to his confidence. There will be consequences, Siegfried warns, if he was wrong; you've probably noticed that he demands full accuracy from James and Tristan on veterinary matters.
Breakfast the next day is awkward for Tristan, who shows his brother the ledger and then mutters an excuse about wanting to collect all of the money and he's left his billfold upstairs anyway, and bolts out of the house. When James leaves later to treat yet another sickly calf at Mrs. Calvert's farm, Tristan pops up from the back seat where he's been hiding. Once again James meets another vehicle on the narrow bridge, but this time it's Helen taking Jenny to visit Mrs. Hall. She's heard the news about Andante, and James awkwardly refers to Hugh as her fiance. He's relieved to hear that she's not engaged to Hugh, and naturally, Tristan finds it all highly amusing.
Mrs. Calvert greets James as "Herriot the horse killer," and demands that Siegfried see to her calf. Tristan rushes to James's defense, and they examine the calf which is showing some very unusual symptoms. James is perplexed but notices that the ramshackle barn is fortified with painted pieces of wood, which the calf has been chewing. Mrs. Calvert whines that it's a calf, that's what they do, and it's wood repurposed from the house.  James realizes that the calf is showing all the symptoms of lead poisoning. It's another simple solution, and he prescribes Epsom salts in the calf's feed.
Mrs. Hall, knowing Jenny is more interested in veterinary work than cooking, sets her to work feeding and cleaning out the cages of the animals cared for by the practice. Jenny is thrilled, but Mrs. Hall warns her that Mr. Farnon is very particular about the animals' care. Helen finally allows herself to share her concerns about Jenny to Mrs. Hall, who advises her that probably what she needs right now is a big sister, not a replacement for their late mother.
At the pub, Tristan is rejoicing that his horse won, and he and Maggie kiss (well done on the consent, there!). Unfortunately, she addresses James as "horse killer" to his chagrin, so the word is out.
Back from the post-mortem, which Hugh insisted on attending, Siegfried tells James he was right: he found a significant torsion of the bowel, and James is overcome with relief. But it's not over for Siegfried. Hugh is still angry with them both. The episode has also damaged Siegfried's eligibility for the Race Course position, as he finds out when Major Ransom visits. The Major would "like to" offer him the job, but only on the condition that Siegfried fire James. Politely, Siegfried refuses.
Mrs. Hall has overheard this conversation and tells Siegfried she's fielded calls all day from clients who don't want James to treat their animals. Siegfried's solution is to send James out for all of the calls, a move that will restore both James's confidence and his reputation. And Tristan proudly presents his brother with the ledger and the money from their clients.
What did you think of this episode?  Did you feel uneasy about the way Tristan lost, and then won back, the practice's money? Was Mrs. Hall trying to make Jenny appreciate the domestic arts rather than encourage her ambitions in untraditional roles? Let's talk!
---
By
for on January 24th, 2021
More to Love from Telly Visions