By
for on February 11th, 2021
'Agatha Raisin' Officially Renewed For a Fourth Season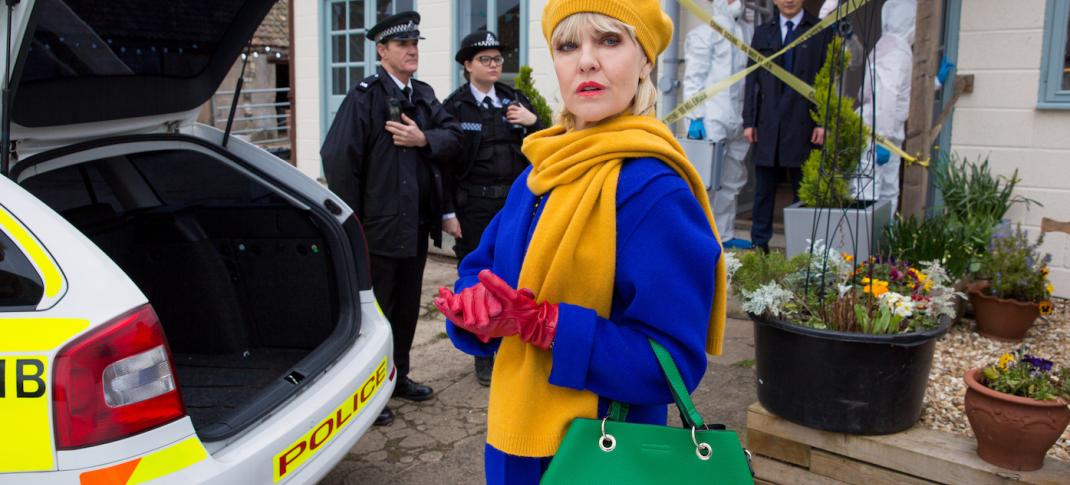 It's official: Popular female-led mystery series Agatha Raisin will officially return for a fourth season on streaming service Acorn TV.
Based on MC Beaton's best-selling novels, the series follows a London PR whizz turned amateur sleuth, who becomes entangled in mischief, mayhem, and murder when tries to take early retirement in a small village in the Cotswolds. Drawn into various mysteries, Agatha attempts to solve the crimes… often in rather unorthodox and amusing ways.
Emmy-nominated actress Ashley Jensen will once again return as Agatha, along with other familiar faces such as Mathew Horne (Gavin & Stacey) as Roy Silver, Jamie Glover (Waterloo Road) as James Lacey, Jason Merrells (Safe House) as Sir Charles Fraith, Lucy Liemann (Rev) as Sarah Bloxby, Matt McCooey as Bill Wong, Jason Barnett (Bridgerton) as Inspector Wilkes, and Marcia Warren as Mrs. Boggle.
Season 4 will officially begin production in March, with an eye to a late 2021 or early 2022 release. The show will once again adapt four of Beaton's novels, Agatha Raisin: Kissing Christmas Goodbye, Agatha Raisin: Love, Lies & Liquor, Agatha Raisin & the Spoonful of Poison, and Agatha Raisin: There Goes the Bride. The new installments will be available as eight 45-minute episodes or four 90-minute TV movies. 
The descriptions of each story are as follows:
"Kissing Christmas Goodbye" - With business booming for Agatha Raisin Detective Agency, Agatha's in need of a well-earned break and with Christmas just around the corner it looks like the perfect opportunity to relax. However, when she receives a letter from an old lady begging for protection, Agatha can't help but spring into action.
"Love, Lies and Liquor" - James has finally returned to Carsely and promised to whisk Agatha away on holiday where she can help him write his next novel. Agatha's dreams of the French Riviera quickly fade when she finds herself in Snoth-on-Sea, a seaside resort whose glory days are far behind it. When a hotel guest is found murdered, it's up to Agatha to prove who the killer is.
"A Spoonful of Poison" - The competition to be crowned winner of the Carsely Jam-Off has always been fierce, but when the prize jam is poisoned leading to the death of a judge, things may finally have gone a step too far. Determined to bring the killer to justice, Agatha resolves to restore the competition's name.
"There Goes The Bride" - Agatha reluctantly promises to support James by attending his wedding. However, when a body is found during the morning of the big day, it's up to Agatha and the gang to come to the rescue.
 "I am overjoyed to be returning as Agatha Raisin." Jensen said in a statement. "[It's] a role I love playing and a show that is very close to my heart. I am excited to see what's in store for Agatha and her merry band of misfits in Series 4."' 
Reports swirled of the series renewal immediately ahead of its Season 3 premiere on U.K. network Sky One last summer, but no official announcement was made until now. 
 "Acorn TV is thrilled to return to the beautiful Cotswolds with our Agatha Raisin family, including our wonderful ensemble cast led by Ashley Jensen and our partners at Free@Last TV, Company Pictures, and all3media," said Catherine Mackin, Managing Director, Acorn Media Enterprises. "With the incredible source material of M. C. Beaton's highly enjoyable novels, Agatha Raisin continues to be one of the most fun mystery series available and the most requested by our subscribers, so we're excited to produce several new episodes."
Are you looking forward to more Agatha Raisin? Let us know in the comments! 
---
By
for on February 11th, 2021
More to Love from Telly Visions