By
for on February 1st, 2022
11 British Shows To Stream in February 2022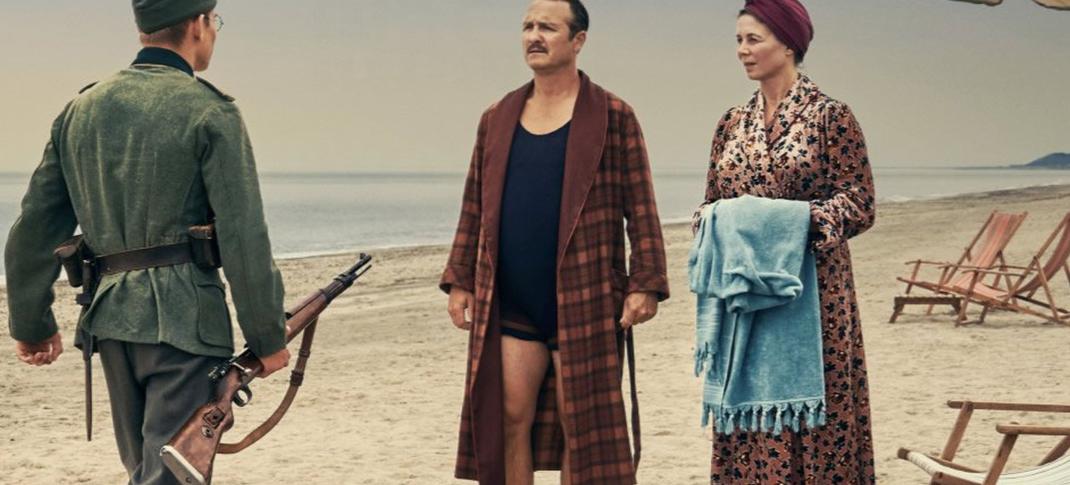 February is a short month, but that doesn't mean there isn't a crush of content coming. With so many January debuts last month, many streamers — especially ones that release weekly, like HBO Max and AMC+/Acorn — still have brand new episodes of fan favorites arriving throughout the month. Meanwhile, PBS Passport is still riding on the binge drops from last month of some of their biggest titles, ahead of a bevy of new titles slated for March. 
On top of that, new arrivals are turning up on just about every service. So, what's coming to the U.S. in British TV this February? Let's run down the biggest titles arriving this month.
PBS Passport
Seaside Hotel Season 4-8
Badehotellet, known here as Seaside Hotel, is one of Walter Choice's most popular titles. Up until now, PBS Passport only had Seasons 1-3, covering the late 1920s through the economic crash into the early 1930s. For 2022, the service brings four more seasons to the table, starting with the pivotal year of 1932 and then jumping ahead to World War II. This will bring American viewers up to Season 9, which arrives later in 2022. All episodes arrive Tuesday, Feb. 1.
Acorn TV
Agatha Raisin Season 4
Agatha Raisin is the other female-led period-piece detective series rescued from cancelation by Acorn TV that is not Miss Fisher. Agatha (Ashley Jensen), owner of Agatha Raisin Detective Agency, and her happy band of misfits will crack more cases in this new six-episode season, made up of three two-part stories. The new season debuts Monday, Feb. 7, with two episodes and follows with two episodes for the next two Mondays after.
Aftertaste
An Australian comedy series that debuted down under last year, Aftertaste is a spin on the volatile celebrity chef genre, with Easton West (Erik Thomson) who burns all his bridges, only to end up crawling home to the family he abandoned 30 years ago. Inspired by his outspoken 19-year-old pastry cook niece, Diana (Natalie Abbott), Easton takes her under his wing to find his way back to relevance. All six episodes arrive Monday, Feb. 14.
Murdoch Mysteries Season 15
Murdoch (Yannick Bisson) is back for yet another season of Murdoch Mysteries, which is now exclusive to Acorn TV. The streaming service will begin airing the new season weekly at the tail end of the month, on Monday, Feb. 28, and continue with one installment a week for all 24 episodes, giving fans new mysteries to watch every single week until August.
AMC+
Killing Eve Season 4
The final season of Killing Eve will bring back Eve (Sandra Oh), Villanelle (Jodie Comer), and Carolyn (Fiona Shaw) for one last round. Under the guidance of Laura Neal this season, the series has become more about three women and their single-minded obsessions and promises a conclusion that may not be a happy ending. The series begins Sunday, Feb. 27 on BBC America, AMC, and streaming on AMC+ with weekly episodes to follow.
Apple TV+
Suspicion
Like many Apple TV+ shows, Suspicion is technically American, with Uma Thurman and Noah Emmerich as topline leads. But this remake of the Israeli series False Flag is British underneath, as the London Police identify four U.K. citizens in New York City as the principal suspects in a kidnapping. British co-stars include Georgina Campbell, Elyes Gabel, Elizabeth Henstridge, Angel Coulby, and Tom Rhys Harries. Two episodes arrive Friday, Feb. 4, with one a week to follow.
BritBox
Sister Boniface Mysteries 
Father Brown's Vespa driving, crime-solving Catholic nun Sister Boniface (Lorna Watson) finally gets to lead her own series in The Sister Boniface Mysteries. The 1960s period piece pairs her with DI Sam Gillespie (Max Brown) and DS Felix Livingstone (Jerry Iwu) as she sleuths her way into crime-solving in the Lord's name. All ten episodes arrive on Tuesday, Feb. 8.
The Beatles and India
The second Beatles documentary to arrive on streaming after touring the film festival circuit in 2021, The Beatles and India, is inspired by Ajoy Bose's book, Across the Universe, and directed by the author. The view of the Beatles from an Indian cultural perspective hasn't been explored like this and gives a new perspective on the Fab Four's immersion into Eastern culture and how Eastern culture was influenced right back by them. The film premieres Tuesday, Feb. 15.
Traces 2
A mystery originating from the fledging U.K. streaming service Alibi, Traces is a thriller starring Molly Windsor, Laura Fraser, and Jennifer Spence as three female forensic professionals is back for a second season in Traces 2. Set at the fictitious Scottish Institute of Forensic Science and Anatomy (SIFA) in Dundee, Scotland, a new case of homegrown terrorism has hit with critical clues hidden inside each bomb. All six episodes arrive Tuesday, Feb. 22
HBO/HBO Max
The Girl Before
Based on the book by J.P. Delaney, who also adapted it for the small screen, The Girl Before stars Gugu Mbatha-Raw as Jane. She moves into a beautiful minimalist house with a whole lot of creepy rules and an even more creepy architect (David Oyelowo), who seems to be acting out with her his relationship with, well, the girl before. All four episodes arrive Thursday, Feb. 10 on HBO Max.
Netflix
Young Wallander: Killer's Shadow
Despite being a very confusing prequel that's somehow set twenty years after the original series it was based on, Young Wallander is back on Netflix for a second season with Killer's Shadow. Kurt Wallander (Adam Pålsson) will head back to the force and take up a new case of a mysterious, gruesome death that may be connected to a much older unsolved one. All six episodes premiere on Thursday, Feb. 17.
---
By
for on February 1st, 2022
More to Love from Telly Visions