By
for on March 14th, 2020
Agatha Christie's 'The Pale Horse' Jettisons Plot For Black Magic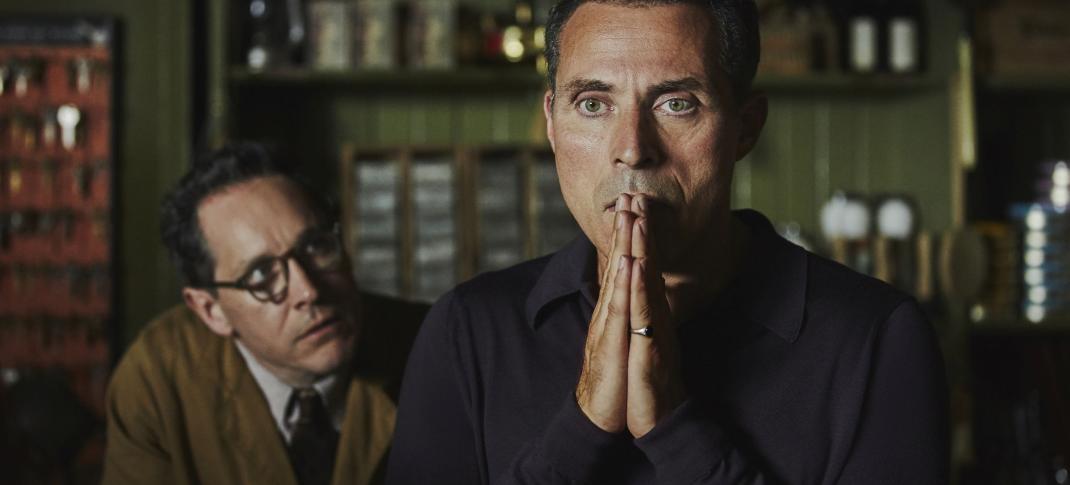 When Agatha Christie's Poirot finally finished its run in 2013, it was a watershed moment, as British TV struggled to figure out how to continue to tap into one of its most celebrated (and prolific) writers, following the conclusion of such a genre-defining series. The eventual decision was to go with Sarah Phelps, writer of such adaptations as The Casual Vacancy by J.K. Rowling, and literary-themed shows like Dickensian. The Pale Horse is Phelp's fourth turn with Christie, following 2016's The Witness for the Prosecution, 2018's Ordeal by Innocence and last year's The A.B.C. Murders. And like her previous works, it takes Christie in new directions, using the story less as a mandate and more as a jumping-off point.
Except for The A.B.C. Murders, Phelps has stayed away from any of Christie's familiars. (And her take on Poirot last year was quite different than any seen before.) The Pale Horse follows this trend. It's one of Christie's lesser adapted puzzlebox creations, one that technically doesn't have a professional detective outside the policeman assigned to the case, Inspector Lejeune. In the novel, most of the legwork is done by a historian who gets caught up in the case, Mark Easterbrook. Easterbrook accidentally witnesses the death of one of the victims and then finds himself involved when a list of names is located in the shoe of a recently deceased priest includes his godmother, who also recently passed.
What made The Pale Horse one of Christie's more notable works is that Easterbrook is helped along by Christie herself, in avatar form as Ariadne Oliver. Early on, he visits this celebrated mystery writer for advice. Oliver is the one who points him not just in the direction of the inn known as the Pale Horse, but also toward the "three modern witches" who run the place, and whose Dark Arts may hold the key to all these deaths. She also champions Mark along whenever he seems to be in danger of faltering on his quest.
That Oliver is cut in this two-part miniseries is only the beginning of Phelps' exorcisms, proof that she's becoming more comfortable in taking what she needs from Christie and leaving the rest. Little of the original novel is to be found in this 1960s set horror mystery, which is far less concerned with the ins and outs of this character dying her or that character dropping a clue there. Characters like the priest with the list in his shoe disappear, replaced by other, female victims, in this case, shopkeeper Jessie Davis (Madeleine Bowyer), who is the list keeper. As for Mark, he's not drawn in by a lost godmother. His vague love interest, Ginger, who gets put in the line of fire as part of his quest for the truth, is also gone. Instead, this Mark Easterbrook, played by Rufus Sewell, is an older, less flappable gentleman, who is already onto his second wife Hermina (Kaya Scodelario), but still haunted by the death of his first one, Delphine (Georgina Campbell).
Delphine's death isn't the only one in which Easterbrook has been involved. In fact, it seems like death sort of follows in his wake, including his current mistress, Thomasina Tuckerton (Poppy Gilbert). Nothing ever happens to the wealthy white man in the center of the frame, but those who encounter him regularly die off as if he is the titular pale horse in their midst. Not that he is killing them, or at least, the story, told from his point of view, seems to suggest he is utterly innocent. Inspector Lejeune (Sean Pertwee) is even convinced this is true.
And yet, Mark cannot help but wonder what is going on, while rejecting the reasoning all and sundry keep putting forward, that the witches of the Pale Horse Inn and their black occult magic, are to blame. Thyzra Grey (Sheila Atim), Sybil Stamfordis (Kathy Kiera Clarke), and Bella Webb (Rita Tushingham) bring paranormal energy for Easterbrook's rational man to fight. As the critical element which Phelps kept from the original story, they are the show's heart and soul. 
As the series rounds into the second half, the paranoia and fears mount. Easterbrook finds himself growing ill, losing hair, and wondering if his new wife Hermina is trying to poison him, or if his godson, David Ardingly (Henry Lloyd-Hughes), might be involved. Even Lejeune finds himself hospitalized before all is said and done. Is Mark cursed by these witches? Or is this his handiwork?
Unlike the BBC One release, where parts one and two aired a week apart, Amazon is dropping both installments at once. It allows viewers to experience it as a two-hour film, which works better in keeping up the suspense and the oh-so-important creepy atmosphere. The Pale Horse may not be Christie's original story, but for those looking for a dose of the occult with their mystery, it'll do nicely.
The Pale Horse is now streaming Amazon Prime. Let us know if you give it a look! 
---
By
for on March 14th, 2020
More to Love from Telly Visions