By
for on August 6th, 2019
Agatha Christie's 'The Pale Horse' Casts A Murderer's Row Of Stars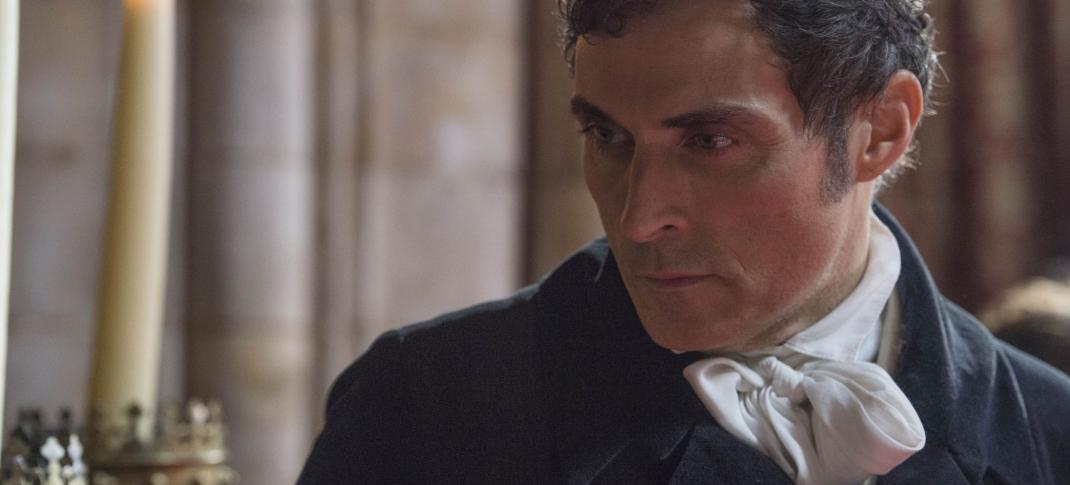 The forthcoming BBC adaptation of Agatha Christie's The Pale Horse has a virtual murderer's row of talent coming aboard.
Screenwriter Sarah Phelps is back again with yet another Agatha Christie adaptation for the BBC. Phelps, who adapted J.K. Rowling's The Casual Vacancy, has been churning out new versions of Christie's mysteries since 2015's And Then There Were None. The latest installment is The Pale Horse, one of Christie's later works from the 1960s. It's one of only 12 of her stories that don't feature any of her iconic detective characters. This is in keeping with Phelp's choices. Along with And Then There Were None, her list also include the detectiveless The Witness for the Prosecution and Ordeal By Innocence. Of Phelps' adaptations, only The A.B.C. Murders featured any of Christie's famous figure. But it still took Hercule Poirot and made him far older than fans were used to seeing. 
The Pale Horse instead features a standalone detective, Mark Easterbrook, searching for answers to the mystery of a woman who died with a list of names hidden in her shoe. The investigation takes Easterbrook to Much Deeping, supposedly the home to three witches. As much a horror/supernatural thriller as it is a mystery story, The Pale Horse is also credited with saving multiple lives after it taught readers the signs of thallium poisoning.
The synopsis, according to the BBC press release, is as follows:
The Pale Horse follows Mark Easterbrook as he tries to uncover the mystery of a list of names found in the shoe of a dead woman. His investigation leads him to the peculiar village of Much Deeping, and The Pale Horse, the home of a trio of rumoured witches. Word has it that the witches can do away with wealthy relatives by means of the dark arts, but as the bodies mount up, Mark is certain there has to be a rational explanation.
This will be only the third adaption of this particular Christie story. ITV has done it twice before, one of which rewrote it as a Miss Marple mystery. But it seems that this time the BBC and Phelps are determined to do it right. The cast certainly is a who's who of A-List actors.
Cast announced for @BBCOne adaptation of Agatha Christie's 'shivery, paranoid' 1961 thriller #ThePaleHorse: @FredrikSewell, @kScodders, @bertiecarvel, @seanpertwee, @MatineeIdle, @GilbertPoppy, @bikeactor, @FootieFan69 & more...https://t.co/V2fDcHkXwk pic.twitter.com/05eq5Obsj7

— BBC Press Office (@bbcpress) July 31, 2019
According to the press release, the cast includes (deep breath!) Rufus Sewell (Victoria) as the lead Mark Easterbrook. He is joined by Kaya Scodelario (Skins) playing Hermia, Bertie Carvel (Jonathan Strange & Mr Norrell) as Zachariah Osborne, Sean Pertwee (Elementary) as Detective Inspector Lejeune, Henry Lloyd-Hughes (Killing Eve) as David Ardingly, and Poppy Gilbert (Call The Midwife) as Thomasina Tuckerton.
Plus there's Madeleine Bowyer (Black Mirror) as Jessie Davis and Ellen Robertson (Snowflake, Britney Soho) as Poppy. The "trio of witches" are played by veteran Rita Tushingham (Vera), Sheila Atim (Harlots), and Kathy Kiera Clarke (Derry Girls). An in unnamed roles, we have Sarah Woodward (Endeavour), Georgina Campbell (His Dark Materials) and Claire Skinner (Vanity Fair). (Whew!)
Filming is now underway in Bristol for a 2020 release. James Prichard, Executive Producer and CEO of Agatha Christie Limited, is apparently delighted with what Phelps is doing with it.
This adaptation feels like nothing we have done before. This is a very different story from most that my great grandmother wrote, and Sarah has taken it to new heights. The cast, with the likes of Rufus Sewell and Bertie Carvel, is superlative, and it should be a highly entertaining drama.
Unfortunately, The Pale Horse will not be coming to PBS right away. Like The A.B.C. Murders, US viewers will be able to first watch it on Amazon Prime Video when it arrives next year. 
---
By
for on August 6th, 2019
More to Love from Telly Visions