By
for on October 31st, 2019
9 British Shows To Stream This November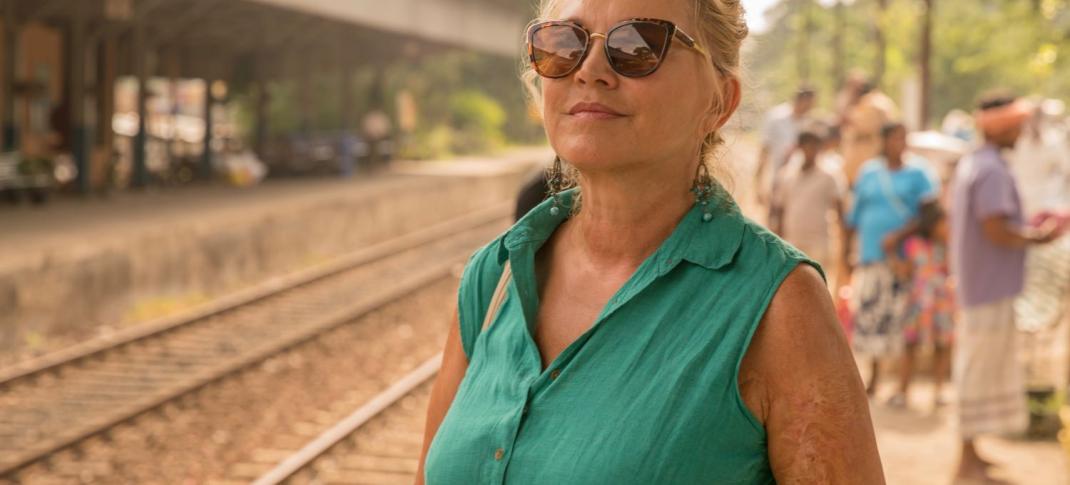 As the season starts to turn colder, our minds naturally turn toward staying home, making tea, curling up with the biggest, coziest blanket we can find and watching as much TV as possible. And now, thanks to the revolution of streaming, we have more options for things to stay cozy inside and watch than ever before.
What's coming to the U.S. in British TV this November? Let's run down the biggest titles arriving next month.
PBS:
Poldark 
Poldark's final series is half over on PBS stations, but you don't have to wait several more weeks to see how Ross Poldark's journey concludes. PBS Passport viewers can binge-watch the entirety of Season 5, right now, along with all of the previous seasons.
The Chaperone
The Chaperone, a film from Downton Abbey creator Julian Fellowes and starring Downton alum Elizabeth McGovern, will air later this month on PBS stations nationwide, just in time for Thanksgiving. 
But you can already check it out on PBS Passport now, along with every season of Downton ​itself.
HBO:
His Dark Materials
Beginning Monday, November 4, this adaptation of the classic Phillip Pullman series His Dark Materials stars Ruth Wilson, James McAvoy, Lin-Manuel Miranda, and Danfe Keene.
Episodes air on HBO in America the day after they premiere on the BBC, and begin streaming on HBO Go and HBO Now concurrently on Mondays at 9 p.m.
Acorn TV:
Mount Pleasant 
Streaming stateside for the first time, Acorn TV is bringing Mount Pleasant, which aired for six seasons on Sky from 2011-2017. 
This family dramedy about an everyday woman named Lisa living in Manchester will drop its first two seasons on Monday, November 4, eight and nine episodes, respectively. The third season will follow two weeks later with another eight episodes, on Monday the 18th.
Good Karma Hospital: Season 3
Acorn TV continues to bring British telly lovers Good Karma Hospital. The ITV series focuses on disillusioned doctor Ruby Walker, who heads for South India, hoping to make a fresh start.
Starring Amanda Redman, Amrita Acharia, James Floyd, and Neil Morrissey, it's shot in Unawatuna in southern Sri Lanka. Season 3 marks the newest batch of episodes, six all told, and will arrive on the streaming service beginning Monday, November 11.
Netflix:
The End of the F***ing World: Season 2
This dark British comedy based on the graphic novel, The End of the F***ing World, was a surprise hit when it came over from Channel 4 to Netflix.
The story centers around James, a 17-year-old would-be psychopath, and his friend Alyssa. After running away together, they accidentally start a relationship, despite James' continuing plans to try and kill her. The series stars Alex Lawther, Jessica Barden, Gemma Whelan, and Wunmi Mosaku. Season 2 arrives with eight episodes on Tuesday, November 5.
The Crown: Season 3 
After a year-long delay to recast the entire show from the bottom up, The Crown at last returns to Netflix, now with Olivia Colman, Tobias Menzies, and Helena Bonham Carter as the focal trio of Queen Elizabeth, Prince Philip, and Princess Margaret. 
Prince Charles and Princess Anne also join this circle of adult royalty for the first time with Josh O'Connor and Erin Doherty in the roles. All ten episodes arrive on Sunday, November. 17.
BritBox:
Death in Paradise: Season 8
The ongoing British-French crime drama Death In Paradise continues, now with Ardal O'Hanlon in the lead role as DI Jack Mooney, the third actor to head up this long-running BBC One staple.
The series is now up to the eighth season, which aired in the U.K. back in January of this year. That season now joins the rest on BritBox, with all eight episodes arriving on Tuesday, November. 5.
56 Up and 7 Up & Me
The Up documentary film series was started by Granada Television for ITV back in the 1960s. The series began following 14 British children from a range of socio-economic backgrounds starting from seven back in 1964. The ambition of the filmmakers was to check in every seven years, to see if social class predetermines a child's future.  
June of 2019 marked the next seven-year installment, 63 Up, which was preceeded by a new film, 7 Up & Me, featuring fans talking about how the series has effected them. 7 Up & Me and the preceeding installment, 56 Up, arrive on Britbox on Friday, November 22, ahead of the premiere of 63 Up next month.
What will you be streaming this November? Let us know in the comments. 
---
By
for on October 31st, 2019