By
for on April 9th, 2020
10 Lavish Historical Dramas to Stream Right Now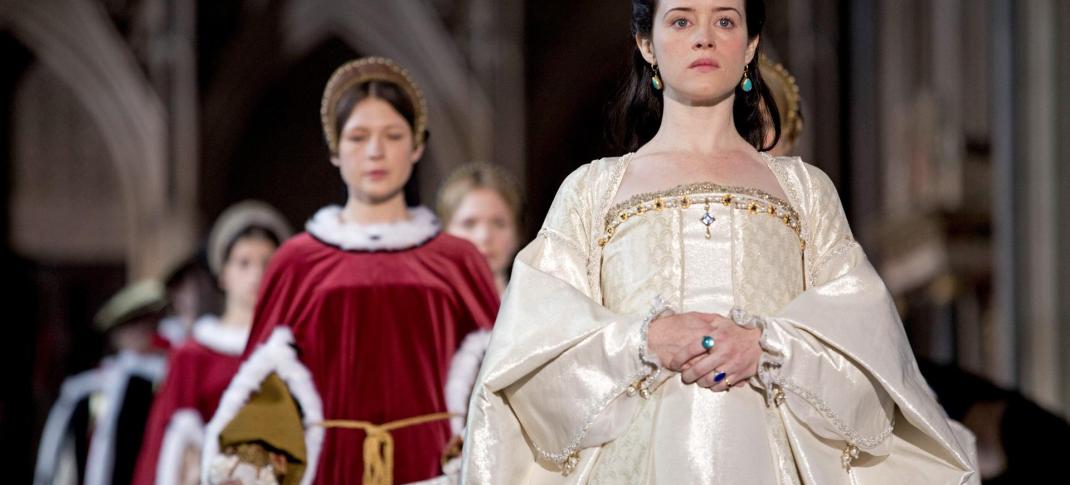 Many of us turn to period dramas for escapism, whether we need to see a good romance, some complex class dynamics or just a raft of gorgeous costumes. Historical dramas, as a subgenre, turn all of this up to eleven, generally throwing in recognizable characters – who were real people, or are at least based on them – occasionally questionable facts, and loads of scandal.
(After all, we wouldn't be that interested in the lives of historical figures if they were dull, would we?)
While we're all busy social distancing and taking care of ourselves during the global coronavirus outbreak, everyone could use some ideas of how to entertain themselves. So welcome to the latest regular feature in our "Now Stream This" series, some genre-based ideas of things you should watch, based on a variety of themes. We're kicking off with historical dramas, just because this particularly subset of period stories is a favorite of mine, and no matter how inaccurate they are, I will watch them. Forever.
Here are a few of the most lavish, entertaining historical period dramas you can stream right now. 
The Borgias
Another epic family saga from the creators behind The Tudors, this Showtime "sister" drama aims to tell the story of a different, but equally dramatic historical family. The Borgias follows the life of the infamous Roderigo Borgia and his scandalous ascension to the papacy in Renaissance-era Italy as Pope Alexander VI.
The Borgia family, of course, was infamous for being lavishly decadent and mercilessly cruel, indulging in everything from bribery and simony to intimidation and murder to maintain their hold on power. The show primarily focused on Rodrigo, a shrewd and licentious schemer who also just happens to be the Vicar of Rome; his oldest son, priest turned warrior Cesare Borgia; and his daughter Lucrezia, who is beautiful, cunning and sold off in marriage to an abusive man.
The Borgias follows the occasional major beats of history – the murder of second Borgia son Juan, the resistance of Caterina Sforza, the bitter rivalry between Rodrigo and Guiliano della Rovere, who would one day become Pope himself.
But, on the whole, it's much more interested in the family's more scandalous aspects, such as Rodrigo's many mistresses and general fallen state, the rumored incest between Cesare and Lucrezia, that kind of thing. It's soapy and messy and maybe 30% what actually happened, but it's also the perfect drama to lose yourself in for a few days.
Cast: Jeremy Irons, Francois Arnaud, Holliday Granger, Joanne Whalley

Where to Watch: Netflix
Catherine the Great
HBO's splashy take on the life of the infamous Russian empress arrived earlier this year, starring Dame Helen Mirren as a Catherine the Great at the beginning of her reign. (Or, at least, her reign without her husband.) Titled simply Catherine the Great, it's a four-part exploration of a memorable and unconventional woman on her own terms.
What makes Catherine interesting, however, is that the series doesn't judge the empress for her worst traits and excesses. Instead, like many a male ruler before her, it is just a fact of who she is. She's allowed to be petty and selfish, and the show celebrates rather than condemns her obvious and varied late-in-life sexuality. Mirren's Catherine is fiercely determined and slyly intelligent, full of life and lust and everything in between. The show around her doesn't always live up to Mirren's performance – there's a lot of history to cram into a limited run-time, and there's a lot of title cards and time jumps to wade through. But, wow, Mirren's Catherine is a force worth watching all on her own. 
Cast: Helen Mirren, Jason Clarke, Gina McKee, Joseph Quinn
Where to Watch: HBO
The Crown
If you're at all interested in historical dramas, you've probably already seen Netflix's lavish retelling of the life of Queen Elizabeth II, but just in case you haven't, here's some advice: Watch The Crown right now. And thank me later.
An award-winning, sumptuous, completely A-list series, it takes itself, and the story it's telling, very seriously. But the show is compelling from its opening frames, helped along by powerhouse performance from the two actresses who have played the Queen thus far, an impeccable sense of detail, and a dedication to honestly presenting both the weight and privilege of the roles the royal family entire is asked to fill.
The crown – whether we mean the monarchy or Elizabeth herself – must carry on, after all.
Cast: Claire Foy, Matt Smith, Olivia Colman, Tobias Menzies, Vanessa Kirby, Helena Bonham Carter, Matthew Goode, Ben Daniels
Where to Watch: Netflix
Medici: Masters of Florence and Medici: The Magnificent
Technically, Medici is three different dramas all presented under a single umbrella.
Each of its three seasons are distinct stories based on the different moments in the lives of influential members of the Medici family in Renaissance Florence. The first season, Medici: Masters of Florence stars Game of Thrones actor Richard Madden as Cosimo de Medici, as he takes over at the family bank in the wake of his father's death and steers them all to the power that made them famous. (He also builds Florence's iconic Duomo, spoiler alert.) The second and third seasons are both subtitled Medici: The Magnificent and take place twenty years later, focused on Cosimo's grandson Lorenzo (played by Daniel Sharman).
This show is sort of the epitome of comfort historical drama – plenty of gorgeous actors (looking at you, Merlin's Bradley James), sumptuous costumes and dramatic public scandals. As with most historical dramas of this ilk, it's much more interested in being a fun watch than it is in staying 100% truthful to the Medici's actual story, but as long as you accept that going in, it's a good time.
Cast: Dustin Hoffman, Rob Madden, Sean Bean, Daniel Sharman, Bradley James
Where to Watch: Netflix
Peaky Blinders
Peaky Blinders is the one thing in this list that's kind of not like the others. I mean, yeah, it's a period drama that's set in a very specific historical moment in time (1920s Birmingham), but it's not actually about a real person, or real set of people. Yes, there was an actual urban street gang known as the Peaky Blinders that operated toward the end of the 19th century in England. They even wore the peaked flat caps that the show is named after (though the razor blades in the bills are…well, maybe not as historically accurate.)
However, the Shelby family that sits at the center of the BBC/Netflix series is made up out of whole cloth. That doesn't make them any less entertaining to watch of course, but it does mean that you can't just look them all up in Wikipedia. The show, however, is particularly deft at looking at real life events through the lens of this fictional family, so you'll still hear familiar names and events as the series progresses.
Peaky Blinders follows the story of the titular Birmingham gang, and its leader, Tommy Shelby. It begins in the immediate aftermath of the Great War, as Tommy and his brothers return from the front, and take back the family business from the women (namely, Tommy's i n c r e d i b l e Aunt Polly) who've been keeping it all afloat for years. Ambitious and driven, Tommy is haunted by his experiences during the war, but remains determined to make himself – and the Shelby family – influential, legitimate and rich.
The story is dark and violent, but wildly compelling, and presented with a unique visual style that is rare in this sort of drama. If you don't think historical dramas are for you, well. Peaky Blinders probably is.
Cast: Cillian Murphy, Helen McCrory, Anya Taylor-Joy, Paul Anderson, Sophie Rundle
Where to Watch: Netflix
The Spanish Princess
The Spanish Princess is the third in Starz's line of period dramas based on the best-selling novels of Philippa Gregory, which all aim to tell the story of Tudor England from the perspective of the women involved.
This series follows the early life of King Henry VIII's first wife, Spain's Catherine of Aragon. Pop culture tends to focus on her later years – presenting Henry's first queen as an older, frumpy, overly religious woman that Henry can't wait to leave in favor of the edgier, more modern Anne Boleyn. But those stories often choose to leave out the other half of Catherine's life, when she was a young Princess of Spain who came to England to seize her own power, suffered a tremendous loss and ultimately forged a love match with Henry that lasted for the better part of two decades.
Much like its predecessors, The Spanish Princess isn't entirely what you'd call a stickler for accuracy when it comes to the specifics of Catherine's life. But its modern take on her reign focuses on the unexpected ways she isn't merely Henry's wife. She exerts plenty of agency over her own life, as well as the future of England, too.
Cast: Charlotte Hope, Angus Imrie, Ruari O'Connor, Laura Carmichael
Where to Watch: Starz          
The Tudors
Showtime's four-season retelling of the life of King Henry VIII, The Tudors is the opposite of a serious historical drama. It's soapy. It's scandalous. It gets basic facts completely wrong. (For example, Henry had two sisters, not one, and the Tudor that married the King of France was named Mary, not Margaret.) And that's all okay, because it's so completely fun to watch. Just…be aware of what you're getting into from the start, okay?
Jonathan Rhys Meyers is a fairly great Henry, perfectly channeling the slightly crazed intensity with which he tackled everything from battle to courtship, even though the show never commits to the complete physical deterioration that occurred over the course of the king's life. (I suspect Rhys Meyers didn't want to wear a fat suit.)
But the true revelations are the women who play his six wives, who are all too good for the man who would become their husband. Maria Doyle Kennedy and Natalie Dormer are particularly wonderful as Catherine of Aragon and Anne Boleyn, and supporting actor Jeremy Northam also deserves a shout-out as the doomed Thomas More.
Cast: Jonathan Rhys Meyers, Natalie Dormer, Maria Doyle Kennedy, Jeremy Northam, Sam Neill
Where to Watch: Netflix

Versailles
Set in France during the reign of Louis XIV, Versailles tells the riveting story of the infamous "Sun King" and the building of his opulent palace that would ultimately go on to become a symbol for power, royalty and excess in France. 
The three season series is a perfect mix of actual historical details (Louis' obsession with moving the court from Paris, the longstanding relationship between Louis' brother, the Duke d'Orleans and the Chevalier de Lorraine, the infamous Affair of the Poisons) and over the top soapy elements that include everything from murder and betrayal to sex and surprise illegitimate children. But no matter how over the top the show's plot gets it remains grounded in the messy, compelling relationship between its two lead royals, and even when the rest of the show is floundering, you'll still find yourself hoping that Louis and Phillippe can work out whatever the latest crisis between them happens to be. 
Cast: George Blagden, Alexander Vlahos, Evan Wiliams, Anna Brewster, Stuart Bowman
Where to Watch: Netflix
Victoria
Regular PBS Masterpiece viewers are probably familiar with this lavish retelling of the early years of Queen Victoria's six-decade reign, which has already run for three seasons and will likely return for a fourth at some point in the future. Victoria begins as the young queen takes the crown, at just eighteen years of age, and continues as she finds her voice as a monarch, falls in love and struggles to balance her duties as both a mother and the ruler of an empire.
Though the lavish drama takes more than a few liberties with the actual history of Victoria's reign, the series is deeply watchable, full of romance, political machinations, and the myriad competing priorities that any woman in a position of power and responsibilty must try and navigate, whether she's a queen or not. As the series progresses and Victoria herself grows up, it tackles increasingly complicated stories about love, marriage and family alongside its more pedestrian rich-heiress-has-a-fling-with-a-hunky-footman sideplots. 
Cast: Jenna Coleman, Tom Hughes, Rufus Sewell, Laurence Fox, Kate Fleetwood
Where to Watch: PBS Passport, Amazon Prime
Wolf Hall
Based on the acclaimed novels of Hilary Mantel – whose trilogy will conclude with The Mirror and the Light this spring – Wolf Hall tells the very familiar story of the reign of England's King Henry VIII from a new perspective. Instead of focusing on Henry himself, or the tragic fates of (most of) his six wives, this story focuses on one of its lesser-known members: Thomas Cromwell.
The son of a blacksmith, Cromwell ultimately rose to become one of the most powerful men in England, and was a primary architect of the English reformation. He was also instrumental in engineering Henry's divorce from his first wife Katherine of Aragon, and played a key role in the beheading of his second, Anne Boleyn. A story of ambition and the dangers of power, this six-part drama is not just entertaining, it's much more historically accurate than some of the others on this list, if that's a dealbreaker for you.
Cast: Mark Rylance, Claire Foy, Damian Lewis, Jonathan Pryce, Jessica Raine
Where to Watch: PBS Passport, Amazon's PBS Masterpiece Channel
---
By
for on April 9th, 2020
More to Love from Telly Visions