By
for on October 2nd, 2020
10 British Shows To Stream In October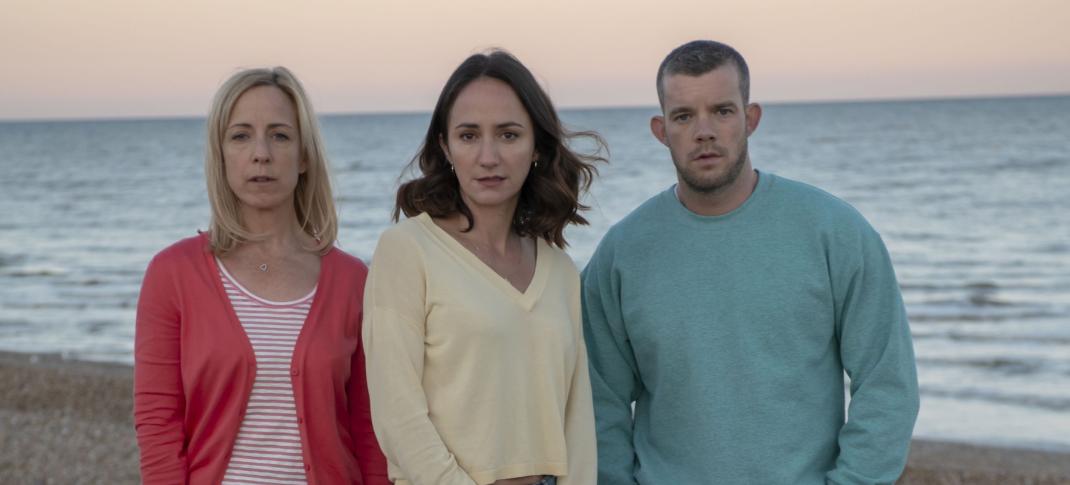 As autumn descends onto 2020, the upheaval in the streaming world and the barrage of new programming takes a short break. But don't worry, PBS Passport, Acorn TV, and Britbox are all here for viewers this October, as is Netflix, which brings four series to these shores this month, including the newest episodes of The Great British Baking Show. Peacock also has one more show arriving as part of it's initially promised launch package of international exclusives.
So, what's coming to the U.S. in British TV in October? Let's run down the biggest titles arriving this month.
PBS Passport
Flesh & Blood
PBS's newest four-part miniseries, Flesh & Blood, is technically billed as a thriller, but it's more of a family drama where death might get involved. It also sports an all-star banger of a cast, a veritable PBS who's who, including Imelda Staunton (The Crown), Francesca Annis (Home Fires), Claudie Blakley (Grantchester), David Bamber (Victoria), Lydia Leonard (Gentlemen Jack), Stephen Rea (War & Peace), and Russell Tovey (Years & Years). All episodes arrive on PBS Passport Sunday, Oct. 4.
Cobra
This month's non-mystery series arrives on PBS Passport one week later, on Sunday, Oct. 13. Cobra is a political drama, which aired in the U.K. back in January of this year. I mention that because otherwise, it might sound a little too on the nose. The series is centered around the government's struggle to handle a natural disaster that brings all of life to a standstill. The cast includes Victoria Hamilton (The Crown), Richard Dormer (Game of Thrones), and David Haig (Killing Eve) in this six-part series.
Netflix
Great British Baking Show Season 8
The Baking Show is back, arriving once a week on Netflix, showing up on the Fridays after Channel 4's Tuesday airing. Cake Week has already been and gone, but there's still Biscuits, Bread, and all the rest of the tent to enjoy.
The Worst Witch (Season 4) 
Also arriving at the top of the month, the latest season of CBBC's The Worst Witch, starring breakout teen sensation from Game of Thrones, Bella Ramsey, in a far more age-appropriate role. Netflix Family series like this have been hitting it out of the park lately (looks pointedly at Enola Holmes), so this will hopefully grab on to the rising tide.
Rebecca
Technically, Rebecca is a remake of the Hitchcock classic, but Netflix is promoting its new version as part of its British offerings. Considering it stars Lily James (Downton Abbey) and Kristen Scott-Thomas (The English Patient), along with Mr. Armand Hammer (The Man From U.N.C.L.E.), and the director insists it's not following the Hitchcock adaptation in any way, perhaps that's the best option. Rebecca arrives on Oct. 21.
His House
On Oct. 30, Netflix will round out the month with His House. The film was originally premiered at Sundance back in January from British production company Starchild Pictures and is part of the new "real-life as horror" genre. Wunmi Mosaku (Luther) and Sope Dirisu (His Dark Materials) star as a refugee couple from South Sudan, who discover the English town they've fled to is full of horror, both the racist and supernatural sorts. Matt Smith (Doctor Who) co-stars.
Peacock
Code 404
The last of Peacock's promised international debuts, for the time being, Code 404 is a mash-up of genres, billed as "a British police procedural comedy-drama."
Stephen Graham (Line of Duty) stars as DI Roy Carver, killed in action, only to be brought back to life using experimental Artificial Intelligence. Daniel Mays (Good Omens), Rosie Cavaliero (Gentleman Jack), and Amanda Payton (Trial & Error) co-star. The series arrives on Oct. 1 with all episodes.
Acorn TV
Mystery Road Series 2
As The Sounds draws to a close, Acorn TV debuts the next season of its original series, Mystery Road.
Aaron Pedersen (A Place to Call Home) stars once more in this Australian outback-set mystery series as Indigenous detective Jay Swan. This year's mystery sees him team up with local constable Fran Davis, played by Jada Alberts (Wentworth), to investigate. The first two episodes arrive on Oct. 12, with one a week to follow.
Darkness: Those Who Kill
Acorn TV's other exclusive this month is the Scandi-noir Darkness: Those Who Kill. It aired last year on UK's BBC 4 to great acclaim, and though it is technically not a British series (it's in Danish with subtitles), it's still a big enough hit that folks should check it out. Kenneth M. Christensen (The Legacy) stars as Detective Jan Michelsen alongside Natalie Madueño (The Rain) as expert profiler Louise Bergstein. All episodes arrive on Oct. 19.
BritBox
The Period Drama Collection
After bringing every Agatha Christie adaption aboard it could get its hands on, BritBox's next project is going completionist on period dramas.
The new additions include Andrew Davies' 1890s-set Tipping the Velvet, the Matt Smith-starring WWII drama Christopher and His Kind, Judi Dench's take on Queen Victoria in Mrs. Brown, and the 1995 Pride and Prejudice, now restored in 4K.
---
By
for on October 2nd, 2020
More to Love from Telly Visions