By
for on August 3rd, 2020
10 British Shows To Stream In August of 2020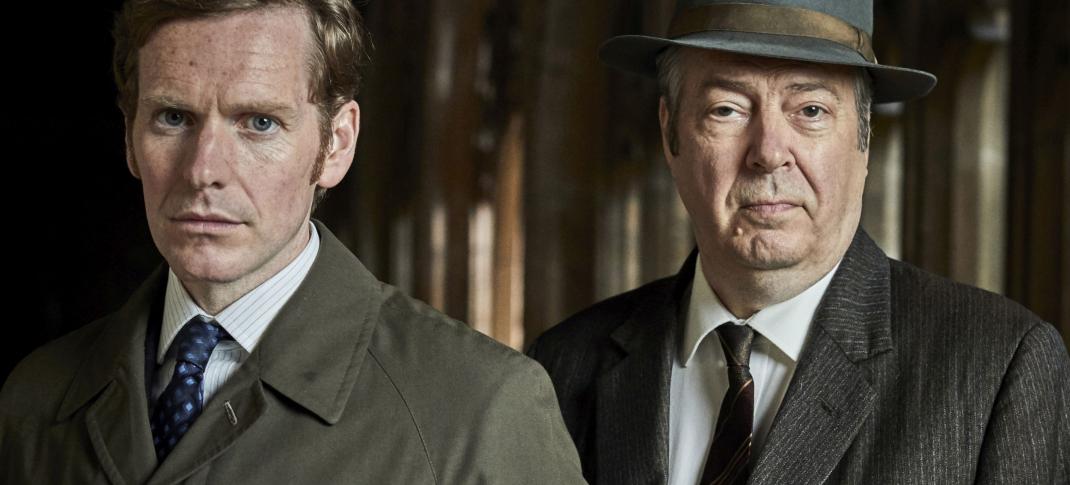 The last few months have been a world of upheaval in the land of streaming television. But with all the players and apps now in place, fans can settle into the new normal of eight different streaming services that, in some combination, bring fans content. Moreover, the pandemic has also caused more than one channel to turn to U.K. programming to fill the gaps.
Some of those won't be on streaming; for instance, The CW has an entire raft of programs, like Taskmaster and Dead Pixels arriving on broadcast TV this month, but thanks to the way its Netflix deal is structured, none of it will hit streaming until September or later. On the other hand, cable network Showtime (another Viacom channel) will be bringing stuff to its streaming service right away. 
So, what's coming to the U.S. in British TV in August? Let's run down the biggest titles arriving this month.
PBS
Endeavour Season 7
The long-running Morse prequel spinoff Endeavour returns with a short but sweet three-installment season starting Aug. 9.
Thankfully, there's no mustache this year, but there will be much more of the early years of the Castle Gate CID in the Thames Valley Constabulary. Shaun Evans, Roger Allam, Anton Lesser, Sean Rigby, and James Bradshaw return for another year and a set of all-new cases. All three episodes will be available to Passport members for binge purposes as soon as the series premieres. We will recap following the weekly broadcast schedule.
Netflix
Glow Up Season 2
In the grand tradition of British reality shows doing well on Netflix, Glow Up, the makeup competition challenge that's a little like SyFy's Face/Off without all the movie promotions is back for Season 2. 
Hosted by Stacey Dooley, this BBC Three show arrives with all episodes available on Netflix on Aug. 14, after airing in the U.K. from May to July.
James Bond/Johnny English
James Bond films are coming back to the world of streaming at the end of the month, with Daniel Craig's first two films premiering on both Netflix and Hulu on Aug. 31. But for those who can't wait that long, Netflix will also be bringing Johnny English, the Rowan Atkinson spoof, ahead of the Bondfest, on Aug. 16.
Hulu
In My Skin
The British comedy series In My Skin turned up at the very end of July and made a splash, so we're adding it to our August list of shows to watch.
This coming-of-age comedy initially started as a special on BBC Three in 2018 before getting a full series order. It stars Gabrielle Creevy as Bethan, and James Wilbraham, Poppy Lee Friar, and Jo Hartley as the circle of friends (or not-exactly-friends) that she tries to hide her troubled home life from. The first season runs five episodes and considering it took the 2019 BAFTA Cymru for Best series, and Hulu's now picked it up; there may be more.
Showtime
We Hunt Together
Showtime throws itself into the mix this month with We Hunt Together, debuting on Aug. 9. 
Technically, this is an original series from the U.K. channel Alibi, which mostly exists to air other people's police procedurals in syndication. But this one is notable because it stars Eve Myles (Torchwood) and Babou Ceesay (Into the Badlands) as our mismatched detectives. They are tracking down a pair of Bonnie-and-Clyde-esque killers played by Hermione Corfield (Mr. Holmes) and Dipo Ola (Inside No. 9). In short, it's a killer cast worth the watch.
Peacock
Hitmen
Peacock was depending on the Olympics to get it eyeballs this month, but with those delayed until 2021, it will have to rely on Hitmen instead, which arrives Aug. 6.
Former The Great British Baking Show hosts Mel Giedroyc and Sue Perkins team up again, playing Jamie and Fran, a pair of assassins who treat their day job with the same enthusiasm one finds in a Target worker. Even better, their targets are all played by recognizable British actors from other series, like Jason Watkins (The Crown) and Sian Clifford (Fleabag).
HBO Max
Singletown 
HBO Max keeps chugging along with British premieres. Though there was a much-heralded announcement that the streamer will be bringing the GBBO spinoff The Great Pottery Throwdown soon, there's no date yet.
So far, the only confirmed series for August is ITV reality series Singletown, which arrives in full with 15 episodes on Aug. 20. Will U.K. reality shows do as well on Max as they do on Netflix? We'll have to wait and see.
Acorn TV
The Other One
Acorn continues chugging out a new series a month. This month will be The Other One, arriving Aug. 10 with seven episodes. Starring Siobhan Finneran (Downton Abbey) and Rebecca Front (The Thick of It), this is a Britcom series that will remind viewers of a funny version fo PBS' Mrs. Wilson.
Finneran and Front are two women who had no idea their shared husband had two families within a 13-mile radius and have to make sense of his bigamy after his death reveals the two families to each other. Even better are their 20-something daughters, played by Ellie White (Inside No. 9) and Lauren Socha (Misfits), who discover they are both Catherine Walcott.
The Yorkshire Vet Series 7 & 8
PBS is bringing over the new reboot of All Creatures Great and Small in January of 2021. As part of the runup, Acorn TV is adding more of the long-running reality show inspired by Harriot's books, The Yorkshire Vet.
Seasons 1-6 are already streaming on Acorn. But Aug. 10 will bring Season 7, followed by Season 8 on Aug. 31.
BritBox
Agatha Christie's Marple Seasons 1-5
BritBox's "New Home Of Agatha Christie" march to the sea continues this month. The streamer already added most of the ITV Agatha Christie's Poirot series starring David Suchet and the BBC's original Miss Marple starring Joan Hickson in the last two months.
On Aug. 25, it will add the rebooted version of Agatha Christie's Marple from ITV, starring Geraldine McEwan and Julia McKenzie. The show ran six seasons, BritBox will initially get the first five, with the sixth undoubtedly to follow soon.
---
By
for on August 3rd, 2020
More to Love from Telly Visions