By
for on July 30th, 2020
'All Creatures Great and Small' Remake to Premiere on Masterpiece in January 2021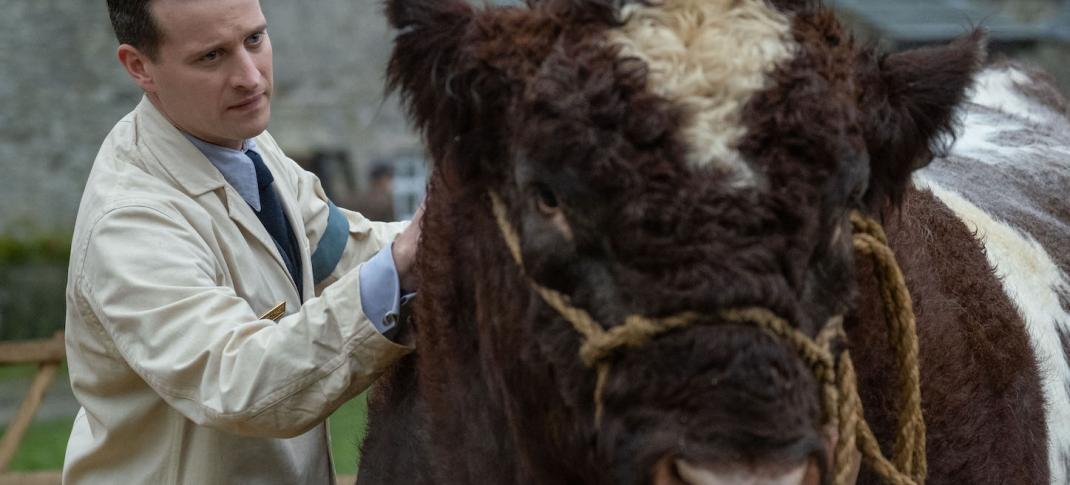 The Masterpiece remake of the popular 1970s British series All Creatures Great and Small is set to come to America in the new year. The series, which comes to us by way of PBS and U.K. network Channel 4, is currently slated to premiere in January and will offer us all a cozy, period-set respite from the real world. 
Based on the series of novels by author James Alfred ("Alf") Wright, who wrote under the pseudonym James Herriot, the drama focuses on the heartwarming and humorous story of a rural country veterinarian and the various farmers and townsfolk who live alongside him in their Yorkshire village during the 1930s. It's very quaint, cute, and thoroughly relaxing. And also there's the whole cute animals thing. In short, this really is probably exactly the sort of programming we need right now. 
Newcomer Nicholas Ralph will make his television debut as veterinary surgeon Herriot, a character who ultimately became renowned for his inspiring compassion, humor, and love of life. The Crown's Samuel West co-stars as Siegfried Farnon, the wonderfully eccentric proprietor of Skeldale House who reluctantly hires the recently qualified Herriot into his rural veterinary practice.The Child in Time's Anna Madeley will portray Mrs. Hall, resident housekeeper and matriarch of the same institution.
According to the panel at this summer's virtual installment of the Television Critics Association virtual press tour, discussions are already underway about a potential second season of the drama - which originally ran for seven - despite the fact that Season 1 hasn't actually aired anywhere yet. 
"We have every intention and hope that this will be a returning series," executive producer Colin Callender told reporters. "That was our ambition form the outset."
Spent a virtual but very happy afternoon with #PressTourPBS talking about this lovely show. #ACGAS is such a happy memory https://t.co/x0wPFYkzWH

— Samuel West (@exitthelemming) July 29, 2020
According to Callendar, the series will embrace the traditional core values and "days gone by" feel of the original series, from the rolling green hills of Yorkshire to the humble, agrarian lifestyles lead by its residents. However, the producer also insists that this reboot will nevertheless feel relevant to modern audiences and revealed that it elaborates more on the role of women in this particular segment of society than the original series did. 
And, as expected, it will also feature a fair amount of animals. 
A firm date for the debut of All Creatures Great and Small is forthcoming, but it's currently listed as "January 2021".  Are you looking forward to a new spin on this classic story? Why or why not?
---
By
for on July 30th, 2020
More to Love from Telly Visions