By
for on October 21st, 2018
'The Woman In White' Episode 1 Recap: If Men Were Held Accountable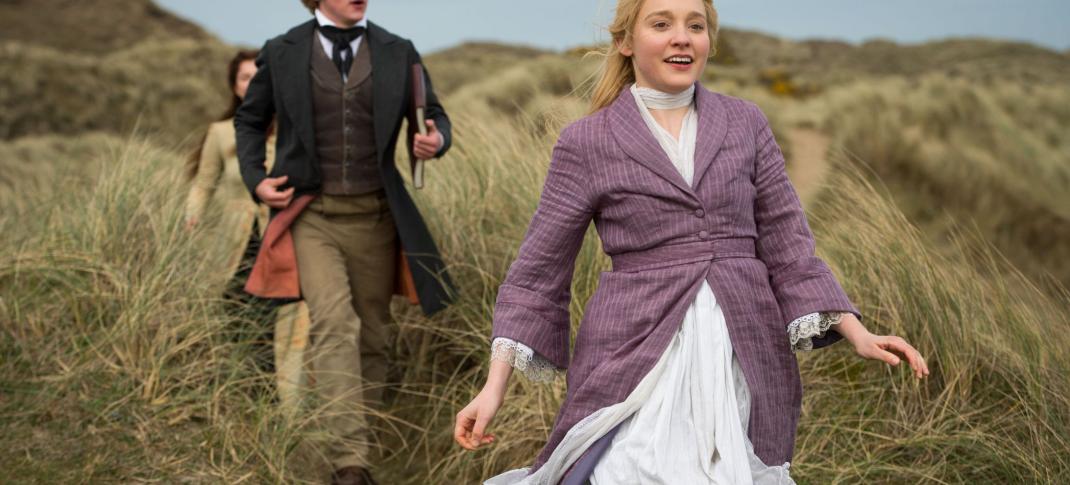 The Woman In White begins with a cri de cœur before slipping back into Victorian-era melodrama.
Marian: "We need to show the world who these men really are."
The Woman in White starts off in a very 21st-century manner, a story being told back by Marian (Jesse Buckley) to "the only man we were told we could trust," one Mr. Nash (Art Nash). It is a brief moment of fury, full of utterly anachronistic rage against the male sex, something which would have stayed wholly suppressed and unspoken in the real 1859. But it doesn't make the moment any less affecting, grounding what is at this point an extraordinarily old-fashioned tale, done in full period style, to our present day. An explanation, as it were, for why this adaptation and why now.
Throughout the hour, the show returns to Mr. Nash, as he interviews those familiar with the events one by one. When not being told by Marian, it is told by Mr. Pesca (Ivan Kaye), who recommended Hartright for the position and Mr. Fairlie (Charles Dance), who reveals Laura is currently deceased. At one point, Mr. Nash even sits down to explain to Hartright's mother (Cathy Belton) all which has occurred. For a mystery story, it seems everyone knows all the details.
Once viewers are dumped into the extended flashback covering the rest of the episode, we meet Mr. Walter Hartright (Ben Hardy), a painter by trade, who has been asked to leave his comfortable life and take a position helping "some provincial sort his collection." Our less-than-subtly-named hero inhabits an England that's dark, cold, and filled with odd women dressed in white who start accosting him the moment he takes the job. She turns up before he's even left his mother's and his hometown to head out to his employers at Limmerage House. He learns quickly that she escaped from an asylum and is supposedly dangerous, but being right of heart, he disregards this as the nonsense it is.
Upon arrival at Limmerage, Hartright is practically accosted by a pants-wearing Marian. Her job, other than long monologues of plot exposition, is to introduce Walter to the future love of his life, Laura (Olivia Vinall), who looks creepily like the woman who accosted him earlier with a tendency to wear oversized white nightgown-like dresses, as one does. She gets to giggle over dinner and play piano like an experienced concert perforer. We also meet their father, the esteemed hypochondriac Mr. Fairlie. (Dance takes to the part with hilarious aplomb, in a wig as terrifyingly funny as his insistence that the movement of furniture and normally-modulated voices are somehow dangerous to his health.)
Mr. Fairile: Here there is none of that English barbarity of feeling about the social position of the artist. They are not servants. Here, fetch these coins for me.
The series throws in a few modernist touches, such as suggesting that Laura experiences synesthesia, in an attempt to give her more personality, and randomly has her suggest stripping naked and bathing in the ocean when no one of her status or station would ever even mention such a thing. The idea is to introduce tons of sexual tension between all three characters, as Marian is as taken with Walter as her sister is. (It does not help that Buckley is the one who displays more chemistry with Hardy than Vinall, even though he is supposed to be bewitched by Laura.)
This does all give a bit of a jealous angle to Marian's reveal that Laura is already engaged to Sir Percival Glyde, though there is truth to the fact Marian is also forcing Laura to put an end to it because she's leading their tutor down the garden path. Unfortunately, the series refuses to actively lean into it, preferring to play it all straight.
At least Marian does some investigative work into the woman who accosted Hartright before his arrival, giving the series an excuse to introduce her as someone connected to the house before she makes her way onto the Limmerage Estate. Too bad she's never done any investigative work into Glyd,e because Laura is getting anonymous letters suggesting they should have done such due diligence a long time ago. Hartright immediately jumps to the idea it's our nameless woman who wrote it, and willingly hangs out in a graveyard where she was spotted to catch her again.
Marian: It's not about social inequality.
(Spoiler alert: It's totally about social inequality.)
Meanwhile, with Hartright conveniently out of the house, Sir Percival (Dougray Scott) suddenly turns up, rather hastily interested in speeding up his marriage to Laura. Exactly why is unclear. But with Laura's lookalike, whose name is Anna, floating around the estate, one cannot help but wonder if her timely appearance might have hastened his. Especially once Walter learns Anna is being assisted by the house servants, and her commitment to the asylum was scheduled by Glyde. Anna insists she did not write the letter. But if she didn't, then who did?
Next week: Laura's engagement becomes a marriage, and she is taken away to become the new Lady Glyde.
---
By
for on October 21st, 2018
More to Love from Telly Visions