By
for on November 5th, 2018
'The Woman In White' Episode 3 Recap: The Terror of Domestic Abuse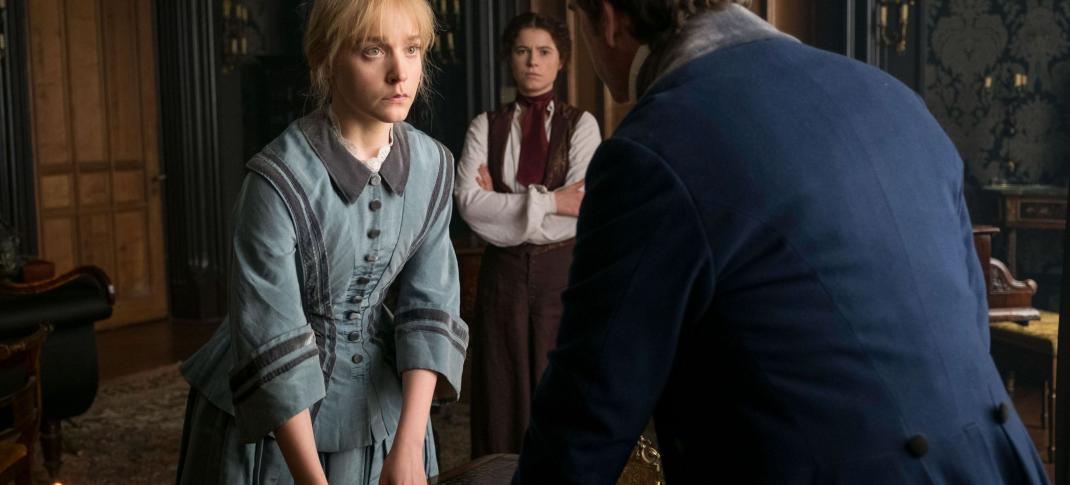 This week, The Woman In White delves into the hidden horrors of what goes on behind closed doors. When money and power are at play, no one can hear you scream.
Countess Fosco: I prefer to be instructed before expressing my opinions in the presence of well-informed men.
Laura's marriage put her in a gilded cage of horror and made her the property of a man who despises her, as we saw at the end of last week. But she's not alone in the trap. Marian, ever the fool, moved into the cage willingly to be with Laura. When this week opens, Marian is already fluttering around as the bars start drawing in.
Last week, I noted Fosco had been flirting aggressively with Marian, but I overlooked another player at the table. Countess Eleanor Fosco (Sonya Cassidy), whose pale pinched face seemed impervious to her husband's open philanderings. Or perhaps she's a party to them. When Marian and Laura attempt a moment of privacy such as a walk, not only does Glyde decide to chaperone, but both Foscoes come willingly, all too eager to discuss the more delicate points of murder, as if it's on all of their minds. Marian, who spends the entire hour making the dumbest decisions possible under the circumstances, brings up our ghostly Laura double, Anne Catherick, as soon as blood is spotted and admits she's seen the woman floating around. 
Fosco goes to work on seducing Marian, while Glyde's solicitor comes to poke at him about his debts. Speaking of, this takes us back to Nash's office, where he starts poking at the aforementioned lawyer to find out what was going on with these heretofore unmentioned debts, and why Laura's money was required to cover them. This sets up the beginning of Glyde pressuring Laura to sign over all her money. Laura refuses to sign, and to Percival's utter irritation, Marian backs her. Fosco, oddly enough, seems to support Marian, but this is merely part of his show to gain the girl's trust. Once they're out of the room, Fosco makes it clear he's in on Glyde's highway robbery of his wife. He's merely pushing to play a slightly longer game.
Marian attempts to write to Gilmore, but this is where the countess steps in. Her methods are straightforward. Rather than attempt to get Marian lustful, causing her to make mistakes, Eleanor just straight up distracts her while Fosco intercepts the letter. Marian falls for the latter harder than the former, proving perhaps Eleanor has the right idea. But Eleanor gives away a little more than she means to. Coupled with Gilmore's confession to Nash, we learn the Countess has a vested interest in Laura, who it turns out is her brother's daughter. Her marriage to Count Fosco meant her brother disinherited her. As she sees it, her brother's signing over of Laura to Glyde in marriage was merely a place to put the pawn currently sitting in her way to the money.
Countess Fosco: For reasons known only to my dead brother, he decided, on his deathbed, to play puppeteer with his beloved daughter's life too. He controls her, even from beyond the grave.
Fosco reveals to Glyde that Marian is trying to get Gilmore involved, leading to the two of them having a heart-to-heart over the desperate need for Laura's money by all involved. For Eleanor, it's about what she was owed. For Percival, it's because the estate is already mortgaged to the hilt. As for Fosco, he's been banished from his home country, and he's bored. This scheme he's working, manipulating Glyde into playing out his ideas seems mostly to be because he can.
As for Marian, she's trying to do the right thing by bringing Laura into her suspicions of Glyde to keep her from ever signing anything. But she is far too late. Laura spent her honeymoon being beaten and raped on the regular, and the idea Marian (and Walter) knew something was amiss and did not stop her from signing away her future to a monster is too much. Nevermind that Walter actually kind of did, and it was actually Marian and Laura who both had a failure of imagination as to what the reality of marriage to Glyde could be.
This, is of course, the perfect time for Anne and Laura to meet cute in the middle of the woods in a fog, thanks to some slightly obvious CGI work to make Olivia Vinall act with herself. While heavy suggestions are made that Anne knows more than she can tell in a mere third episode, Eleanor proves herself far better at getting what she wants out of Marian for a second time by drugging her tea. This means Laura comes home to a house where Marian has been removed from the equation, and all exits are blocked by Glyde and his Fosco friends.
When Marian awakes, Fosco declares the signature point moot. Even Glyde seems cheered, enough to pressure Laura into playing the piano so Marian can be seduced in front of all of them by Fosco's dancing. I will say casting Fosco as young and hot, instead of the fat sweaty character from the novels does wonders for this plot point, as well as the scene in the woods. Marian's attraction to Fosco is less about his oily power and her actually being attracted to a devastatingly handsome man.
Glyde: I locked my wife up for her own good.
Laura attempts another meeting with Anne, but the latter does not show up, instead leaving a note. Anne's the smarter of the two, because Glyde shows up, and after ripping up the note and beating Laura, he locks her up. Marian panics. Once again, the Foscos seem to take her side. Eleanor insists she and Fosco will leave if Glyde doesn't let Laura out, and again, Marian falls for Eleanor's faux show of sisterhood. Glyde lets his wife out out, but Laura has figured out Fosco, if not his wife. This is a game, and they are pawns, and neither knows why. Marian decides to use the servant's as a way to get correspondence out of Blackwater for help, but the Foscos are too savvy. While Fosco works Marian in the library, Eleanor's tea proves too deadly for the housekeeper, and none of the letters leave the estate.
But at least we do get a bit of more precise answer of what happened with Anne. Nash's interview with a new character, Mrs. Clements (Ruth Sheen), reveals Anne's mother had affairs, which is why her father left, and her mother was not interested in raising the child left behind. Considering how much Anne and Laura look like each other, how much money are we betting Laura's father was the lover, and the child was his? 
Next week: Laura's survival is no longer assured as Marian falls ill.
---
By
for on November 5th, 2018
More to Love from Telly Visions