By
for on July 3rd, 2023
'Good Omens' Season 2 Sneak Peeks Introduce New Characters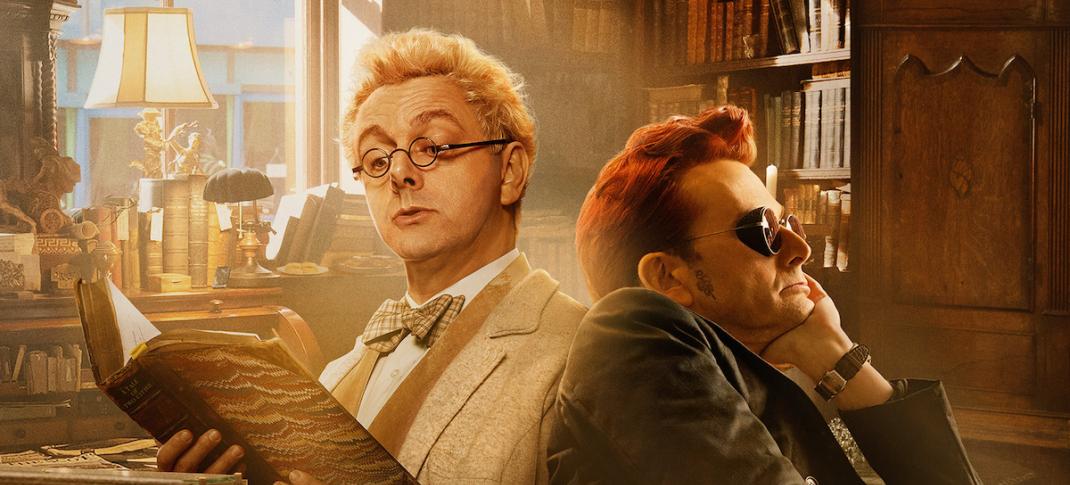 July is finally here, and with it the prophesied return of Prime Video's smash hit Good Omens, starring David Tennant and Michael Sheen as the wily demon Crowley and fussy angel Aziraphale. Fans of the series have been waiting patiently since 2019 for its return, and over the past few weeks, Prime Video has rewarded fans for their patience with not only a trailer but several sneak peeks to boot.
The first sneak peek, titled "That's How I Felt," sees returning character and highlight of Season 1, Archangel Gabriel (Jon Hamm), puzzling through why he has come to visit Aziraphale at his bookshop. There is not much plot in this sneak peek that wasn't already evident from the trailer released earlier in June, but it does give a closer look at Gabriel's amnesia and the foreboding "something terrible" that has led him to Earth.
Gabriel and Aziraphale aren't the only earthbound angels getting their time in the spotlight. Prime's official Good Omens social media accounts shared a teaser of the new character Muriel (Quelin Sepulved), a ridiculously endearing angel who was added to the cast because showrunner Neil Gaiman lamented that all other angels were bastards. Gaiman made a good call because Sepulved has enough charm in just a few seconds of screen time to make up for all the show's insufferable angels. She appears to be on Earth as a replacement for Aziraphale or to investigate his whereabouts, but like Aziraphale, she is a little too delighted by humanity for her own good.
Other angels include returning actors Doon Mackichan (Two Doors Down) as Michael, Gloria Obianyo (Dune) as Uriel, and Derek Jacobi (Last Tango in Halifax) as the Metatron. Comedian Liz Carr (The Witcher) has joined the cast as the angel Saraquael.
The second sneak peek, "What's The Point Of It All?" features the demons Crowley and Shax discussing their "head office." Shax, played by Miranda Richardson (who played Madame Tracy in Season 1), is Crowley's replacement as Hell's representative in London. She is on better terms with Crowley than her superiors, bringing him his mail even though in Hell, he continues to be "persona non grata," as Shax puts it. Crowley is amid a minor existential crisis, questioning the point of Heaven and Hell and angels and demons.
Richardson is one of several actors from Season 1 who have been recast in new roles in the second season. Nina Sosanya (Staged) and Maggie Service (Quiz) played Sister Mary Loquacious and Sister Theresa Garrulous of the Chattering Nuns, but they will not reprise those roles. Instead, they will be playing two ordinary (as far as we know) humans named Nina and Maggie.
Though most of the new characters are the original actors playing new roles, there is one original role being played by a new actor, just to keep everyone on their toes. Shelley Conn (Bridgerton) will replace Anna Maxwell Martin as Beelzebub, as Martin's schedule conflicted with Season 2 filming.
Despite the wealth of promotional material, Prime Video is still holding its cards close to its chest. Hardly anything is known about new additions to the cast Donna Preston (The Sandman) playing Mrs. Sandwich, and members of the David Tennant family tree Peter Davison (Call the Midwife) and Ty Tennant (House of the Dragon).
Good Omens Season 2 will descend (or ascend, depending on your point of view) to Earth on Friday, July 28, with all six episodes dropping at once on Prime Video. Season 1 is currently streaming on Prime Video.
---
By
for on July 3rd, 2023
More to Love from Telly Visions