By
for on March 9th, 2020
Watch the Trailer for Julian Fellowes' Football Drama 'The English Game'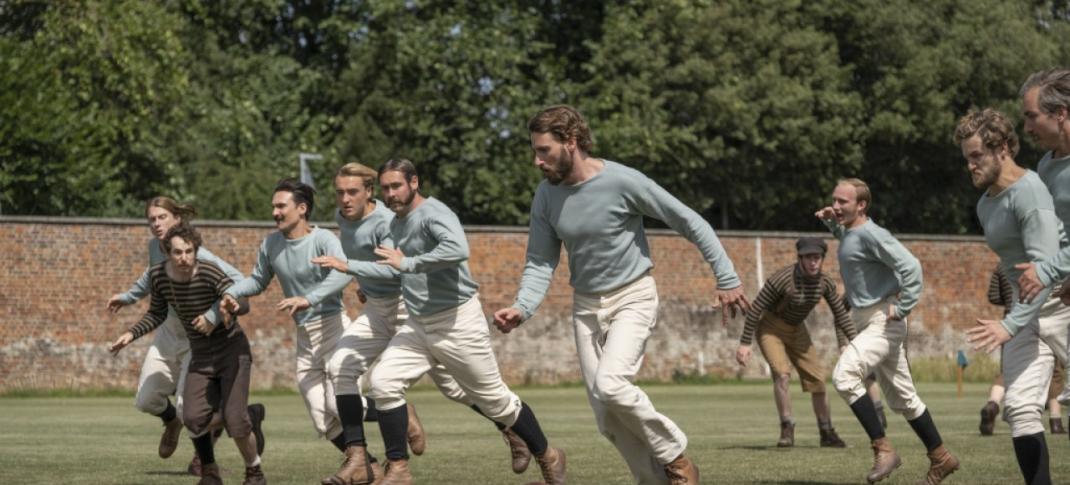 Turns out that Belgravia isn't the only Julian Fellowes period drama headed our way this Spring. 
New six-part series The English Game arrives on Netflix this month, and aims to tell the story of 19th-century origins of football (soccer to us Americans, of course) and explore how those involved in its creation reached across the class divide to establish the game as the world's most popular sport. 
Set in Northern England, it follows the story of aristocratic Arthur Kinnaird - the "First Lord of Football" - and Fergus Suter, a stonemason from Glasgow who is generally recognized as the first professional footballer. 
"He did really change the game, Fergus Suter," Fellowes told the Radio Times. "He brought the passing game down into England, but before, [football] was much nearer rugby. And they played quite violently. In the show, you know, when you're watching them play at the beginning, you think, 'My God, this wouldn't be allowed for five seconds now!'"
A drama about soccer feels like it ought to be a rather strange fit for Fellowes, given that his previous efforts have almost all involved digging into the aristocratic drama of upper-class families. (See also: Downton Abbey, Gosford Park, the aforementioned Belgravia and the upcoming The Gilded Age.) But, lest we forget, Fellowes has also never met a class conflict he doesn't like writing about - see also, again, Belgravia, Downton and the upcoming The Gilded Age.
And the rise of this particular sport has plenty of that - as evidenced by the series' trailer, which highlights the differences between classes, and style of play. 
Watch for yourselves below. 
And not for nothing, but many of the wide-ranging social changes that took place in the world of football during the mid-19th century mirrored those that were also happening in society writ large, so there appear to be plenty of stories here that will take place off the pitch. 
The series sports an extensive ensemble cast, including Alias Grace's Edward Holcroft, The Spanish Princess' Charlotte Hope, Fantasic Beasts'  Kevin Guthrie, Jamestown's Niamh Walsh, Peaky Blinders' Kate Phillips, Indian Summers' Henry Lloyd-Hughes, Black Mirror's Craig Parkinson, and lots more. 
All six episodes will drop on Netflix beginning Friday, March 20. 
Does The English Game sound like something you'd watch? Let's discuss in the comments. 
---
By
for on March 9th, 2020
More to Love from Telly Visions