By
for on October 31st, 2013
Watch Sir Ian McKellen and Sir Patrick Stewart Talk to the New York Times About Their Friendship and New Play(s)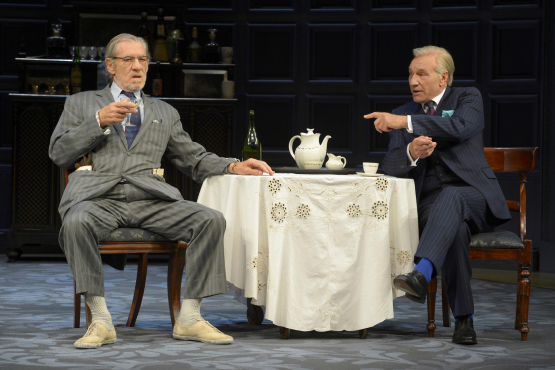 Acting greats Sir Patrick Stewart  and Sir Ian McKellen are currently performing on Broadway in a repertory production of Harold Pinter's No Man's Land and Samuel Beckett's Waiting for Godot. The two actors have starred opposite each other on stage and screen several times previously – most notably as Magneto and Professor Magneto in the X-Men films, which is apparently when they became the biggest BFFs to ever BFF – and their friendship is absolutely lovely to behold.
McKellen and Stewart have been splashing their epic friendship all over New York City over the past couple weeks, whilst preparing for their Broadway run. (Basically, we all want to be BFFs with them. It's okay. They're amazing.)
The duo did a special appearance at the New York Times' Times Talk series – basically an awesome intimate Q&A session with Times theater reporter Patrick Healy, in which the two of them discuss everything from their mutual love of Shakespeare, to their experiences in blockbuster movie franchises X-Men and The Lord of the Rings,  to their current adventures sharing a dressing room on the Great White Way. It's a fascinating chat with two of the greatest actors working today – and well worth a watch.
See the duo's full Times Talks interview below (the playlist of several clips is attached to this first video and should continue, but just in case it doesn't, go here). 
For more details on Stewart and McKellen's Broadway run, and to get tickets if you're planning to be anywhere near NYC,  visit TwoPlaysinRep.com
What is your favorite Stewart and/or McKellen role? Are you planning to try to see their Broadway run?
---
By
for on October 31st, 2013
More to Love from Telly Visions