By
for on December 2nd, 2014
Watch: George Clooney Visits 'Downton Abbey'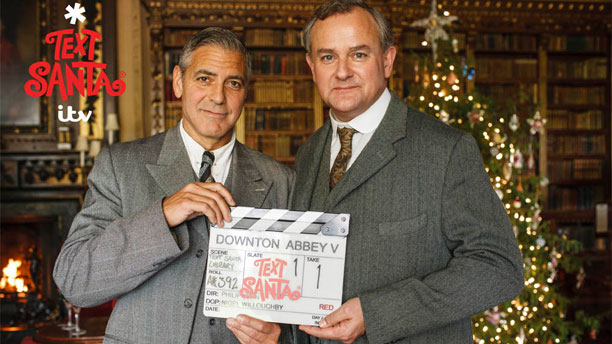 UK network ITV will air their annual Text Santa telethon on December 19. Much like the BBC's annual Children in Need event, it features standard telethon fair like TV presenters doing random and/or weird things, pop stars performing songs you're probably already tired of hearing, celebs dropping by to encourage viewers to donate and all manner of skits and parodies based on popular programming.
And there's not much in the way of more popular programming than Downton Abbey these days. But, when someone's already done a musical parody and a full on two-part skit featuring Absolutely Fabulous stars Jennifer Saunders and Joanna Lumley, how do you top that? By adding George Clooney, of course.
Yeah, that's not a typo. 
As part of this year's event, there's a special skit featuring Downton, and Clooney's part of it. (It's important to note that this is a one-time only deal, and you shouldn't expect to see Clooney when Series 5 bows in the US in January.)
According to an ITV press release, here's the deal: It's Christmas at Downton and Lord Robert Crawley (Hugh Bonneville) seems to be facing financial ruin once again. He's beginning to wonder if his family may be better off without him but divine intervention in the form of a very special heavenly body gives him a view of what life would really be like without his guiding spirit.         
And also making the ladies swoon, if this photo is any indication: 
George Clooney in @DowntonAbbey here: http://t.co/35BArXKJZe #TextSanta24 Follow @ITVTextSanta for more exclusives! pic.twitter.com/1K9QdlagpX

— ITV (@ITV) December 1, 2014
It all sounds very It's a Wonderful Life-esque, and there's also apparently a kiss with Cora, per this Daily Beast interview. (Lucky Elizabeth McGovern, huh?)
ITV has also released a teaser clip of Clooney's appearance: 
Sadly, we've still got a couple weeks to go to see the whole thing. Sadness! 
The Text Santa initiative benefits such organizations as Alzheimer's Society,Guide Dogs, Marie Cure Cancer Care, Teenage Cancer Trust, Together for Short Lives, and WellChild.
What do you think of the prospect of the Crawleys meeting Clooney? 
---
By
for on December 2nd, 2014