By
for on December 22nd, 2014
Watch: George Clooney Guest Stars on 'Downton Abbey' for Charity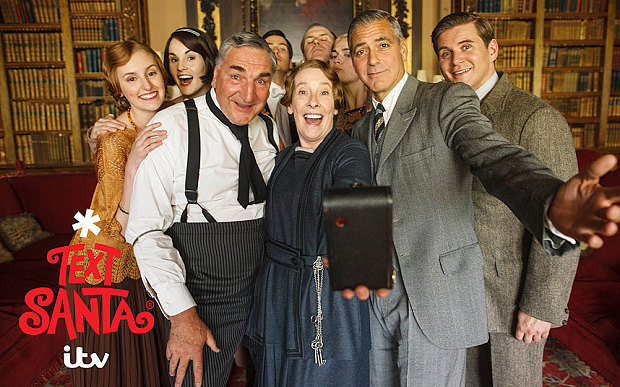 We heard about this momentous occasion earlier this month, and now it's finally here – the mega popular actor George Clooney joined forces with the mega popular costume drama Downton Abbey. This Voltron of cultural awesomeness combined for charity and its end result is sure to make every fan of the world's most successful period drama smile.
Clooney appeared as part of a Downton skit for ITV's Text Santa campaign, a charity effort which benefits such organizations as Alzheimer's Society,Guide Dogs, Marie Cure Cancer Care, Teenage Cancer Trust, Together for Short Lives, and WellChild. Much like the BBC's annual Children in Need event, the telethon features all sorts of fun, including celebrity hosts, pop stars performing their latest hits and a variety of skits and clips from popular network programming. 
The clip, which features Clooney as the Most Honorable George Ocean's Gravity, opens during the holiday season, just as Lord Robert Crawley has discovered that he's managed to lose the family fortune.
Again.
Luckily, Absolutely Fabulous star Joanna Lumley appears before disaster can strike, portraying an It's a Wonderful Life-style angel sent to educate Lord Robert about what his family and estate might be like if he'd never existed. Hilarity ensues. 
The segment features pretty much everything a Downton fan could possibly want, including the Dowager Countess fainting, the servants playing strip poker, relationship jokes at Edith's expense, Molesley's amazing physical appearance, a Matthew reference (sniff), a crack at writer Julian Fellowes occasional nonsensical plot twists and much more.
And, of course, Clooney himself is just as swoon-worthy as you might expect (literally, in one instance). Watch both parts for yourselves below: 
[This video is no longer available.]
[This video is no longer available.]
Bonus points for the surprise appearance by Mr. Selfridge star Jeremy Piven. Though, really, I'm not sure I think he would ever be Isobel's type in any reality.
But, where do we sign up to have Clooney guest star as one of Martha Levinson's tacky American friends? Just curious, is all….
What did you think of Clooney and company's Downton skit?
---
By
for on December 22nd, 2014