By
for on November 17th, 2023
David Tennant Debuts the Fourteenth Doctor in 'Children in Need' Special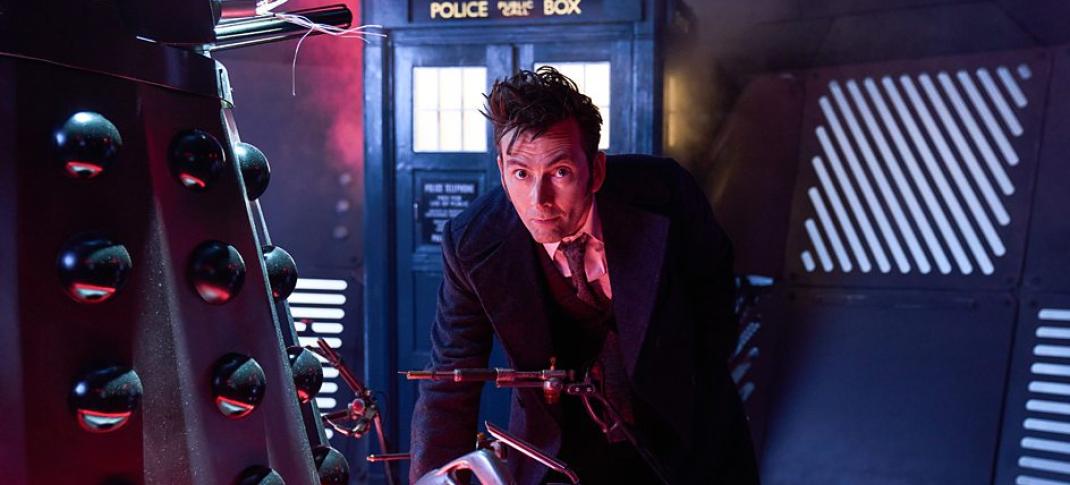 Doctor Who's 60th anniversary is almost upon us, falling on Thanksgiving and giving all fans something extra to be thankful for this year. But while we wait for the first of three planned anniversary specials to air on Saturday, November 25, there is a treat to hold us over in the form of David Tennant's first appearance as the Fourteenth Doctor on the BBC's yearly Children in Need special. 
The Doctor: "Sixty minutes ago I was this really brilliant woman. And now I've got this old face back again. I mean, why?" 
Why indeed! This minisode has no answers, but drums up plenty of excitement for the episodes to come. 
For those outside the UK, Children in Need is the BBC's annual telethon, held to raise funds for organizations that support children across the UK. Doctor Who has a long history with Children in Need, going back to the 1983 special, "The Five Doctors," which also marked Doctor Who's twentieth anniversary, and a particularly infamous 1993 minisode and EastEnders crossover, "Dimensions in Time." In this year's Children in Need special, titled "Destination: Skaro," incoming Fourteenth Doctor (and former Tenth Doctor) David Tennant comes face-to-face with his most legendary foe, a Dalek. Co-starring are Julian Bleach as the Daleks' creator, Davros, and Mawaan Rizwan as his right-hand man. Though Tennant made a brief appearance at the end of Jodie Whittaker's finale episode as the Doctor, this minisode gives a slightly larger glimpse of what Tennant will bring to the role the second time around.
It wouldn't be Doctor Who without a needlessly complicated and self-referential backstory, so of course, this special ties into a Doctor Who Magazine comic strip that has been running since last November, and gives a major nod to "Genesis of the Daleks," a story first broadcast almost 50 years ago. But don't let that scare you away; the special stands perfectly fine on its own. 
David Tennant isn't the only Doctor Who actor making an appearance in Children in Need this year. The host of this year's telethon is actor Lenny Rush, who will play the mysterious character Morris alongside Ncuti Gatwa in the next season of Doctor Who (which will be either Season 14 or Season 1, depending on who's counting... It's complicated). 
This is the second time that a freshly regenerated Doctor played by Tennant has made his TV debut on a Children in Need special. Tennant's first go-round as the Doctor began with a 2005 Children in Need special titled "Born Again," where companion Rose Tyler (Billie Piper) struggles to adjust to the Doctor's new regeneration as they decide where to travel next in the TARDIS. Since 2005, Doctor Who has produced a variety of minisodes and special trailers for Children in Need every year from 2005 to 2018. This year marks a return to Children in Need for Doctor Who and the start of a new era marked by fantastic publicity and many more new stories to come.
Doctor Who will return in full force with the first 60th-anniversary special, "The Star Beast," on Saturday, November 25, 2023, followed by "Wild Blue Yonder" on the following Saturday, December 2, and finally, "The Giggle" on Saturday, December 9. The episodes will air on BBC One in the U.K. and Ireland and stream on Disney+ everywhere else.
---
By
for on November 17th, 2023
More to Love from Telly Visions