By
for on October 2nd, 2022
'Van der Valk's Latest Case Brings All New Meaning to "Blood Diamonds"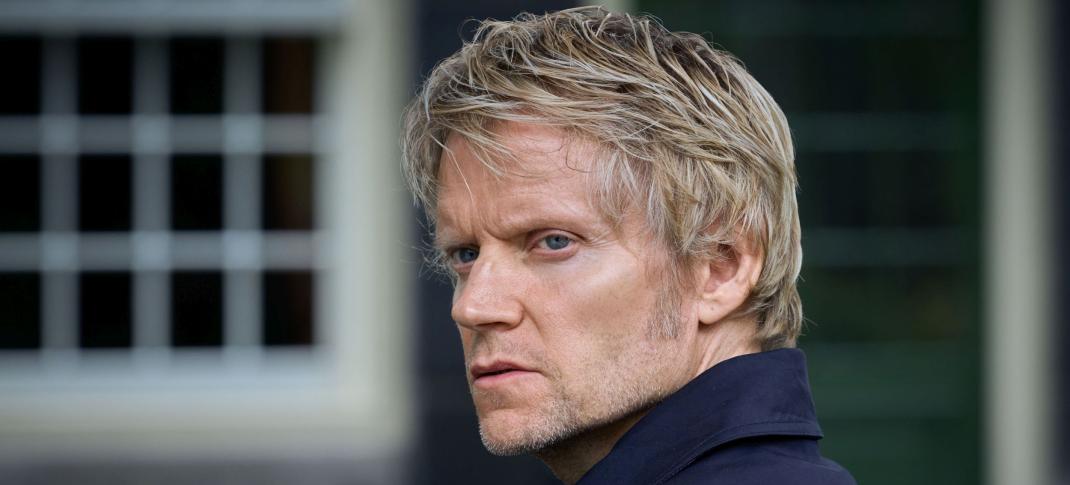 Diamonds! They're a girl's best friend worth killing for. However, Van der Valk will get back to that voiceover. First, VDV and Haskell are at a bar where the cover band is playing "House of the Rising Sun," VDV shows off his newest acquisition: dog treats. VDV tries to rush out when the new girlfriend, Lena, turns up, much to Haskell's amusement, but she's got her eye on a girl anyway. (I guess that Season 1 heartbreak is over.)
VDV: Are you normally familiar with the genitalia of your employees?
Does Cloovers live at the gym? This is the second time the series has joined him post-workout; VDV tracked him down there to pick him up for work. They meet Haskell and Hendricks at the home of the Cuyper Family, diamond merchants worth €13 billion, where Angelina Cuyper (Julia Akkermans) is comforted by the family psychotherapist, Florian Barby (Leo Starr). There's a gift in the backyard: a male torso with a fingernail stuck in it. Her older sister Marielle (Hadewych Minis) rings to say the lower half's on her doorstep. VDV meets De Vries at Marielle's. She is far calmer than Angie, identifying her half as Ahmet Baykam (Anil Aras), one of the company's diamond polishers. 
There's a third sibling, brother Cornelis (Thomas Cammaert), who discovers the head, along with the shoulders and arms, in his basement. Upon getting there, VDV finds Cornelis is also in charge of the new line celebrating their late mother, Geraldine (Liz Snoyink), who died after a failed heart transplant. (She was also the source of the intro's voiceover.) The showpiece is the "0708," injected with the ashes of her old heart. The will hasn't been read yet, but Cornelius runs things in the interim. 
Dahlmer is waiting at the bar with her new puppy and barkeep, Cliff. Cliff knows the Cuyper gossip about Geraldine's disastrous marriage and taking over the company after he passed. The family claimed no enemies, but Haskell's googling finds their ex-buyer, Jacob Prins (Thom Hoffman), lawyered up upon being let go. VDV heads to inform Ahemt's next of kin, his sister, Naz (Selin Akkulak), as their other brother, Yusuf (Alkan Çöklü), is someone he knows; VDV arrested Yusuf a few years back.
At the Cuypers' diamond factory, Cornelis says Prins' dismissal complaints weren't relevant. More importantly, despite the body being dismembered with a diamond water cutter, Cuypers doesn't use them, having upgraded to lasers. Baykam's boss, Vito (Simon Manyonda), says Ahmet wasn't a team player, while colleague Chaim Dan (Paul Bentall), who designed the 0708, calls him ambitious and reveals Ahmet replaced Prins as the buyer. (Chaim disapproved.) When Ahmet left work, he claimed to be heading out on a date. VDV checks the high-end restaurant where Ahmet's date was, but the waitress doesn't recognize the photo. She does confirm Angie was there but said her date never showed.
Haskell heads to Prins, where Yusuf is leaving. Prins claims he didn't know Ahmet got his job; his dismissal was Marielle and Cornelis' work after he objected to Geraldine being taken to Greece right after the transplant. The family doctor, Gruber (Peter Bolhuis), ok'd it, but as an employee, it's not like he could object. Meanwhile, Yusuf's last arrest was for fighting with Ahmet, so Cloovers and de Vries visit Naz and see Cornelis and Marielle leaving. Naz says they wanted to buy her silence with an offer of her own business, but she refused. As for her brothers, they rowed; sure, Yusuf hated Ahmet working for the Cuypers, but fratricide? Never.
VDV and Haskell arrive at Angie's just as Florian does; Gruber is just leaving. She says Ahmet stood her up. She's shocked he slept with Marielle but not surprised; he got Angie to ensure he got the buyer job over Vito. Haskell corners Gruber, who claims Geraldine's transplant rejection caused a massive stroke; she died instantly. Florianadmit the Cuypers are his only client and insists on confidentiality, yet he reveals Cornelis was also sleeping with Ahmet.
VDV finds Cornelis at the family vault, fetching the 0708 for the unveiling. The vault opens, revealing Doc Gruber's body and no diamond. The siblings squabble, only the family has that code. Marielle is extra mad that Angie brought Prins, accusing him of being in love with Geraldine. Meanwhile, Cloovers and De Vries find footage of Vito confronting Admet, and Haskell sees a shifty Vito heading towards the door; when she calls out, he runs, tossing something. It's Ahmet's wallet; Vito claims he panicked upon finding it planted in his locker. Vito admits he'd threatened Ahmet, but then his phone rang. Ahmet missed the call and walked off, upset about it.
VDV and Cloovers head out, ostensibly to stake out Cornelis, but instead, VDV takes Cloovers to an empty lot: the address Cloovers put for his mom. Cloovers is homeless. VDV offers his boat; he doesn't want anyone on his team living rough. Cloovers refuses. Since Dahlmer knows about this, VDV lets it go, telling Cloovers to come to him if he needs anything. He also decides to dump Lena, lest he put her in danger.
They arrive to see Yusuf leave; Cornelis says he wanted €50K. VDV notices a photo and asks if it's Greece. Cornelis says it's Koh-i-Noor, Geraldine's favorite Bahamas getaway, which she sold after her surgery. At the office, Haskell says no one examined Geraldine's body, which took a week to bring home. Cloovers finds Yusuf's bank deposit was €500K, not €50. Yusuf says he repeated what Ahmet told him Angie said: The older two were pushing Geraldine out. He threatened to go public with it. 
Davie, who worked all night, says the fingernail on Ahmet's body matches close to the Cuyper sidlings, like a parent or child. De Vries also worked all night (and drank Davie's beer), turning up footage of Prins threatening Cornelis. Prins' shop is smashed, but before Haskell and VDV can reach him, Prins is murdered, saying, "Koh-i-Noor, they did it for love." Checking in with the Cuypers, VDV learns Florian resigned. Passing a giant poster of Chaim looking at a diamond, he stops and returns to the shop, where he confirms Chaim has a new ring, holding Geraldine's leftover ashes. VDV takes it for DNA testing.
We can see where this is going when Haskell learns Florian now owns Koh-i-Noor, and his alibi is a lie. Cornered, Florian admits he killed Ahmet for asking questions and framed Prins. However, Florian doesn't know how to work a diamond cutter, and he's not family, so he doesn't have the vault code.
Geraldine does.
She's alive and well, faking her death to escape with Florian. Ahmet's death was accidental. He attacked Florian, and Geraldine hit him with a brick. Everything else was a cover-up; Gruber knew the truth, and they worried the police would check the ashes. As they are taken away, Geraldine tells VDV to grab love with both hands if he ever finds it.
By the way, the voiceover was Geraldine's video will, telling Angie she alone inherits. She's the only one with her heart in the right place. As the credits roll, VDV calls Lena.
---
By
for on October 2nd, 2022
More to Love from Telly Visions