By
for on September 20th, 2020
'Van Der Valk' Season 1 Episode 2 Recap: "Only In Amsterdam"
Van Der Valk's cold open starts in a pool hall, where VDV is not doing well. Hassell is at home, and she's not doing well; as we learn later, her girlfriend has left her, and her stays with VDV may indeed be platonic.
Meanwhile, tonight's victim is studying religious imagery at the famous Gilbert Library's spiritual center before heading out to have some incredibly dangerous-looking sex that kills her. The next morning, De Vries and Clooves fetch VDV (and Hassell) to investigate the victim, Aamina Jabara (Taj Atwal), found by the cleaners in a hotel room.
De Vries: Nun hunting is my new favorite sport.
Aamina has a Gilbert-branded notebook filled with drawings, half of which are as salacious as the others are religious. The spiritual center's head Klaas Gilbert (Tim Dutton), and his assistant Janneke Paulis (Anniek Pheifer) are attending a lecture by visiting professor Lionel Veith (Martijn Nieuwerf) when VDV and Hassell arrive. Gilbert claims not to know Aamina, but Paulis says she comes in regularly and left a rare manuscript unattended during her last visit, a big faux pas. They confirm "Francis Rakoczy," who booked the room, is not a researcher, but an ancient alchemist. Davie finds ayahuasca in Aamina's system and says she was tripping when she died.
Clooves tells the Jabara family their daughter is dead at which her brother, Zaim (Taheen Modak), breaks down, blaming their father, Talib (Paul Tylak). Talib, a strict Muslim, insists she must have been taken to the hotel against her will and denies she studied Christianity; she was a nurse. (He'd probably be horrified by Aamina's research, which is religious erotica.) Clooves finds she last worked at the Graaf clinic, part of the Netherlands' controversial free heroin distribution program. The head of the clinic, Isaak Graaf (Jeroen Spitzenberger), says she wasn't there long, and none of their patients take ayahuasca. But one of the addicts remembers her dating a patient, Otto (Teun Kuilboer). 
Hassell looks into who else was into the religious erotica texts and finds "Sister Catherine." The name and address are false, but Clooves and de Vries find she's actually Sister Joan (Juliet Aubrey). Upon learning of Aamina's death, Joan breaks down. They were friends; Aamina got into religious erotica through "a boyfriend," who she met at an Airbnb. When VDV and Hassell check the Airbnb, a young woman sees them and runs. She gets away, but not before VDV sees her face: Aamina has a twin. Clooves has already figured this out along with her name: Zafira, and that the body in the morgue has Zafira's "A" (for atheist) tattoo.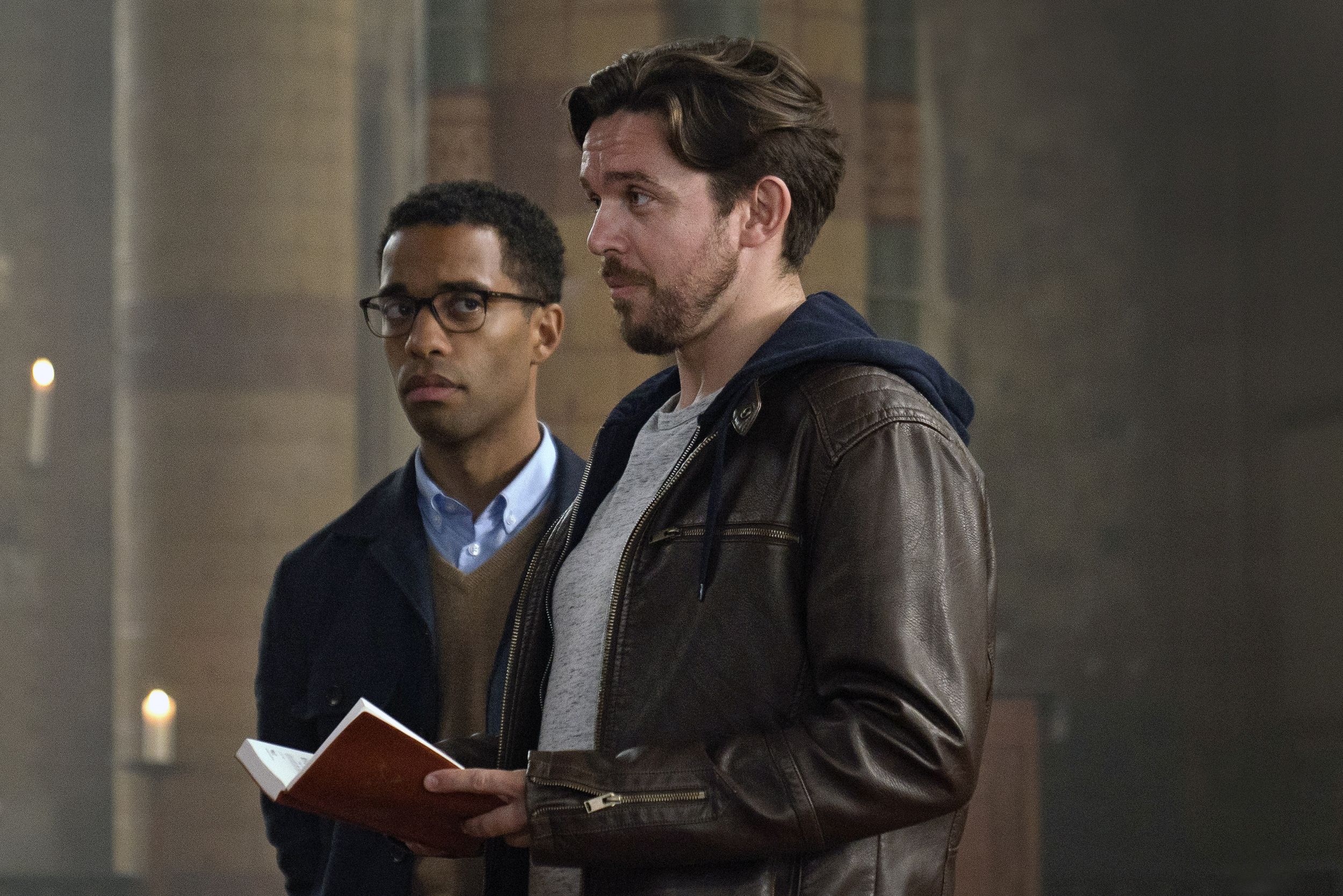 Aamina worked at Graaf because her sister was a patient there. Confronted, Graaf insists he didn't tell VDV because confidentiality is paramount, and Zafira left the center fully sober. When Hassell pushes Graaf for an alibi, it's rock-solid — he was on TV giving an interview from 7:30 p.m. on, and the girl was seen returning to the hotel at 8 p.m. As for the body, Talib admits to VDV he misidentified it because he was so relieved it wasn't Aamina he couldn't think. Zafira has been dead to him for three years, since getting the tattoo. But Zafira isn't the only one rebelling, as VDV heads back to see Joan when Hassell turns up her "friendship" with Aamina included making out in corners and meeting at the Airbnb themselves. 
The Airbnb is under the name Louis Tsarogy. Like Rakoczy, Tsarogy is a name for alchemist Count St. Germain, the subject of Gilbert's latest book. Gilbert insists he didn't know either Jabara girl, nor does he like questions about the money he uses to fund the center coming from his family's fortune in the munitions business. Meanwhile, de Vries sees Otto arguing with Aamina via facetime. De Vries tries to detain him but fails. Clooves realizes Aamina was pushing Otto to attend Gilbert's book auction, and the team head there to catch him. Just as the event is supposed to start, Otto arrives, accusing Gilbert of seducing Aamina and murdering Zafira, only to be assassinated. 
Aamina finally comes forward. She says she wasn't pushing Otto; he was always volatile. But his accusations were true: Both she and Zafira were in a relationship with Gilbert, first Aaamina, then Zafira after Aamina was too scared to take ayahuasca with him. But she's lying about how her sister had her ID and notebook, and when VDV asks about Sister Joan, she seems genuinely startled. VDV decides to test Aamina by bringing her into a lineup, which has Sister Joan in it, in street clothes. Aamina doesn't recognize the nun at all. And Davies, upon looking at Zafira's tattoo, says it's not three years old, but three weeks old, at most. The body is Aamina, after all.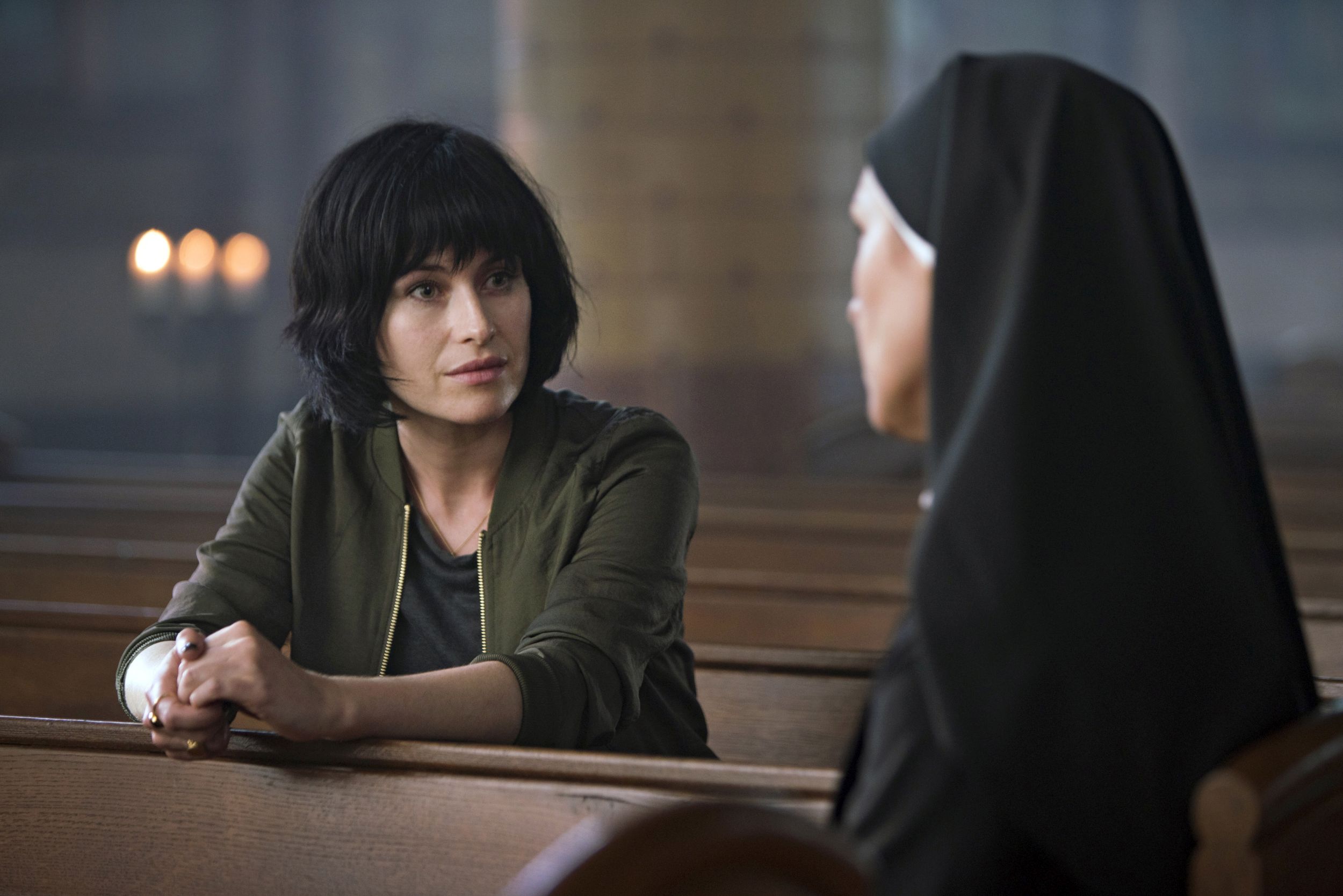 Zafira is impersonating her sister, and all too happy to take her place at home. But when VDV and Hassell confront her, Zafira insists they have it wrong: Gilbert killed her sister. Gilbert's gun is also the weapon that killed Otto. But it's Clooves that gets the cincher: Veich, who is staying at the same hotel, saw Graaf heading out before 7 p.m. VDV ignores Clooves trying to tell him this, until the young man finally slams a piece of office equipment, demanding to be respected. Graaf's entire alibi was predicated on "Aamina" being seen after 8 p.m. Zafira parading around covered that her sister was already dead. 
Moreover, Clooves discovers the reason Veich recognized Graaf was from a very public spat he had with Gilbert. An angry Catholic, Graaf sees faith as an addiction and Gilbert's work as the height of hypocrisy. In return, Gilbert attempted to have the Graaf Clinic shut down. But VDV wants to crack Zafira before going after Graaf, so he has a slam dunk case. All she wanted was the family back that her sister managed to keep, despite being a lesbian and living a lie as well, so he has Talib come in and say he'll forgive her, to goad her into confessing all. But then Talib walks out, declaring her still dead to him. Zafira is left devastated, and Ziam, horrified, walks away, blaming his father for destroying the family once more.
Confronted with Zafira's confession Graaf tries to run, ending with a confrontation on the roof. Graaf makes as if to jump, forcing VDV to appeal to his faith and fear of the other side. Graaf backs down, leaving VDV and Hassell to return to the pool hall to debate again if this is all there is.
---
By
for on September 20th, 2020
More to Love from Telly Visions