By
for on October 23rd, 2014
A US Remake of 'The IT Crowd' in the Works For Some Reason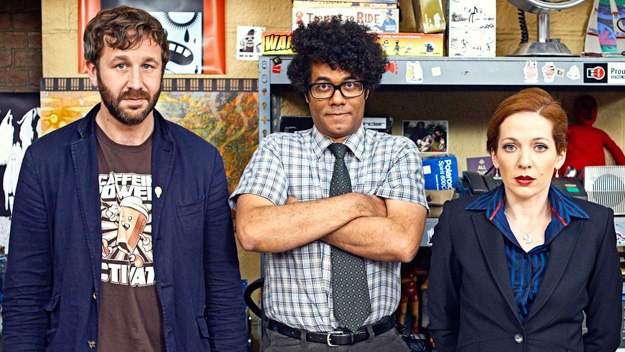 For some reason that I will never understand, American television networks seem to regularly go through this weird phase where they think ratings success is waiting for them just around the corner….if only they can find the
perfect British TV show to remake
for their primetime schedule.
Yes, this keeps happening, year in and year out – FOX's new Thursday drama for this season is called Gracepoint and is a remake of the British hit Broadchurch – and it doesn't matter seem to matter how many of these US spins on British series don't do well in the ratings (US versions of Coupling and Skins), or never even make it out of the pilot stage, come to that (looking at you, recent US attempts at Gavin and Stacey and Only Fools and Horses). The networks are going to keep swinging anyway – chasing the elusive magic that makes particular British series popular among American audiences.
Next in line for the remake treatment? Popular Channel 4 comedy series The IT Crowd. Yes, sadly, according to Deadline, someone at NBC seems to think that creating American versions of Moss, Roy and Jen is a great idea, so much so that they've given this new series a put pilot commitment, meaning that the revival will air, at least in some limited capacity. 
The original British series starred Chris O'Dowd, Richard Ayoade and Katherine Parkinson, and followed the hilarious office misadventures of two IT guys who know nothing about social interaction and their new manager, a woman who knows nothing about computers.
This is actually the second time NBC has taken a crack at figuring out how to put on The IT Crowd for American audiences – a remake was first commissioned in 2007 to star Joel McHale and original British cast member Ayoade.  A fairly terrible pilot was shot – you can check it out on Daily Motion if you'd like to find out exactly how terrible – but the remake never got off the ground. Likely because of the aforementioned terribleness.

The IT Crowd (US Pilot) by FreakStyler
This second attempt does have a slightly stronger creative pedigree, in the form of Scrubs executive producer Bill Lawrence and Community writers Neil Goldman and Garrett Donovan. These guys have a proven track record of actually being able to write comedy – and workplace comedy in particular – so perhaps there's a slimmer of hope that American It Crowd won't be completely awful.
There's no word on who might be expected to star in the remake, though it seems safe to assume that O'Dowd, Ayoade and Parkinson are likely too busy with other projects to be part of this new effort. Or at least we can hope I guess?
What are your thoughts on the possibility of an American IT Crowd? Could it work? Or is this going to just be the worst thing ever?
---
By
for on October 23rd, 2014
More to Love from Telly Visions