By
for on September 6th, 2013
Missing 'The IT Crowd'? Here are Some Workplace Sitcoms You Should Watch Instead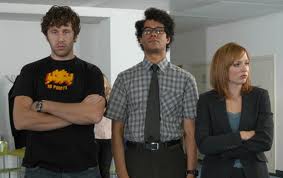 If you are a fan of
The IT Crowd
like me, you too have been on pins and needles over the past few years. Back in the summer of 2010, we left co-workers Roy, Moss, and Jen celebrating the relatively successful outcome of their boss, Douglas Reynholm's divorce trial, secure in the assumption that we'd be seeing them again quite soon.
Little did we know that our expectations were premature.  After all, before Series 4 even aired, the show's creator Graham Linehan announced that IT Crowd would be returning in 2011 for a fifth series.
Hurray! We were innocent and carefree.  We had no reason to believe we'd never hear Roy ask if someone had turned their computer off and back on again.
In October of 2011 it was revealed there would be no Series 5, but instead a one-off special in the coming year.  Mr. Linehan just wasn't feeling it after all and was of the opinion that Series 4 would be hard to top. Sad, but we keep calm and look forward to the promised big juicy special, right? Well, 2012 came and went, the world survived, yet there was still no sign of The IT Crowd.  The delay was blamed mostly on the busy schedules of the principal actors Richard Ayoade (Moss), Katherine Parkinson (Jen) and especially on the flourishing Hollywood career of Chris O'Dowd (Roy).
Finally, however, it would appear that Channel 4 has finally sort of got something like an air date in the works. Per Linehan's Twitter, the special will finally see the light of day at the end of September and is rumored to be part of a night of special IT Crowd programming that will include a selection of episodes from the comedy's last full series.
After all this time, I'll believe it when I see it! And I won't even see it when it's actually broadcast, but at some later date decided on by Hulu or Netflix which both happen to stream all four series of The IT Crowd, by the way.  If you've never watched this wonderfully smart and silly series, you're in for an ever so slightly surreal treat. 
However, if you've seen all these classic episodes... and then seen them again, you might be getting a bit antsy waiting for that elusive bonus episode.  If so, here are some workplace sitcoms that might fit the bill.
Black Books. Bernard Black (Dylan Moran) is a cranky, often inebriated Irishman who owns a bookshop, but abhors contact with the customers so he hires Manny (Bill Bailey), an infinitely more personable salesman, to help him around the shop. 
[This video is no longer available.]
Bernard's pal Fran (Tamsin Greig) befriends Manny and helps shield him from some of Bernard's abuse, but she can only do so much. All three series are available to stream on Hulu and Netflix.  Fun fact - the first season was co-written and co-directed by The IT Crowd's Linehan.
Dinnerladies. Bren (Victoria Wood) and her cohorts work at a factory canteen, preparing and serving meals to the employees.  
The kitchen is full of characters, no one more interesting than Bren's mother. Petula Gordino (Julie Walters) is a frequent visitor to the canteen and is perpetually in search of an audience and a handout.
This show is not easy to find.  You can find clips on YouTube, but otherwise it's only available on Region 2 DVD. The reason I even bother to recommend it is that it's a unique, heartfelt look at a workplace whose staff become something of a family. It's funny and touching and well worth sitting in front of a computer screen to watch.
Twenty Twelve.  Set in the pressure cooker world of the Olympic Deliverance Commission, this mockumentary style sitcom follows the various department heads through the process of bringing the 2012 London Games to fruition. The problem is every one of them is fairly incompetent at their jobs while Head of Deliverance Ian Fletcher (Hugh Bonneville) is apparently unable to keep the chaos and ignorance of his subordinates in check. 
You can stream both series of Twenty Twelve on Amazon Instant Video or buy it on Region 1 DVD.  It's a perfect spoof of the less-than-effective workings of committees and organizational communications, spotlighted beautifully by David Tennant's earnest narration.
The Office. I know you've all seen this quintessential workplace comedy, but I couldn't leave it off the list, could I?  The Office is the show that set off my British telly addiction big time and I've never recovered since.  With David Brent (Ricky Gervais) as their fearless leader, the employees at Wernham-Hogg Paper Merchants are living a daily dream-deadening existence.  Well, maybe not Gareth Keenan (Mackenzie Crook). 
The Office can be streamed on Hulu and Netflix but as it's a modern classic you may find it worth owning on Region 1 DVD.
When the IT Crowd special is finally aired, believe me, I'll be back to talk about it.  My fondest wish is for the return of Richmond Avenal, Goth entrepreneur. 
Share your thoughts about the IT Crowd saga and what shows you recommend to fill the gap left by our beloved tech support geeks of Reynholm Industries.
---
By
for on September 6th, 2013
More to Love from Telly Visions