By
for on April 8th, 2019
'Unforgotten' Season 3, Episode 1 Recap: The Case of Hayley Reid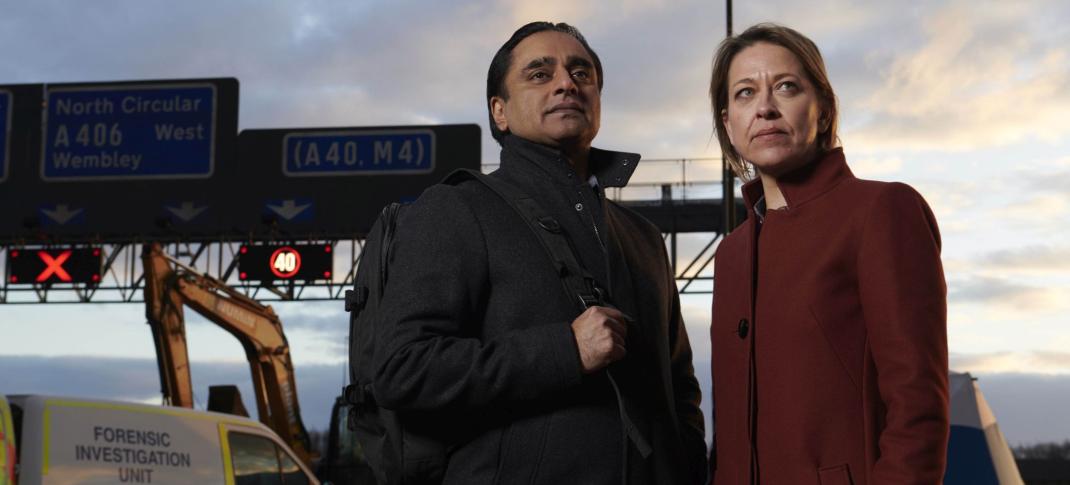 Unforgotten Season 3 arrives with a new cold case, now in its original six-part one-hour format.
Sunny: Well if I had to choose, I'd say Chef's Table at KFC?... No, what worries me is you think I'm joking...
Unforgotten is back on PBS, after last year's compressed Season 1 and Season 2 were a hit. As usual, our cold case this season starts when a construction site laying drainage channels digs up the bones of the long dead. This time, it's along the side of the M1 carriageway, which is going to wreak havoc on the morning commute. It's already doing so when DCI Cassie Stuart (Nicola Walker) pulls up late, having overslept due to insomnia in an empty house. Her partner, DI Sunny Khan (Sanjeev Bhaskar), is already on the scene, cheerily chatting away into the phone with his new lady love while he waits.
Stuart has to admit, burying a body in the middle of the motorway is a ballsy move, but a smart one, because as long as you have a van, a hi-res jacket and a few bollards, who is going to stop and question someone working on the side of the road? The usual slow work piecing together whose body this is takes place, with first assumptions that it could be thousands of years old, then hundreds, and finally no more than 50, due to a plate on one of the bones, apparently left from a compound fracture.
The plate has a maker's mark but no serial number, identifying it as not of U.K. origin, and probably not EU either. Inquiries at hospitals turn up a doctor who recognizes these as Greek letters, the sigil of a Cypriot company that's been in operation since the 1980s. Cyprus joined the EU in 2004, and they didn't start using that logo until 1995, so we've now got a window of 1995-2003 when this child lived and died. And the body is a child, a teenage girl, between the ages of 13 and 18. Stuart has a hunch it was an English girl who broke her arm on holiday. After a slow process of calling every family with a missing teen girl in the right time frame until they find one who broke her arm while the family was in Cyprus, they finally land a match. The Hayley Reid case, disappeared the morning of January 1, 2000.
As is the show's standard format, over the course of the episode we flash to the coming suspects:
Unlike the last two seasons, we already have a connection established between our four main players before the first episode is out. While getting out of the car to meet up with his ex-wife, Hollis leaves a message for Pete, who called earlier, telling him "I miss you, big man," and suggesting "I'll call Tim, and you do Chris." So though we have no idea how these four, rather elderly men are connected to a child who disappeared on New Year's Eve 19 years ago, they do, at least, all know each other.
Meanwhile, Hayley's twin sister, Jessica (Bronagh Waugh) seems like the family member who will bear the brunt of this. The hour closes on her grief, as she realizes they've finally confirmed, after nearly twenty years, her twin is indeed gone. 
---
By
for on April 8th, 2019
More to Love from Telly Visions