By
for on April 16th, 2018
'Unforgotten' Season 1, Episode 2 Recap: Who We Were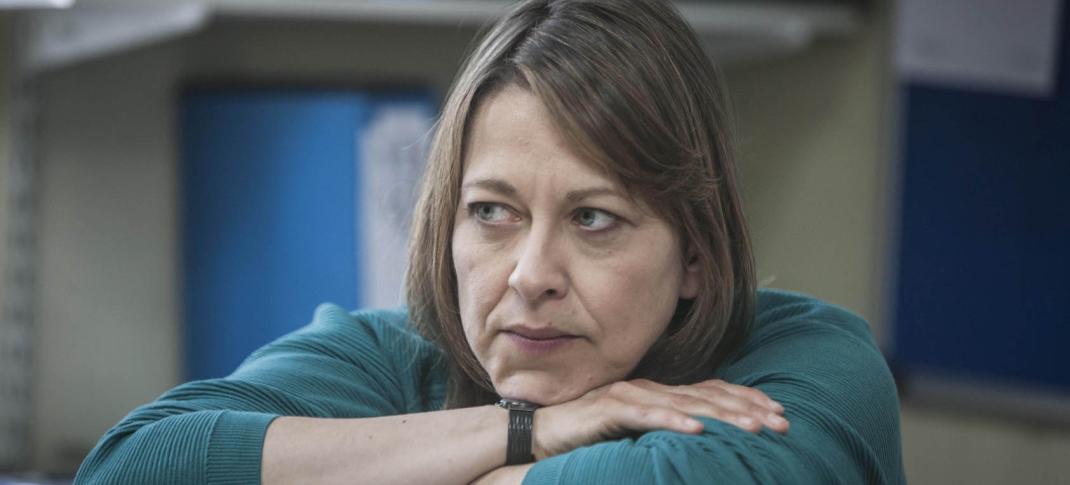 The second episode of Unforgotten sees all our suspects rattled, even if no one will talk yet.
DCI Cassie Stuart: Would be nice, wouldn't it if just one of the bastards wouldn't lie through their teeth
DI Sunny Khan: Bah. He's a priest, what did you expect?
Last week's episode of Unforgotten introduced us to the suspects at hand. This time around, we get a deeper dive into each of their lives, as DCI Stuart walks around upending the apple carts of those who are still alive.
Some of this is tough stuff. Not in terms of the investigation, which spends most of the hour squirreling away clues, but for those who are caught up in it. The hardest, by far is the story of Elizabeth Wilton. It was obvious she lied to the cops last week about Jimmy, but the truth, once we get into it, is far more sympathetic. Sexually abused by her father from the age of twelve, she was drunk on the streets of London by 15. She wound up in the National Front because the strongest guy she'd ever seen (and fell in love with) was one of them. They gave her a family and made her feel protected an us-against-them scenario.
Ruth Sheen get some A-list acting here, as she works through the reality of her past and Brian Bovell matches her beat for beat as the husband who suddenly questions everything he ever knew about his wife with the heart of gold. Worse is how it affects Curtis, the kid from the Estate they've taken under their wing. Of all the families the show features, the collapse of this one was the most painful.
We do finally get our interviews with Father Rob and Eric Slater. Father Rob lies through his teeth from start to finish, much as our first two suspects did. Slater, on the other hand, looks to be the first to get through his interview with the truth, but it's just an illusion as he tries to throw the cops on the scent of Father Rob, in an attempt to punish him for sleeping with an underage girl at the hostel. 
Unfortunately for Eric, the more the cops dig, the less his story holds water, especially when they learn he nearly beat a gay guy to death for basically being gay. Worse, we discover he's physically abusive to his dementia-addled wife, whose memories of that time and lack of filter are starting to make her half-nonsensical statements quite worrisome indeed.
DCI Cassie Stuart: He's not a bloody Dalek is he?
DI Sunny Khan: Well, now let's not rule out anything just yet.
The show worked very hard in our first installment to make "Father Rob" as unsympathetic as possible, and despite a panic attack that sticks him in the hospital, things aren't improving. But perhaps most striking is how topical the series gets when the story of JoJo comes out. Father Rob insists she was 19-20, but his wife remembers her as a child, and the cops put her age at the time as 15, and him at 28. 
As his daughters process the news, the younger one keeps trying to say it was a one-time thing, it was the 70s, etc. The older one refuses to hear it "What, it was a different time? That doesn't make it ok." This series was filmed in 2015, yet these are the arguments we hear today as part of #MeToo. Either way, he's out of the house, and now staying with Sheila, who's bingo money he robbed to cover his embezzlement, and who might be about to find out he did it. Personally, I'm worried about Sheila.
Then there's Sir Philip Cross, who foolishly threw down the gauntlet during the cop's last visit. They're chasing down lines of inquiry for the Fennick family that he used to work for, doing (as he confesses to his lawyer daughter) "what I had to to get out of a house with no running water." The result is that the story breaks big in the Daily Mirror when one of the guys the cops talk to decides to sell out, losing Cross his lordship, his position, and his job.
​On top of that, the still living Fennick brother starts blackmailing him for money by sending Cross' lawyer daughter photos of Cross nailing victims through the hand as part of his debt collecting for their drug trade. In an ironic twist, these photos show up just as Jimmy's skeleton reveals an injury that is consistent with being nailed through the hand. Khan stops by to ask Cross if he ever nailed anyone through the hand. Cross demands he find proof. Khan doesn't have it yet. "But I feel like we're getting close, don't you?"
Meanwhile, in her own life, we learn why Stuart's dad was so against her digging into the past. After her mother died, her father found a box of love letters to someone else. Decades-old and clearly an infatuation that passed. But a reminder, as if we needed one, that the past never stays buried.
As the episode concludes Stuart and Khan get a call. The CID wants to speak to them....there's been another victim. Wait, really? Now? Or then? When? We'll find out more next week when Unforgotten continues.
---
By
for on April 16th, 2018
More to Love from Telly Visions