By
for on April 5th, 2018
'Unforgotten': PBS Dives Into New Old Cases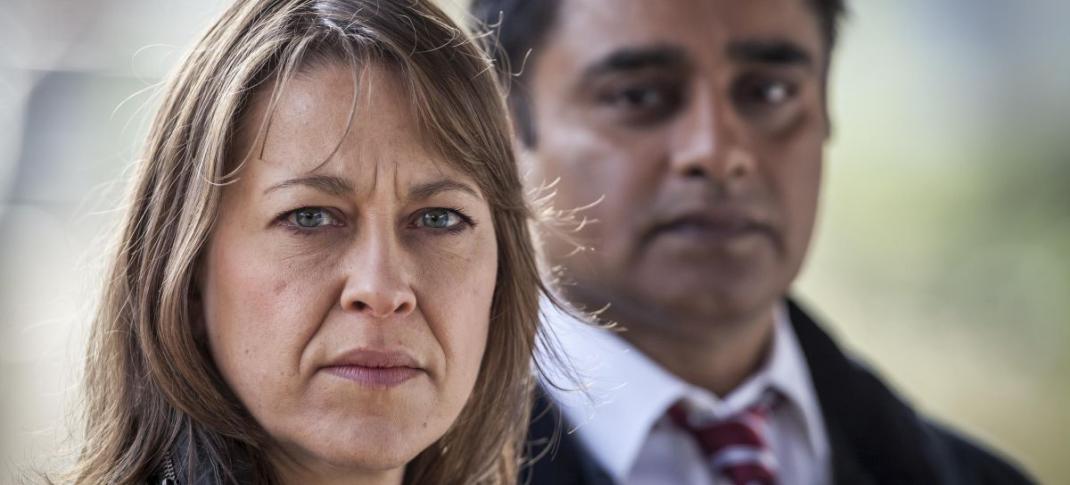 This April, PBS' Masterpiece debuts Unforgotten, ITV's star-studded cold-case mystery series. The cast alone makes it worth tuning in.
DCI Cassie Stuart: There's no statute of limitations on murder.
Many people consider PBS and its Masterpiece series to be the U.S. equivalent of our BBC. Both are supported by government funding, neither has commercial breaks. Moreover, PBS seems to offer quite a few of the hit shows from across the pond for viewers here in America. But while it is true that some PBS shows on Masterpiece, like say Poldark or Sherlock, are pulled across the pond as soon as humanly possible, not all of Masterpiece's programming is so timely in their transfers, and quite a bit of it is actually made up of ITV series with the commercials taken out. 
Unforgotten falls into both those latter categories. This series is from ITV, and the first season, which debuts this Sunday, April 8th at 9 p.m., actually aired over two years ago in the U.K., in the Fall of 2015. The cast is a list of "who's who" of British television talent. Nicola Walker (Last Tango In Halifax) and Sanjeev Bhaskar (The Kumars at No. 42) head up the cast as DCI Cassie Stuart and DS Sunny Khan respectively, two officers assigned to a cold case when a skeleton from the 1970s turns up in the middle of a commercial demolition site. Here's the full synopsis:
A skeleton found in the cellar of a building being demolished prompts investigation from DCI Cassie Stuart and her colleague DI Sunny Khan into the murder of a young man that could potentially span back thousands of years.
Tracking down what happened forty years ago brings them in contact with four seemingly unconnected couples, all of whom eventually become suspects in the long-unsolved case. There's Bernard Hill (Wolf Hall, Lord Of The Rings) as the vicar, Robert Greaves, and Hannah Gordon (Midsomer Murders, Monarch of the Glen) as his neglected wife. There's Tom Courtenay (Last Orders, Little Dorrit) and Gemma Jones (Sense and Sensibility, Bridget Jones's Diary) as the Alzheimer-fighting Slaters. Then there's Brian Bovell (Love Actually, Hollyoaks) and Ruth Sheen (Doc Martin, Vera Drake) as a pair of bereaved parents, Ray and Beth Wilton. And finally Trevor Eve (Shoestring, Waking The Dead) is Sir Philip Cross, and his wife is played by Cherie Lunghi (Excalibur, Midsomer Murders).
Are you overwhelmed by the sheer list of names and credits? You should be because that's where all the money went in this first season. Unfortunately, that means there wasn't much left for script or plot. The latter is at least twisty enough to be satisfying over the course of a six-episode run, though there are definitely points in the first couple of episodes where things drag from unnecessary plot loops. But the former requires a love of all of the hokey cliches one finds in this sort of television murder mystery. 
​The good news is that despite the cliched script, everyone involved has enough talent to make even the silliest lines seem believable and a commitment to their characters to carry the series and then some. And even when things are taking a while to get to the point, it's enjoyable to simply spend time watching this ensemble work. This is definitely a show where the journey matters as much as the whodunit answer.
As for why it took so long for PBS to pick it up? Well, the reviews were not so hot for the first season, which were generally gaga for the cast, but much less so for the overall structure of the series. It took until 2017 for ITV to get around to attempting a second run of the show. That second season got much higher marks in terms of story, and much better reviews overall, which is why ITV is now filming a third season, most likely to air later this year, and PBS has decided it was worth a berth in the Masterpiece schedule.
Unforgotten premieres this coming Sunday, April 8, 2018, at 9 p.m. on most local PBS stations. Check your local listings.
---
By
for on April 5th, 2018
More to Love from Telly Visions