By
for on September 11th, 2023
Paul McGann Broods Handsomely In the Trailer for Period Crime Thriller 'The Undertaker'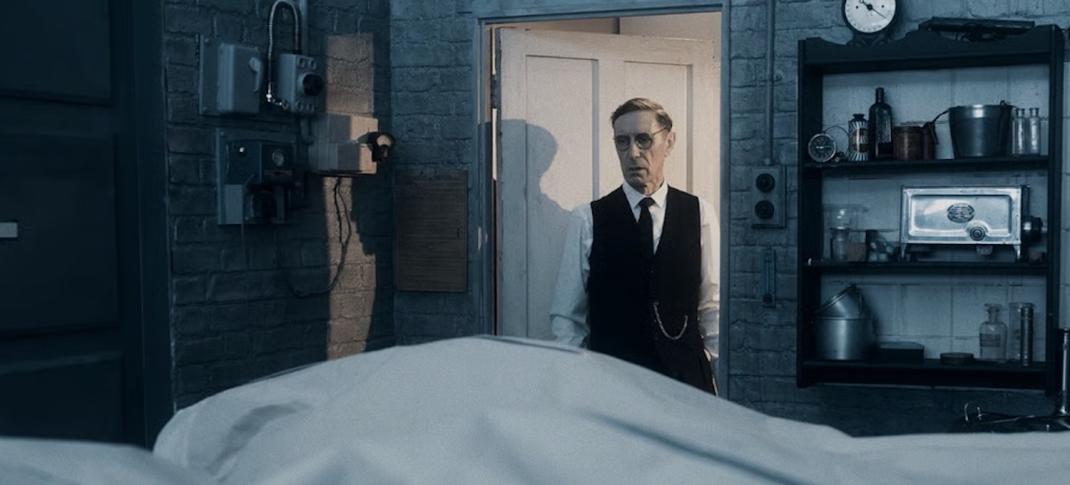 We always love to see the Doctor Who alumni network thriving. From David Tennant (Good Omens) and Matt Smith (House of the Dragon) to Karen Gillan (Guardians of the Galaxy) and Jenna Coleman (Wilderness), it feels like every time you turn around these days, there's a former Doctor or companion starring in some new project. But it's particularly lovely to see the classic Who cast doing new things, especially Paul McGann who perhaps deserves a boost of modern-day popularity more than most.
And the former Doctor — McGann played the eighth incarnation of the famous Time Lord in the dreadful made-for-TV movie that basically killed the franchise for the better part of a decade — certainly feels as though he's in the middle of something that feels an awful lot like a career renaissance. If we're honest, it's about time; the failures of the Doctor Who movie were hardly his fault and he made an excellent Eight, as evidenced by the continued success of the ongoing Big Finish audio adventures featuring his Doctor. From his onscreen Whoniverse returns in both the 50th anniversary prequel, "The Night of the Doctor" and Jodie Whittaker's (One Night) Season 13 swan song "The Power of the Doctor" to roles in shows ranging from Luther to Annika, it certainly feels as though the second act of Paul McGann is finally upon us. (And I'm about it, is what I'm saying.) 
His latest project is The Undertaker, a period crime thriller that's dripping with noir vibes and dark threats. Set in Northern England during the 1960s, the film follows the story of funeral director Arthur Morel (McGann), who finds himself in a moral crisis after getting caught up in the nefarious business of a local gangster. Pressured to bury his victims without filing the proper paperwork and thus keeping their deaths from the eyes of the police, Morel plans to use the large amounts of cash he's been promised to finally retire. But when the crime lord's latest killing spree escalates out of control, Morel realizes he must take a stand — or he'll most likely find himself as his next victim. 
Here's the film's logline. 
At a moral crossroads, a mild-mannered undertaker (Paul McGann) takes the wrong turn when he agrees to secretly dispose of a ruthless gangster's latest victims.
Alongside McGann, Roger Barclay (The Bay) plays crime kingpin Finlay Unsworth, and Tara Fitzgerald (Signora Volpe) stars as Vic, a singer at one of his nightclubs. Sean Gilder (Shameless) is Detective Kelly, and Lily Frazer (Hotel Portofino) is Morel's assistant, Kat. The Undertaker is also the last on-screen performance of actor Murray Melvin (A Taste of Honey), who plays Morel's former assistant.
The film is written and directed by Michael Wright and was produced by Barclay, Wright, and Ben Hughes. It was shot at The Bottle Yard Studios in Bristol, which has also hosted productions such as  The Pursuit of Love and Broadchurch.
"Michael Wright has created an outstanding British Noir thriller which is both original and classic. Paul McGann's performance in the lead is compelling and unbelievably tense," Gareth Jones of U.K. distributor RRB Films said in a statement. 
The film will be released in U.K. theaters on November 3, 2023. Whether or not it will make its way overseas to American cinemas remains to be seen (though The Undertaker feels like the sort of thing that could easily end up as a streaming exclusive on some platform or other). We'll have to wait and see.
---
By
for on September 11th, 2023
More to Love from Telly Visions