By
for on July 9th, 2022
Undercover Brits: 'Stranger Things'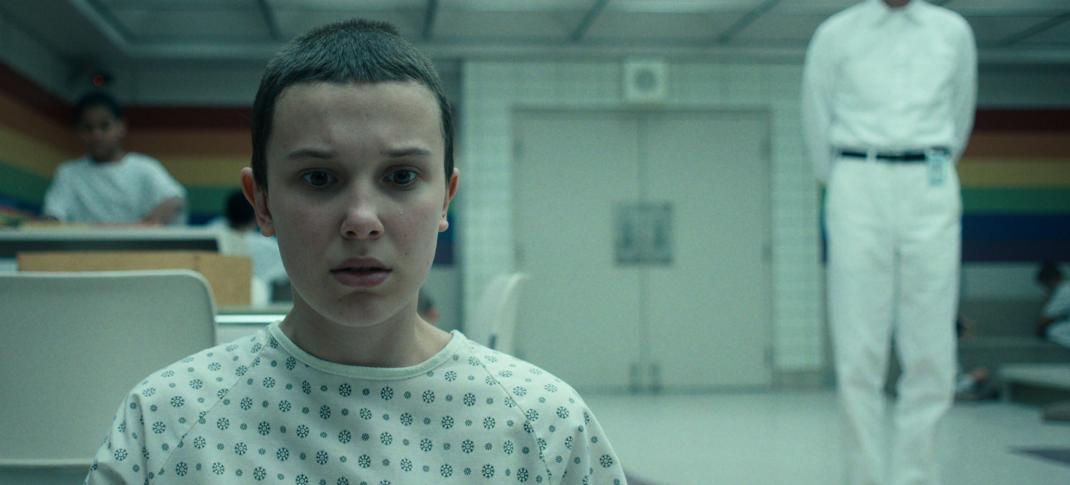 With over one billion (yes, with a "B') viewing hours logged, Stranger Things has become the biggest English language series in Netflix history. Its fourth season is now the biggest show on streaming for 2022, and unless Marvel pulls some sort of superhero miracle, it will probably remain that way for the rest of the year. "But, wait a minute," you may be saying. "Stranger Things is an American TV show, right?" You are correct. Netflix's wildly popular 1980's era sci-fi/horror TV series is indeed a US production. The Steven Spielberg-meets-Stephen King story of a band of tweenage nerds trying to rescue their friends and families from dangerous and powerful entities is as American as apple pie.
So why are we posting about it here at Telly Visions? Because talented UK-based actors always appear in US projects, Stranger Things is no exception. Over the years, the cast featured several British actors, some unknown before they appeared in the fictional Midwestern town of Hawkins, Indiana. Ferreting out British actors who take on American roles may seem like an odd hobby, but it's one several of us enjoy here. So let's run down some of the Brits who have been core characters in the series from the beginning to the new additions. 
Millie Bobby Brown
Millie Bobby Brown plays a pivotal character named Eleven. When the show begins, she is a twelve-year-old girl with psychokinetic abilities who has recently escaped from a lab facility where she was experimented on her whole life. Eleven is befriended by a group of fellow outcasts who become her surrogate family and join her in fighting the evil supernatural forces set on destroying this outwardly unremarkable town. She also finds love for the first time.
Millie is a British citizen but has not lived in the UK for most of her 18 years. She was born in Marbella, Spain, to English parents. Her family moved back to Bournemouth, England, when she was four. The Browns left the UK again when Millie was eight and settled in Orlando, Florida, where she began taking acting classes for something to do on the weekends. Despite her nomadic young life, Millie's natural accent is much like the one she used in the Netflix film Enola Holmes in which she played the titular character who just so happens to be the sister of Sherlock.
Charlie Heaton
Charlie Heaton portrays Jonathan Byers, a painfully introverted high school student. At home, however, he's the protective man of the house and tries to support his frantic mom when his younger brother Will mysteriously vanishes in season one. In later seasons, Jonathan joins forces with popular and studious Nancy Wheeler to investigate the aforementioned evil forces at play in their hometown.
Heaton is a Yorkshire lad, born in Leeds and raised in the coastal town of Bridlington by a single mother. At 16, he moved to London to pursue a career in music, playing in several bands over a four-year period. Heaton fell into acting in 2015 when he started doing commercials and extra work to supplement his income. Before joining Stranger Things, Charlie scored guest roles in the mystery series DCI Banks and Vera and a few appearances in the medical drama Casualty.
Cary Elwes
Cary Elwes played Hawkins's mayor, Larry Kline, in the third season of Stranger Things. He was a corrupt and arrogant politician who cut deals with a Russian company, Starcourt Industries, to build a mall that ruined long-established downtown businesses. Far worse was his knowledge that the mall was a front for a dangerous underground lab being built on the property. After a deadly incident at the mall, Kline was arrested for his dealings with Soviet operatives.
Elwes was born into a privileged and artistic family in the Westminster area of London. He was educated at the prestigious London boarding school, Harrow. He attended college in New York City and studied acting at the Actor's Studio and the Lee Strasburg Theatre. Most famous for his roles as Wesley in The Princess Bride and the titular role in Robin Hood: Men in Tights, Cary made his screen debut in the 1984 British historical drama Another Country alongside Colin Firth and Rupert Everett. 
Jamie Campbell Bower
And finally, we meet the newest English fellas to join the Stranger Things cast, filling a couple of substantial new roles in the current season. Jamie Campbell Bower portrays the "Friendly Orderly" at the Hawkins lab where Eleven was raised. There's much more to his identity, but I won't reveal anything else to avoid spoilers. When other children at the facility bully Eleven, the orderly befriends her and advises her on how to fight back. He's playing a long game by gaining the girl's trust, hoping it will pay off when he needs El's powers down the road.
A native Londoner, Bower grew up around music as both his parents were involved in the industry. As a teenager, he was active in National Youth Theatre organizations and worked as a part-time model. Though he appeared in the Twilight Saga and a pair of Harry Potter films (he played young Grindelwald), Jamie got his first break when he was chosen to play Anthony Hope in the 2007 Tim Burton film adaptation of Sweeney Todd: The Demon Barber of Fleet Street.
Joseph Quinn
Joseph Quinn was introduced to Stranger Things audiences this year as the leader of the Hellfire Club, the Dungeons & Dragons group, which Mike, Dustin, and Lucas joined when they moved up to Hawkins High School. Despite his decidedly non-conformist outlook on life and intimidating metalhead fashion sense, Eddie is shown to be a good kid who, unfortunately, gets blamed for a gruesome crime he didn't commit.
South London born and raised; Quinn was awarded a drama scholarship in high school. He graduated from the London Academy of Music and Drama Art and soon after started working in several British period dramas. He was cast as Arthur Havisham in the BBC TV series Dickensian and as the ill-fated Leonard Bast in a new mini-series adaptation of Howard's End. He also played Enjorlas in Andrew Davies' recent adaptation of Les Miserables.
It just goes to show you those brilliant Brits are everywhere, hiding in plain sight and ready to take over Hollywood. I wouldn't mind, would you?
---
By
for on July 9th, 2022