By
for on March 10th, 2022
The U.K. Remake of 'Call My Agent,' 'Ten Percent,' Is Coming To The U.S.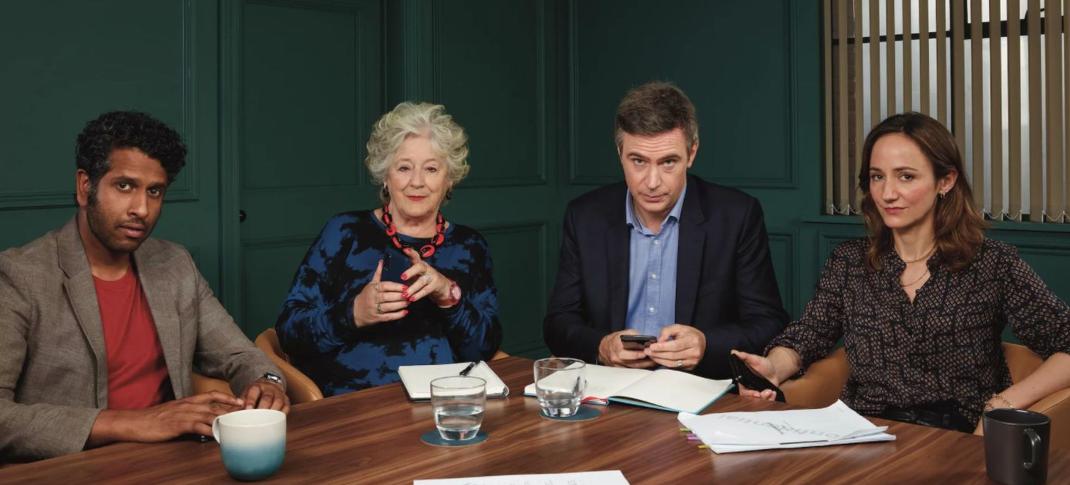 The French comedy Call My Agent! debuted in October 2015 and became a bigger hit than initially anticipated. The series stars Camille Cottin, Thibault de Montalembert, Grégory Montel, and Liliane Rovère as four talent agents, Andréa, Mathias, Gabriel, and Arlette. The team runs the company ASK (Agence Samuel Kerr), juggling celebrity egos, hectic projects, insane production schedules, and their own messy lives after the owner passes away. France 2 originally planned the show to end with Season 4, but its popularity is such that it's now ending with a 90-minute TV film followed by the fifth and final season.
Something that popular, especially with U.K. and U.S. audiences on Netflix, but in French, was a natural choice for a remake by an English counterpart across the channel. Renamed Ten Percent, the new series from Bron Studios and Headline Pictures comes from BAFTA-winning writer John Morton (W1A). The series plans to follow the French model, though changing out a Parisian talent agency to a U.K. talent agency, with employees scrambling to keep their star clients happy and their business afloat after the sudden death of their founder.
The series is planned to stream in the U.K. on Amazon Prime, but for the U.S. market, AMC Networks is the one who nabbed the rights for linear broadcast and streaming. Currently, the show is technically under the Sundance umbrella, and that's the channel it will probably air on linear cable, which has a chance of moving to AMC's flagship channel if it hits big. For streaming, the series will be available on both Sundance Now and AMC+, coming in the spring of 2022, though there's no concrete release date for either. 
Here's the show's synopsis:
Ten Percent, based on the original hit French series, Call My Agent!, keeps the sensibilities and premise of the French series, in which the staff of a Parisian talent agency must hustle to keep clients happy after the abrupt death of their founder — all while juggling their own personal and love lives. The British remake takes a close look at London culture and class inequality, Britain's entertainment relations to American Hollywood, and provides a whimsical tonality unique to John Morton's writing.
The series is led by Tony-nominated actress Lydia Leonard (Flesh and Blood), who will star as Alexa, based on Call My Agents' lead character Andréa Martel. Jack Davenport (Coupling) joins as Jonathan, "partly inspired" by Mathias. The series co-stars Maggie Steed (Elizabeth Is Missing) as Stella, and Prasanna Puwanarajah (Patrick Melrose) as Dan, who are new takes on Arlette and Gabriel. The cast is rounded out by Harry Trevaldwyn (The King), Hiftu Quasem (Killing Eve), and Jim Broadbent (War & Peace).
The fun of shows like these (think Extras!) is the guest spots that bring prominent names for comedic sequences aboard. Season 1 boasts an A-list roster of Emma Corrin, Himesh Patel, David Harewood, Clemency Poesy, Helena Bonham Carter, Olivia Williams, David Oyelowo, Jessica Oyelowo, Dominic West, Phoebe Dynevor, and Kelly MacDonald.
Ten Percent will premiere in spring 2022 in the U.S. on AMC+ and Sundance Now. The first four seasons of the original version of Call My Agent! are currently available to stream on Netflix.
---
By
for on March 10th, 2022
More to Love from Telly Visions