By
for on May 28th, 2022
The Trailer for 'Mr. Malcolm's List' Promises Regency Romance and Revenge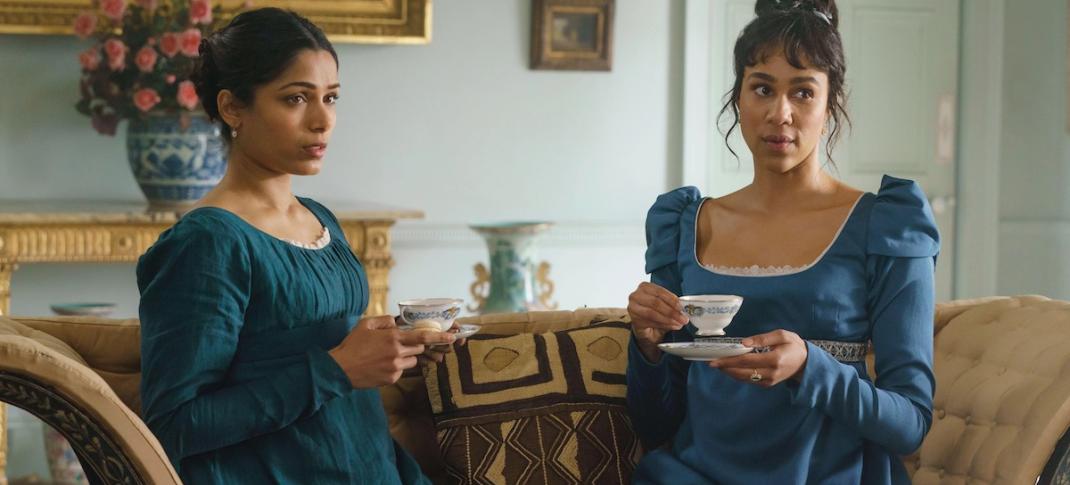 Move over Anthony Bridgerton, a new Regency rake is in town. Arriving just in time to fill the Bridgerton-shaped hole in our hearts in the gap between Seasons 2 and 3 is Mr. Malcom's List, a Regency-set romantic comedy full of all the extravagant dresses, verbal barbs, and enemies-to-lovers Kathony-style vibes we could ask for.
Based on the novel of the same name by Suzanne Allain, the 1800s-era story revolves around the titular Mr. Malcolm, a too-picky suitor in search of a wife with the help of a list of requirements that no human woman could ever hope to fulfill. But that may well change when he meets Selina, who seems manufactured in a lab to be his perfect match. But what he doesn't know is that she's on a mission of her own: Revenge. 
Selina, you see, has been invited to London by her best friend Julia Thistlewaite, who was herself jilted and humiliated by Mr. Malcolm. And Julia has asked her friend to help her get back at him: By pretending to be his ideal match and publicly dumping him once he's in love, using the same sort of cruel 
"If we present you as the perfect woman, then he discovers that he does not meet the requirements on your list, that would be a perfect sort of poetic justice," Julia tells Selina in the new trailer.
But although Selina has agreed to con Mr. Malcom, the more time she spends with him, the more she realizes he's not the cold-hearted monster her friend has described, but rather an intelligent, emotionally vulnerable man who uses his reprehensible list as a shield to avoid giving his heart to a woman that might break it. An enemies-to-lovers romance ensues, and Selina will have to decide whether to betray her friendship with Julia or her own heart.
Watch the trailer for yourselves below. 
Here's the official synopsis. 
When she fails to meet an item on his list of requirements for a bride, Julia Thistlewaite (Zawe Ashton) is jilted by London's most eligible bachelor, Mr. Malcolm (Ṣọpẹ́ Dìrísù). Feeling humiliated and determined to exact revenge, she convinces her friend Selina Dalton (Freida Pinto) to play the role of his ideal match. Soon, Mr. Malcolm wonders whether he's found the perfect woman...or the perfect hoax.
If you feel like you've heard of Mr. Malcolm's List, it's probably because you have. The project has been in development for the better part of a decade, and its story has been told in a self-published novel and a short online-only feature film starring Eternals' Gemma Chan released back in 2019. Now it finally arrives on the big screen, starring Zawe Ashton (Wanderlust), Freida Pinto (Slumdog Millionaire), Sope Dìrísù (Gangs of London), Oliver Jackson-Cohen (Dracula), Theo James (The Time Traveler's Wife). Ashley Park (Emily In Paris), Divian Ladwa (The Personal History of David Copperfield), and Sianad Gregory (Holby City).
Much like Bridgerton, the film is effortlessly diverse, something that was of particular importance to director Emma Holly Jones. While prepping Mr. Malcolm's List, Jones saw Lin Manuel Miranda's Hamilton on Broadway, and was reportedly blown away by its inclusive cast. So much so that she decided she wanted to mirror its efforts to include performers of color in the same way. (And while this film may feel a great deal like Bridgerton in that regard, it actually well predates the Shonda Rimes hit.
Mr. Malcolm's List will arrive in theaters on Friday, July 1. 
---
By
for on May 28th, 2022