By
for on September 3rd, 2022
6 David Attenborough Nature Series You Have To Watch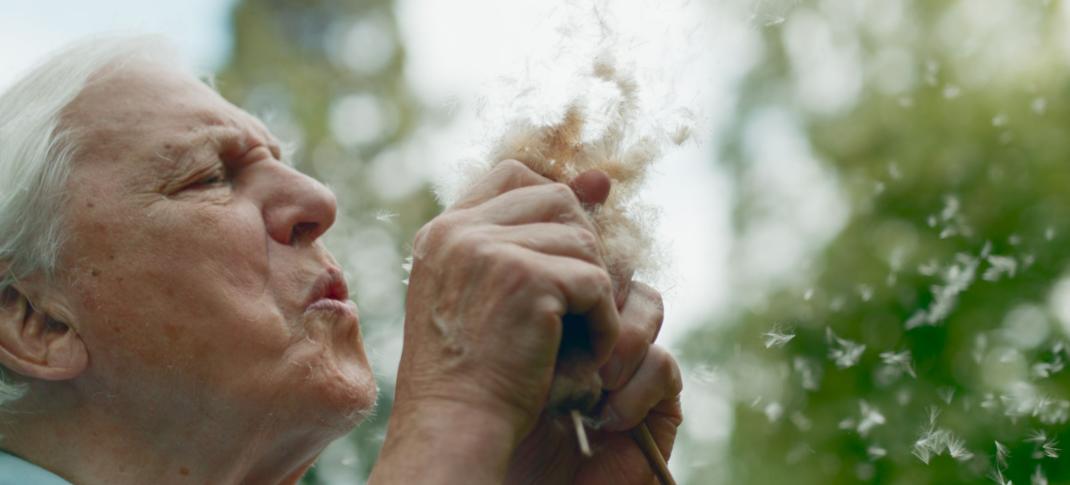 Two of the U.K.'s greatest treasures were born within weeks of each other in 1926. On April 12, Elizabeth Alexandra Mary Windsor was born and became England's longest-serving monarch. Less than a month later, on May 8, David Frederick Attenborough was born. Attenborough is the man whose name and narrator's voice have become synonymous with nature programming, whether it be his more transatlantic posh voice from the 1950s or her more recognizably gravelly one her's been famous for since 1979. He is responsible for some of the most groundbreaking documentaries about our planet ever produced.
Knighted in 1985, with one boat and 20 species (both living and extinct) named in his honor, Attenborough has won multiple Emmys and Peabodys over his eight-decade career. He's got so many BAFTAs there's one for TV shows produced in every format from Black and White to 4K. At the age of 96, Attenborough is about to release the 137th series that he has produced, written, narrated (or combined the three) since he first started with the BBC in 1951. Frozen Planet II, the follow-up to Frozen Planet, is not technically part of the Planet Earth series; however, it is considered a sequel of sorts. 
When the 13-part Life on Earth premiered in 1979, it was a groundbreaking series that established Attenborough as the leading authoritative voice on television on the evolution of our planet. He followed it up with 1984's The Living Planet and 1990s The Trials of Life to round out the original series. Unfortunately, none of them are available to stream on regular sources (though they are available via free documentary sites, as are most of his Life series). With Frozen Planet II arriving in a few weeks on the BBC, followed by Planet Earth III as part of the BBC's centenary celebrations, now is the perfect time to dive into the world of Attenborough's best nature documentaries. Here's a rundown of what to check out.
1. The Blue Planet & Blue Planet II
The first series to kick off Attenborough's Planet series, The Blue Planet, debuted in 2001, between The Life of Birds and The Life of Mammals. The eight-part series explored the world's oceans, from "The Deep" to "The Tidal Seas" to "Coasts." Though it became a footnote when Planet Earth arrived, Attenborough returned to it with Blue Planet II in 2017, digging into The Big Blue and Green Seas.
The Blue Planet & Blue Planet II are streaming on HBO Max and Discovery+.
2. Planet Earth & Planet Earth II
Filming the original Planet Earth spanned 64 countries over four years, using the most cutting-edge HD technology. Released in 2006, it may have driven more consumers to upgrade their TVs to flatscreens in the mid-aughts than anyone will admit. The award-winning series was considered the pinnacle of nature documentary making... until a decade later when Attenborough blew it out of the water with 2016's follow-up Planet Earth II, which this time included cities as a natural habitat.
Both Planet Earth & Planet Earth II are streaming on HBO Max and Discovery+.
3. Our Planet & A Life on Our Planet
With BBC America (and its deal with Warner Media) locking up the Planet series, Netflix's only choice was to commission Attenborough itself. 2019's Our Planet went head to head with Seven Worlds, One Planet. Both are fabulous, but Our Planet marks one of the few times Attenborough was not bound by BBC politics. The series (and follow-ups, A Life on Our Planet and Life In Color) are far more brutal in showing the lives of animals and much heavier on sounding the climate change alarm.
Both Our Planet & A Life on Our Planet are streaming on Netflix. (Seven Worlds, One Planet is available on HBO Max and Discovery+, natch.)
3. Life
Though none of the original Life series are available streaming (though a few, like Life in Cold Blood, are rentable), Attenborough's overview series Life, released in 2009, is on streaming. It was a revisitation for those who care to watch the originals but now with the same cutting-edge technology used on Planet Earth, a more developed sense of man's effect on nature, and the growing climate crisis. 
All ten episodes of Life are streaming on HBO Max and Discovery+.
5. The Green Planet
The series that functions as a counterpoint to Frozen Planet is Attenborough's latest major release and one of the few to come to PBS instead of BBC America. It's shorter than his other series, at only five installments. But that's due to Attenborough focusing solely on plants and trees, and the more exotic ones at that. It feels a bit like a follow-up to his 1990s era, The Private Life of Plants (also only available as a streaming rental), with far better time-lapse technology.
The Green Planet is streaming on PBS Passport.
6. Frozen Planet
Two years before the word Frozen became synonymous with Disney, Attenborough released his icy follow-up semi-sequel to Planet Earth, Frozen Planet, exploring the arctic poles and the worlds of endless winter. Like The Green Planet, it's shorter than its predecessors at only seven installments; it was no less groundbreaking than the series it took its name from. The follow-up Frozen Planet II is almost as highly anticipated as Planet Earth III.
All seven episodes of Frozen Planet are streaming on HBO Max and Discovery+.
---
By
for on September 3rd, 2022