By
for on May 4th, 2012
Take the Masterpiece Mystery!: Sherlock Personality Quiz
We all love Masterpiece Mystery!'s Sherlock – and even though Sherlock himself would say that virtually everyone is boring, we know the series' characters are anything but.  Find out your Sherlockian alter ego for yourself by taking our new Masterpiece Mystery!: Sherlock Personality Quiz, now available on the WETA website.   
Would you be a high-functioning sociopath, a consulting criminal or a Scotland Yard detective? Maybe you fancy yourself the British government instead? Give it a try and find out.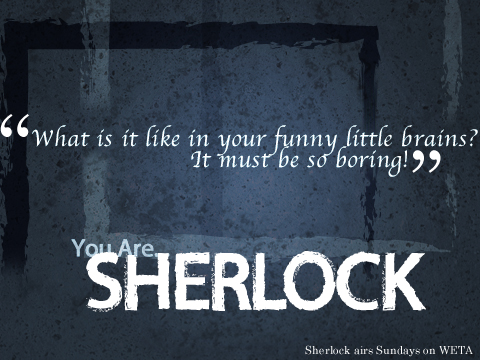 Which Sherlock Character Are You?
So go ahead – take the quiz and let us know what who you got! (Personally, I get Mycroft if I answer all the questions honestly. The temptation to cheat until I am Sherlock is rather intense, though.)
Less than 48 hours until Series 2 premieres here in the States!
---
By
for on May 4th, 2012