By
for on February 6th, 2012
Take a Look at David Tennant's New Movie "The Decoy Bride"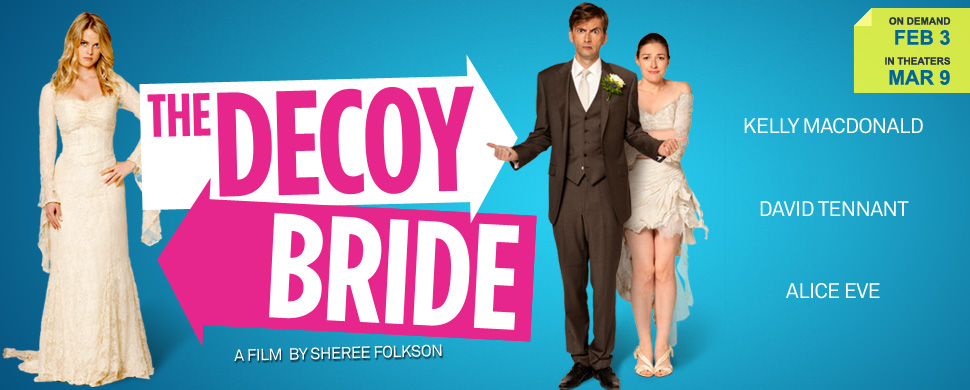 Former
Doctor Who
star
David Tennant
has a new movie coming out! Well, after a somewhat complicated and strange process, he does. But still! The Tenth Doctor in a movie! Who wouldn't be excited about this? (Personally, I'm still tremendously fond of Tennant, even if he isn't "my" Doctor.)
The film is called The Decoy Bride and stars Tennant alongside Boardwalk Empire's Kelly Macdonald. It's a romantic comedy in which Tennant's character, a writer, is about to marry a famous movie star (played by Alice Eve) in some small Scottish village. So, to throw off the paparazzi they hire a local girl to serve as a "decoy bride."  And, naturally, romantic hijinks ensue. 
Click through for a look at the trailer and an explanation of how you can see the film for yourselves, should you be so inclined.
The Decoy Bride became available to screen on IFC On Demand through your cable provider starting this past Friday (February 3), and a theatrical release appears set to follow in March. This process seems a bit strange to me, but as I am impatient and rapidly becoming boring one of those people who loves staying in to watch movies, I'm all for it.
As for the film itself, the trailer below looks cute enough, but I'll be interested to see reviews. Is Tennant a viable big screen romantic lead? We'll have to wait and see, but he and Macdonald certainly do look charming together.
Source: IFC Films
---
By
for on February 6th, 2012
More to Love from Telly Visions