By
for on February 9th, 2021
Starz Series 'The Serpent Queen' Will Tell the Story of Catherine de Medici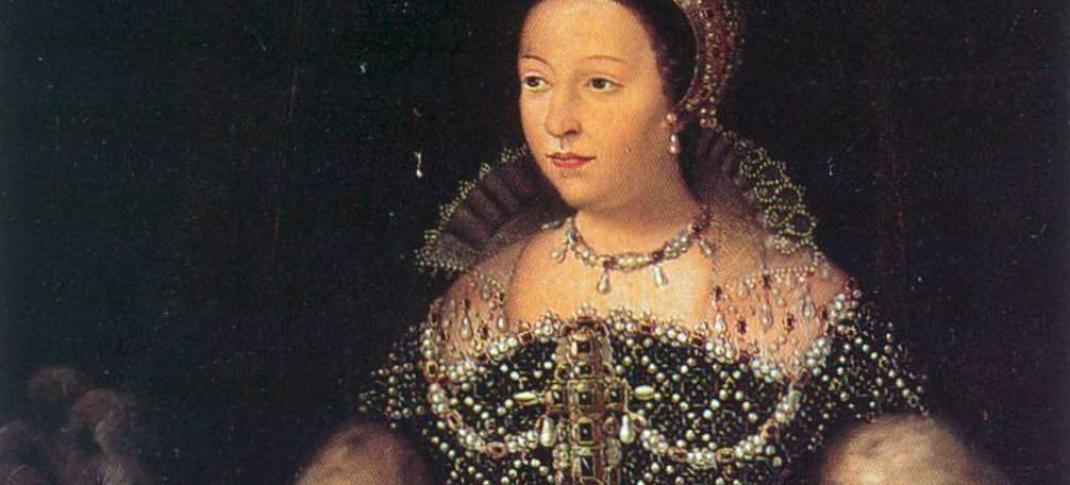 Premium cable network Starz continues to burnish its reputation as a home for female-fronted historical dramas, greenlighting a new adaptation focused on the life of the infamous Catherine de Medici called The Serpent Queen. 
This news follows the announcement that the series has also greenlight shows based on the life of Eleanor of Aquitaine and the early years of the princess who would one day go on to be Queen Elizabeth I as part of their commitment to telling stories in a proposed "extraordinary women of history" anthology. The network had already made something of a name for itself in this area with its trilogy of dramas focused on several key female figures of early Tudor England - The White Queen, The White Princess, and The Spanish Princess - all based on the bestselling novels by Philippa Gregory. 
The Serpent Queen will be based on the book Catherine de Medici: Renaissance Queen of France by Leonie Frieda and will chronicle the life of one of history's most influential - and often controversial - female figures. Published in 2005, Frieda's book is meticulously researched and based on thousands of private letters by the ruthless woman was mother to three kings and wielded extensive political influence over France for much of her life.
The daughter of Lorenzo de de' Medici - not the one you're thinking of, this is his grandson, the Duke of Urbino - Catherine was married at just fourteen years old to Henry, second son of King Francis I and Queen Claude of France. By the time he became Dauphin himself, Henry had already formed a lasting romantic attachment with the mistress he would keep for the rest of his life, a thirty-five-year-old widow named Diane de Poitiers. Catherine was largely shut out of his political dealings and state affairs, though apparently, Diana did allow Henry to sleep with her, in order to father an heir. 
King Henry II's untimely death in a jousting accident pushed Catherine back into power as the mother of her sickly, 15-year-old eldest son, King Francis II (who, incidentally, was married to Mary, Queen of Scots). Francis II ruled France for roughly a year, and when he died Catherine officially became regent on behalf of her 10-year-old son Charles IX. She basically ruled France for three years by herself until Charles reached his majority. After Charles died in 1574, Catherine also played a key role in the reign of her third son, Henry III. He only broke with her during the last months of her life and outlived her by just seven months.
Here's how Starz's synopsis describes the series.
Considered an immigrant, common and plain, Catherine de Medici is married into the 16th century French court as an orphaned teenager expected to bring a fortune in dowry and produce many heirs, only to discover that her husband is in love with an older woman, her dowry is unpaid and she's unable to conceive. Yet, only with her intelligence and determination, she manages to keep her marriage alive and masters the blood sport that is the monarchy better than anyone else, ruling France for 50 years.
Though Catherine is largely remembered as a somewhat sinister figure, with rumored connections to the occult and other dark practices. Some of this was fueled by her love of astronomy and astrology, as well as her embrace of somewhat questionable characters in her court, such as the infamous seer Nostradamus and the rumored necromancer Cosimo Ruggeri. However, she was also a dedicated patron of the arts - particularly architecture, building, among other things, two new palaces in Paris: the Tuileries and the Hôtel de la Rein.
"The Serpent Queen may be the most cunning account of one of the most influential women ever to wear a crown that Starz has told," Starz head of originals Christina Davis said in a statement. "We are thrilled to be working with such an incredibly talented team who will give this series a modern voice among a sensational historical backdrop."
The Starz drama will be comprised of eight episodes, with Revolutionary Road's Justin Haythe both executive producing and writing the script.
"Writing Catherine and her story has been truly exciting as she is a very complex leading character who becomes a skilled ruler, battling extraordinary political and personal odds throughout her reign," Haythe said in a statement. "She is a Queen who defies convention, as she relies upon her intellect, her unusual entourage, and a ready supply of black magic inspiring, centuries later, the Evil Queen of fairy tales."
What do you think of the prospect of a Catherine de Medici series? Let's discuss in the comments. 
---
By
for on February 9th, 2021
More to Love from Telly Visions