By
for on February 19th, 2021
'Staged' Season 2 Gets a Premiere Date on Hulu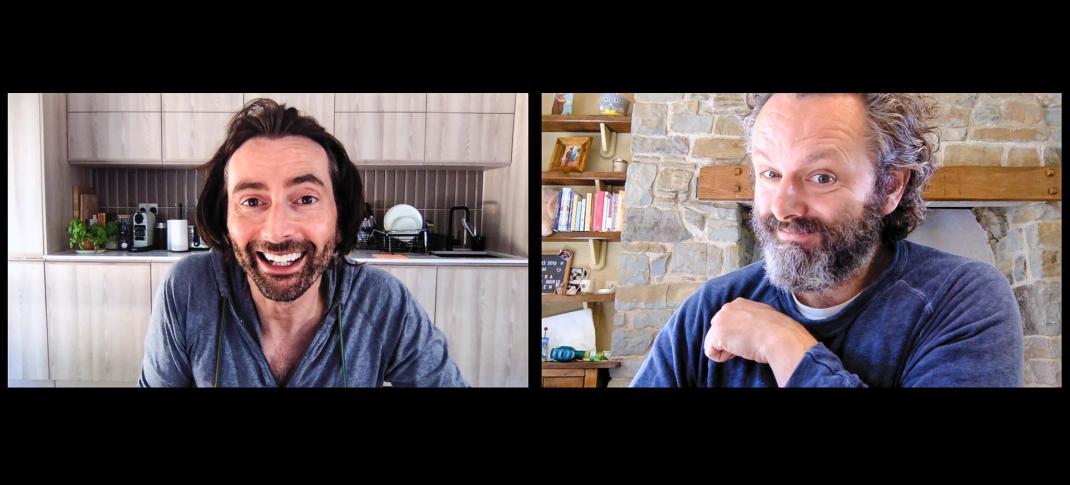 It's official: The second season of charming lockdown comedy Staged is coming to Hulu in March.
The series which stars real-life friends and Good Omens co-stars David Tennant and Michael Sheen, sees the two play slightly exaggerated versions of themselves, who happen to be starring in a play together. But, given the restrictions and shutdowns due to the still-ongoing coronavirus pandemic - and the closures of all Broadway and most West End theaters - they're forced to get creative and attempt to hold rehearsals over Zoom. 
But most of what they end up discussing via video chat has nothing to do with the show, given how unmotivated and bored everyone generally is, with predictably hilarious results. 
Season 2 will see Tennant and Sheen attempt to navigate their 'new normal' at home with their increasingly exasperated families while simultaneously trying to tackle the expanding world of 'virtual Hollywood' and their ever more fragile egos.
Parks and Recreation star Ben Schwartz will be joining the cast for Staged's second outing, alongside Sheen and Tennant's real-life partners Georgia Tennant and Anna Lundberg.
The series' eight-episode second outing will debut on Tuesday, March 16. Eagle-eyed fans will note that this is some two months after its original U.K. airing, but I'm delighted enough to even get the chance to see this show and its random little twenty-minute installments that I can't complain but so much. 
Following on from the surprise appearances of Judi Dench and Samuel L Jackson in the first season, the second sees the regulars joined in their virtual hell by a whole host of unexpected guests. Familiar faces that pop up at various points in Season 2 include  Whoopi Goldberg, Jim Parsons, Simon Pegg, Cate Blanchett, Nick Frost, Josh Gad, Christoph Waltz, Ken Jeong, Phoebe Waller-Bridge, and Ewan McGregor.
Are you looking forward to another outing of Staged? Let's discuss in the comments.
---
By
for on February 19th, 2021
More to Love from Telly Visions