By
for on October 26th, 2020
Lockdown Comedy 'Staged' is a Hilarious Breath of Fresh Air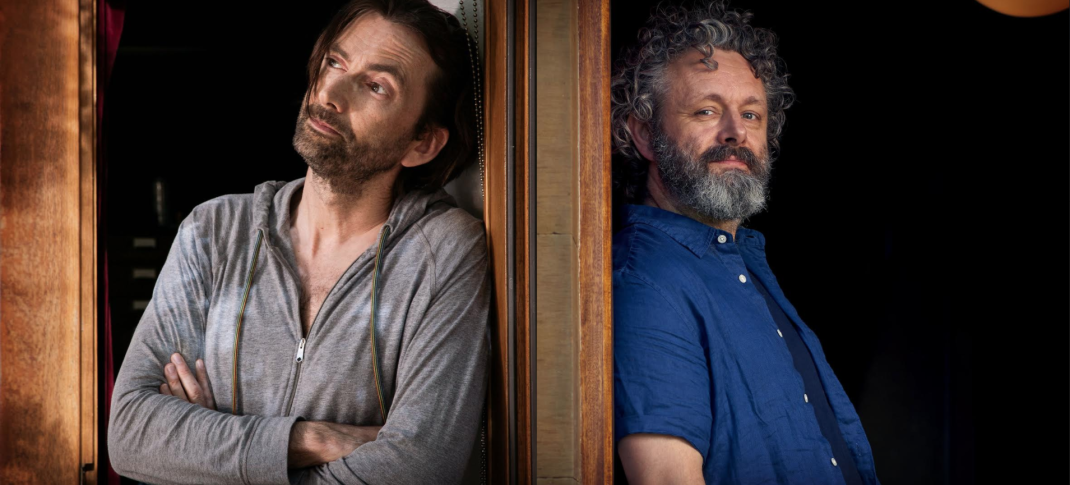 The BBC lockdown comedy Staged is very clearly a product of its time - and often seems like little more than an elaborately put together extended Zoom call. But it's also a lighthearted, hilarious dose of precisely the sort of television we need right now.
The series stars David Tennant and Michael Sheen playing what is essentially exaggerated versions of themselves. In this fictional universe, the pair have been tapped to star in a West End production of Luigi Pirandello's 1921 play Six Characters in Search of an Author, but with the coronavirus raging around the globe, the West End's entirely shut down. Their director Shawn Evans decides to hold rehearsals remotely -- much like the rest of the world has been learning to host business meetings - via Zoom, in the hopes that they'll be one of the first shows out of the gate when the theaters reopen. 
Naturally, the rehearsals don't go quite as expected and rather than performing a play, their video chats end up being little more than extended riffs on things like the merits of the Welsh language, the pronunciation of specific words, their history of working together and other random everyday topics. If you're a fan of either of these men, it's an utterly charming conceit, bolstered by the fact that the series' six episodes are only around twenty minutes long apiece, bringing down the curtain before it all goes on too long.
The comedy is fairly situational and generally focused on the difficulties we're all facing navigating our new, much more virtual reality. There are also several beats that seem very specific to the world of acting, including squabbles over which co-star was picked first for a particular project, who gets lead billing, and whether the cast listing should be alphabetical or not. 
The series easily blurs the line between reality and fiction, featuring a false premise that's largely framed by the actors' real lives. Both Sheen and Tennant's real-life partners - Georgia Tennant and Anna Lundberg, who are also both actors - appear as themselves and there are surprise cameos from famous faces like Samuel L. Jackson, Adrian Lester, and the great Dame Judi Dench.
But at the end of the day, the reason Staged works at all because of the palpable chemistry between Tennant and Sheen, as well as the fact that its fictional world is built on the foundation of the very obvious real-life friendship between the two men. Watching this series, it's easy to believe that some real life version of Zoom calls go on regularly, covering all sorts of other topics - banal, absurd, and otherwise - as the pandemic quarantines continue. 
There's also something strangely comforting in the series, which so completely captures the repetitive boredom of lockdown living. Even now, when restrictions have eased in some parts of the world -- let's be real, most of us are still staying home, wearing beat-up sweats for days on end, and seeing our besties only through regularly scheduled video chats. 
Yes, the story, such as it is, is paper thin, but that doesn't really matter. We're not watching Staged to see the real Tennant and Sheen put on a fake play -- we're watching because these two men are magical together, no matter what they're doing, and we'd be happy to keep right on tuning in to this pseudo-slice of their lives for as long as they feel like making it. (I mean, I read all the stories about what great friends they were on the set of Good Omens, and well, I'm now only sorry that they didn't have a behind-the-scenes video blog at the time.)
Staged may be slight, but it is also the epitome of light, fluffy fun -- and isn't that pretty much exactly what we all need at the moment?
All six episodes of Staged are now available to stream on Hulu. 
---
By
for on October 26th, 2020