By
for on January 20th, 2022
'The Sister Boniface Mysteries' to Arrive on Britbox in February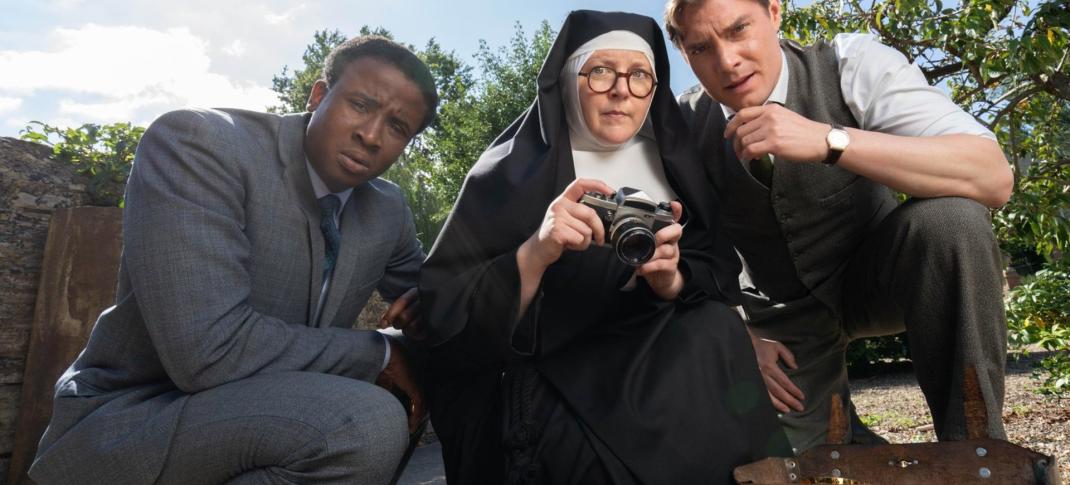 Based on the G.K. Chesterton novels, Father Brown follows the adventures of a 1950s Roman Catholic priest who also happens to solve crimes. The cozy mystery series is currently in its ninth season and is as popular - if not more so - than it's ever been. So much so, that fans can expect to see its very first spin-off arrive in America next month. 
The Sister Boniface Mysteries will follow the adventures of the titular Sister Boniface, who is a Bride of Christ, a vintner, and a part-time Crime Scene Investigator. Though the character only appeared in the very first season of Father Brown, original actress Lorna Watson will reprise her role as the sleuthing nun.
Set in rural Warwickshire during the 1960s, this is a time period in which the entire concept of police forensics is...rudimentary at best. DNA testing doesn't exist yet. Blood testing can take days. The idea of trace evidence is in its infancy and the chain of custody - even the simple preservation - of crime scene evidence is hit or miss. But, thankfully (some might say by divine providence!), the Great Slaughter Constabulary has a secret weapon in its fight against crime.
Hidden deep in the countryside is St Vincent's Convent, a small community of wine-making nuns where ensconced in a laboratory is Sister Boniface. An IQ of 156 and a Ph.D. in forensic science, plus an addiction to popular detective fiction and a fully equipped crime laboratory make Boniface an invaluable aid to any police investigation. Poisons, trace evidence, bloodstains, and etymology. She's often more up to speed on the latest forensic techniques than the Police.
This nun might be predisposed to forgive – but she's also one hell of an amateur detective. If there's evidence to be found, Boniface will find it, with a little help from dashing maverick DI Sam Gillespie (Downton Abbey's Max Brown) and buttoned-up Bermudan DS Felix Livingstone (Sex Education's Jerry Iwu), who's horrified to be stuck working in this eccentric town. Felix was supposed to be on secondment to the Metropolitan Police but an administrative error lands him in Great Slaughter. A cast of eccentric local characters combined with his boss's reliance on a nun leaves him reeling. Although as Sam points out, that nun ensures they have the highest clean-up rate in the county. 
The character of Ruth Penny, a hard-nosed investigative journalist and the editor of the Albion Bugle, is played by Miranda Raison (Warrior), and Ami Metcalf (Allied) plays the role of Peggy Button, the young, unshakeable police constable. Additional cast members include Belinda Lang (Inspector Alleyn Mysteries), Sarah Crowden (Grantchester), David Sterne (Detectorists), Virginia Fiol (EastEnders), and Ivan Kaye (The Coroner).
And, though it is obviously not confirmed in any way, it seems highly likely that Father Brown himself, Mark Walliams, will at least make some sort of cameo appearance in Sister Boniface's first season.
The ten-part series will arrive on Britbox beginning Tuesday, February 8. 
---
By
for on January 20th, 2022
More to Love from Telly Visions