By
for on February 16th, 2022
'Sister Boniface Mysteries' Already Renewed For Season 2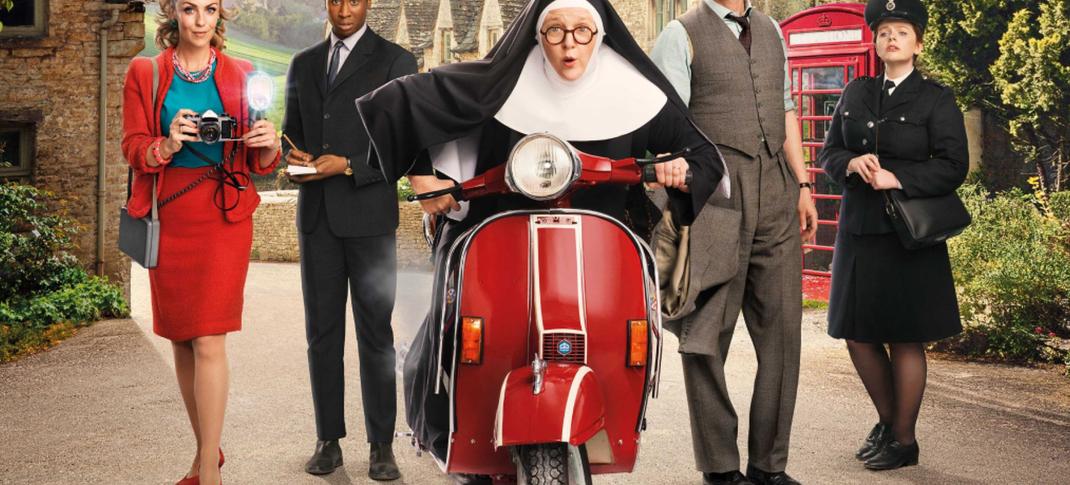 It wasn't even a year ago that BritBox announced the cast for the Father Brown spinoff, The Sister Boniface Mysteries. The streaming service originally ordered the show in the weeks before the March 2020 shutdown ground filming in the U.K. to a halt. Fans knew the series would be headed up by Lorna Watson (Watson & Oliver), who had originated the character on Father Brown. However, lockdowns over the next 18 months kept the show from getting back on track until September 2021. But it seems BritBox has no desire to wait that long for more episodes, with a renewal order for Season 2 arriving barely days after the show's premiere.
Season 1 debuted on BritBox on Tuesday, Feb. 8. The next day, and the Television Critics Association press tour panel, producer Will Trotter told the assembled reporters that Season 2 was officially greenlit. In a statement, Trotter said, "We are absolutely thrilled to see Sister Boniface return for a second series. Jude Tindall and the team of writers have created unforgettable characters full of wit and mischief. Lorna's performance is as forensic as her character — the sharp intelligence, charm, and warmth she brings to the role is an irresistible combination. The entire cast and crew have been a joy to work with, and I think that shines through in this big-hearted and hugely original show."
If you haven't had a chance to check out The Sister Boniface Mysteries, here's the Season 1 trailer: 
The Season 2 synopsis reads:
Sister Boniface is back in the habit, returning as the Great Slaughter Constabulary's crime-solving secret weapon. Countryside criminals should start saying their Hail Marys, as Boniface's faith in forensics is only rivaled by her passion for investigation. This season, the sister will force a murderer into checkmate at a chess tournament, take a spin through a pirate radio station, and defend her reputation as the conviction of her greatest adversary," The Pear Tree Poisoner," comes into question.
The swift renewal was a bit of a surprise; the show hasn't even arrived in the U.K. yet. (The release date for BritBox UK is March 11.) But though the British public hasn't weighed in yet, Trotter told the assembled reporters that "cozy crime," as he termed it, has an appeal that cannot be denied, from Agatha Christie to Dorothy L. Sayers. "Spinning off to Sister Boniface from Father Brown, moving to the 1960s, we give a whole new flavor yet have the same kind of sensibility, which is warm at heart but still has a gripping crime that's full of 12 wonderful characters."
The main cast is expected to return for Sister Boniface Season 2 and Lorna Watson. That includes Max Brown (Downton Abbey) and Jerry Iwu (Sex Education), as well as Miranda Raison (Warrior), Ami Metcalf (Allied), Belinda Lang (Inspector Alleyn Mysteries), Sarah Crowden (Grantchester), David Sterne (Detectorists), Virginia Fiol (EastEnders), and Ivan Kaye (The Coroner). Whether or not Father Brown himself, Mark Walliams, will make a cameo appearance as he did in Season 1 remains to be seen.
All episodes of The Sister Boniface Mysteries Season 1 are streaming on BritBox. Season 2 does not yet have a release date but will probably arrive in early 2023.
---
By
for on February 16th, 2022
More to Love from Telly Visions