By
for on August 27th, 2014
'Sherlock' Waves the Flag for British Telly at 2014 Primetime Emmys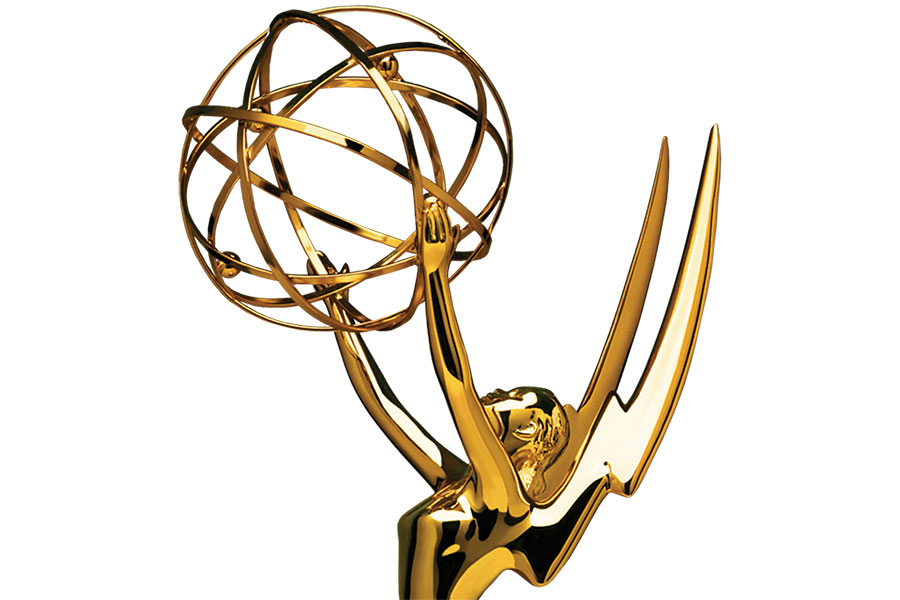 With over two dozen British actors, writers, directors and productions nominated for Emmys this year, less than a handful brought home the gold earlier this week during the 2014 Primetime Emmy Awards ceremony. A disappointing result for an telly addict like me to be sure, but with the rising popularity of UK television in the States you'd expect a little bit better showing from our talented performers across the pond.
For example, while Downton Abbey had seven nominations, everyone walked away without a statuette, even Maggie Smith who has won for her role as the Dowager Countess twice before. I wondered if Joanne Froggat might win since Anna (and the audience) had to undergo such a traumatic assault last season. It was not to be, however, since the Breaking Bad train had already begun to barrel its way through the ceremony meaning Anna Gunn won supporting actress instead.
Ricky Gervais ran a very spirited social media campaign in his bid for the Best Actor in a Comedy Series trophy for his role as care home worker Derek Noakes. Alas, the momentum of Jim Parsons and his alter ego Sheldon Cooper could not be stopped as he won this category for the fifth year in a row. Nonetheless, Gervais' subsequent segment as an award presenter was one of the few truly funny moments of the evening. 
[This video is no longer available.]
The one place the Brits dominated last night was in the mini-series/movie category, with Sherlock winning three awards; one each for the famous detective, his doctor friend and the man who transitioned the pair from their Victorian roots to modern day London. 
Benedict Cumberbatch won Outstanding Lead Actor in a mini-series or movie. Huzzah for the enigmatic Mr. Holmes! It just so happened that this was the most Brit-heavy category of any this year and so three other nominated English actors didn't have a chance to score a point for Team GB – Idris Elba for Luther, Chiwetel Ejiofor for Dancing on the Edge and Martin Freeman for Fargo.
Never fear, however, Freeman snagged an Outstanding Supporting Actor Emmy for his portrayal of the always loyal but pushed to the limit Dr. John Watson. His competition was the cast of The Normal Heart and his co-star Colin Hanks from Fargo. 
The most unfortunate thing on both counts was that neither Cumberbatch nor Freeman were in attendance to accept their awards with witty, self-deprecating speeches. Creator Steven Moffat alone was on hand to collect his writing prize for the Sherlock episode, His Last Vow. 
The only other Brit who I'm aware won a statuette Monday night was Colin Bucksey for Outstanding Directing for a Mini-series. In fact, he directed our friend Martin Freeman in Fargo. This feels like a bit of a cheat because though Bucksey was born in London and worked the first decade of his career in the UK, he has been directing TV in the US since the mid-1980's on shows such as Miami Vice, NCIS and Breaking Bad. Ah well, I'll take them where I can get them.
You may be wondering what I expected? A sweep by the Crawleys and company? Minnie Driver winning on the strength of a Lifetime Movie performance?  Or the STARZ channel's raunched-up version of the BBC's historical drama, The White Queen earning the coveted Emmy perhaps? Of course not, but I would have liked to see more variety in the winners rather than just a love fest for the departing Breaking Bad and the same old safe comedy choice of Modern Family.  And if the shows just so happen to have actors with lovely British accents, all the better.
How did you feel about the Primetime Emmys this year? Share your thoughts about the winners, British or otherwise, and the ceremony itself. 
---
By
for on August 27th, 2014
More to Love from Telly Visions