By
for on October 2nd, 2022
'The Serpent Queen's Fourth Episode Ushers in a New Era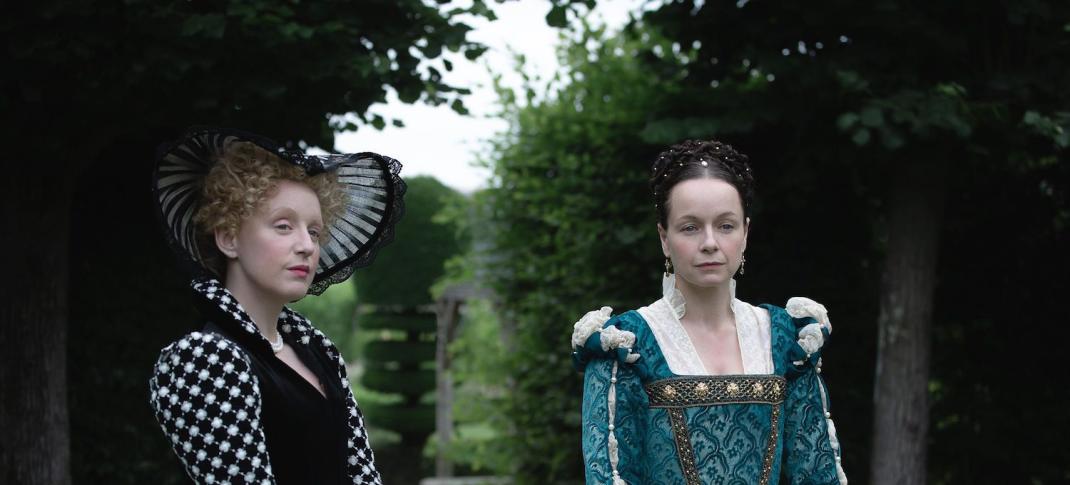 We return to The Serpent Queen as Rahima, the personal maid to Catherine de Medici, is testing her power. The cook, who Rahima punished, has been demoted to scrubbing floors, whereas Rahima's promotion now includes her own room. As Rahima takes Catherine's breakfast tray to her chamber, she is still harassed by lounging guards –– although not as much. Rahima asks if it's true that Mary, Catherine's widowed daughter-in-law, has a right to the throne. This is from a throwaway comment she heard the cook make; however, she doesn't reveal that part. No, Catherine replies. Mary is merely grief-stricken by the death of her husband.
Catherine (now played by Samantha Morton in both time frames) resumes her story, jumping ahead fifteen years. Catherine finally hit the baby jackpot and has had nine children with her husband, Henri (Lee Ingleby). Their eldest son, Francis (George Jacques), is engaged to Mary, daughter of James V of Scotland, who has lived at the French court since she was very young. Francis, however, is fragile, with a lung condition that seems serious.
Catherine's subsequent pregnancy has a tragic outcome, with dangerous labor and a stillborn child, and after the birth, sinks into depression and hallucinations. The collection of servants who came with her from Italy is now down to three: Mathilde the fool, perfumer and brewer of potions Angelica, and the decorative Aabis. They are the ones who rouse her from her depression, making her get up and encouraging her to spend time with her children in the sunny garden.
Who should turn up but Diane de Poitiers, again. (She was even at Catherine's delivery, shouting out instructions!) She sweetly tells Catherine that it's lovely she has brought lemon cookies, but Mary won't eat sweets before noon, and the rest of the children will follow her example. Knowing when to back off, Catherine does so, but before she goes, she asks Henri to visit her room that night. Henri has grown up considerably and is a loving father, but Diane still has him under her thumb.
Henri's father, Francis II, is still on the throne, aging, and worried about his waning virility and poor health. His current mistress Ann D'Etampes (Naomi Battrick), tells him off for whinging and to stop being sentimental about the Queen he treated so badly. Not that the Queen is dead, she's just living apart from the King –– but still at the court –– amusing herself with gossip, intrigue, and cards. The King is also furious at the behavior of the gaggle of young aristocrats who hung out with his firstborn son, the deceased Francis.
They haven't grown up remarkably well, forming two factions: Cardinal Charles de Guise (Raza Jaffrey), and Francois (Ray Panthaki), now the Duke of Guise, are pro-Catholic. Their new hobby is seizing properties of Protestant sympathizers, like a pair of 16th-century Kray brothers. However, the Bourbon brothers, Louis (Danny Kirrane) and Antoine (Nicholas Burns), are as bad, just in a different way. They are all for an alliance with the Protestants; Louis gushes they have "great respect for the Third Estate ... you are the future." However, that's because the Protestants have money (wealthy merchants and business owners), and the Bourbons plan for France to enter the modern age.
Catherine visits Queen Eleanor and her clique, who invite her to join their card game. Eleanor is cruelly critical of Catherine's absence:
You shroud yourself in your pain in order to feel special. Well, you're not. The rest of us bear it better than you. Would you like to know why I'm here? My brother, the Holy Roman Emperor, made the King's marriage to me a condition of peace after one of their silly wars. I am no more than a punishment. But maybe you're special, because I was never stupid enough to fall in love with the man I was arranged to. I wouldn't wish that misery on anyone.
Catherine is made even more aware of her insignificance when she goes in search of Henri, also playing cards. With Diane. In bed. All sweet sympathy, Diane explains to Catherine the doctor said she must never bear another child after her difficult birth. Henceforth, she (Diane) will take care of that side of the marriage. Worse, when Henri is asked for his opinion, he sides with Diane.
But once again, the King, who admires Catherine, champions her. He invites her to hunt with him and the Court as a sign of his approval of her. We know he's not well, and Catherine is with him when he aims an arrow at a magnificent buck. Then he lowers his bow. He doesn't know why he couldn't kill the deer. He collapses.
As the King lies dying, he tells Catherine he's always seen her as his hope for the future and urges Henri to appoint her to his Privy Council. After his death, the King's mistress is sent away, as is the Queen, who advises Catherine to be dull and fade into the background to survive. Meanwhile, Diane, not Catherine, assumes the leadership of the court.
Surprisingly, Catherine is invited to the Privy Council, which begins with the Bourbons and Guise's presentations of their plans for France. The Guises want to get rid of the Protestants (it's what God would want), but the Bourbons might as well have had a Powerpoint ready to go. In one of the funniest scenes in the series, the pair enthuse over expansion, capitalism, globalization, and explorations of new worlds. "An American colony," Louis gushes. "Just –– wow!"
But Catherine warns the Council that the Holy Roman Emperor will test the new King. Although the Bourbons and Guise brothers dismiss her opinion, Francis agrees and orders a garrison to be sent to the border. Catherine expresses the idea that the regiment will be insufficient, and again the tiresome twosomes try to shoot her down. However, they are delighted when Henri asks them to arrange the coronation.
Catherine feels she's in a strong enough position to address the Diane problem. She suggests to Henri that, as is customary, she should give her cousin Diane a gift at the coronation, and what could be better than a chateau for her to live in? He agrees. Confident of her success, Catherine designs a crest for them, which Marthe rudely dismisses and invites Diane for a chat. When she is told about Catherine's generous gift, she is uncharacteristically respectful and grateful.
We know Diane must be up to something, so it's not a surprise she has summoned Angelica, who arrives with her box of potions. "I want to be unforgettable," Diane says. Angelica produces a vial of liquid gold, which she tells Diane will preserve her youth and make her shine from within. The night before his coronation, Diane visits Henri, and she does have a certain glow about her. No bible readings are needed tonight!
Catherine and Henri, both beautifully dressed, meet before the coronation in a lovely, intimate scene, their affection for each other evident until Diane shows up. She has appointed herself the master of ceremonies, and Catherine realizes that Henri's gorgeous outfit is in Diane's colors (black, white, and gray). She's shocked enough to mention this to Henri, who explains that as a close relative, Diane has royal status herself. Diane leads them into the courtyard where the court members are gathered, introducing Henri as their King to excited applause. And, oh yes, Catherine.
Right on cue, a messenger arrives and throws a bag at their feet. It opens, and a severed head complete with maggots rolls out. It's a message from the Holy Roman Emperor.
We come back to the present, as a letter arrives for Catherine. She opens it and looks shocked. It's treachery, she tells Rahima and shows her the letter. But Rahima can't read, and Catherine apologizes for her assumption.
On her way back to her room, Rahima tells the Captain of the Guard that one of the men exposed himself to her. Which one? He asks. She isn't sure and needs to check the goods so she can identify the miscreant. As the two men stand with their pants around their ankles, she considers and then announces; "I must be mistaken. It was significantly larger." We also find out, when she reaches her haven, that she has lied to Catherine. She retrieves a book hidden in the bedclothes and sits down to read.
We're at the halfway point of the series, and Rahima is learning from her mistress how to survive and how to make trouble. Will her luck hold? And what are Catherine's plans to stay in power once her son is crowned?
---
By
for on October 2nd, 2022
More to Love from Telly Visions